As teams and supporters alike count the days to the European soccer championships in Portugal in June, security forces across Europe are doing the same but for very different reasons. While the summer spectacle promises to be full of soccer drama, heartbreak and ecstasy, the threat looms that bringing the notorious supporters of some of Europe's most trouble-prone nations together again will erupt in violence.
At the last championships in 2000, hosted jointly by Belgium and the Netherlands, 850 mostly English fans were arrested after running riot in the center of Brussels and Charleroi. While commonly known as "the English disease," soccer hooliganism has found willing hosts in many rival countries and has spawned outbreaks of violence at as many as four of the past six European tournaments.
The prospect of hooligans affiliated to such notoriously aggressive rivals as the English, German and Dutch teams coming together this time on the streets of Portugal has forced European police to increase their efforts to weed out organized groups and trouble-making individuals before the championships kick-off on June 12.
German suspects forbidden to leave home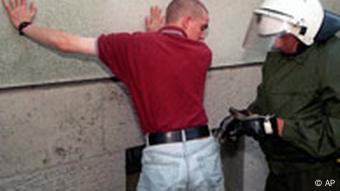 After the relative successes of their border control operations at the last European Championships, German police have already announced that some 4,500 reputed football hooligans will be prevented from travelling to Portugal this summer.
However, despite German efforts at the last championships, hooligans escaped the "stop and search" initiative of 2000 in enough numbers to face off against their English rivals in Belgium. During the 1998 World Cup in France, a group of German hooligans beat Daniel Nivel with a metal rod and a wooden board, leaving the French police officer in a coma for six weeks.
Police expect a large violent presence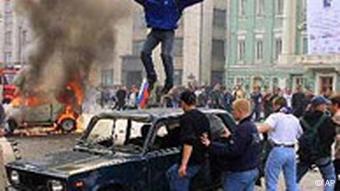 The German police are under no illusions about the task at hand. "We expect hooligans to be there in big numbers. There's considerable interest in the scene in the European Championship," said Michael Endler, head of the Düsseldorf-based ZIS, the police department that handles hooligans, in an interview with Der Spiegel magazine earlier this year.
In addition to suspending travel privileges for known trouble-makers, the ZIS will send a special unit of officers "knowledgeable about the scene" to travel with suspected German hooligans in an attempt to prevent violence during the soccer event, which runs until July 4.
According to Der Spiegel, Germany's police fear the proximity of Portugal will encourage German hooligans to travel to the event via less secure routes such as by road, since airports, ports and railways stations will be home to designated undercover "spotters" ready to swoop on and deport anyone known to have a history of soccer violence.
Germany and Britain pledge support
German Interior Minister Otto Schily, responsible for the country's sports, has promised the host nation that it would have Germany's full support against violence during Euro 2004 in Portugal.
This move was mirrored by British Home Office Minister Hazel Blears, who also recently assured the Portuguese government that Britain was doing all it could to keep England soccer hooligans away from Euro 2004.
The British have already agreed to prevent around 2,500 hooligans from travelling to the three-week event by seizing their passports.
Massive operation underway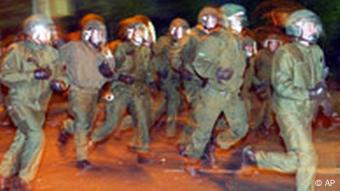 German and British police will be among at least 118 foreign officers working alongside their Portuguese colleagues in one of the most expensive and widespread crackdowns on football hooligans in the history of the game and the biggest security operation ever staged in Portugal.
Besides the 50,000 police in Portugal, made up of the gendarmerie and state police, the Portuguese government has spent some €16.5 million ($21 million) on new police equipment, which includes more than 150 new police cars and the country's first water cannon vehicles, as well as truncheons, riot gear, pepper spray and police dogs.
Organizers have already switched the venues for two first-phase matches, involving Germany, England and the Netherlands, to bigger cities where policing of troublemakers would be easier.
Officers to take tough action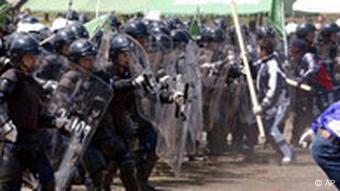 General Leonel Carvalho, who heads the police security at the championship, said that his policy is one of gradually increasing response. "It goes from 'softly softly' to half-soft, to hard and then aggressive," he said. "We do not have the power to intervene to prevent anything happening. We can only act afterwards. If we arrest someone, we have to justify it."
The city of Lisbon, which will host games in the opening group stage involving Germany and the Netherlands, has cancelled all police holiday leave during the finals and has pledged to hire another 2,000 officers to beef up security.
A squad of 2,000 officers has been given extra training for the tournament. They will be armed, have truncheons and be able to use dogs and pepper gas to control unruly fans. Some will reinforce local officers at the resorts along the 724 kilometers (450 miles) of coastline, where most of the supporters are expected to stay.