Germany's fate in the first rendition of the UEFA Nations League was decided long before the final whistle in Feyenoord on Friday night. Relegation from League A is far from ideal, but it's an outcome Germany can recover from – even if they have to do it against less alluring opposition when the competition kicks off again in September 2020.
If anything, dropping down into League B could afford Joachim Löw's new-look side the chance to start from scratch as they look to free themselves from the ghosts of recent shortcomings. By forcing Löw's hand sooner, it could even prove to be a blessing in disguise as Germany look to reinvent themselves.
Seeded status on the line for EURO 2020
To start the rebuilding process, Die Mannschaft first have to stop the bleeding. Leon Goretzka can make all the jokes he wants about Jonas Hector being the "only player to experience relegation" - of far greater concern is the prospect of losing seeded status heading into EURO 2020 qualifying.
Along with the four group winners in League A of the Nations League, the six next-best teams will be seeded for December's ten-group draw, meaning two sides miss out. With Iceland already out of contention, Germany have to better Poland's result against Portugal or they could find themselves in a qualifying group with a fellow European heavyweight.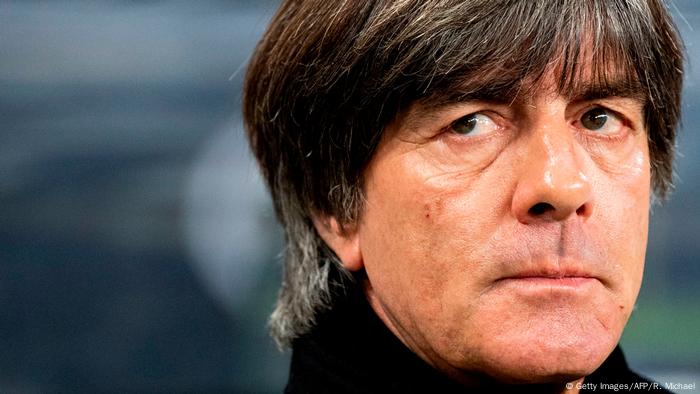 Relegation was a "difficult outcome to accept" for Joachim Löw and Co.
"Our sights are now as before clearly in the direction of EURO 2020 for which we will qualify and again have a strong team," Löw said. "On the way there we will continue to make room for our young players and steadily introduce them to the national team. We want a good game in Gelsenkirchen on Monday to say farewell from our fans from what has been a disappointing year."
Netherlands revamp a shining example
Löw has been outspoken about Germany's "need for an axis". After the World Cup that 'axis' appeared to consist of Manuel Neuer, Jerome Boateng, Mats Hummels, Toni Kroos and Thomas Müller. Relegation from the Nations League has changed the landscape sooner than expected, but that's a good thing. A core of Niklas Süle, Joshua Kimmich, Kai Havertz, Serge Gnabry and Timo Werner, promises much more long-term, providing they can find the balance with the old guard.
It seems almost fitting that the Netherlands should be the gate keepers set to determine Germany's fate at the end of a turbulent 2018. Die Mannschaft's arch rivals have themselves undergone a painstaking revamp and are now producing an electrifying brand of counter-attacking football that caught both Germany and France short.
Results in 2018 have further underlined that Germany's rebuilding attempts can't just skim the surface and the early signs are positive. In the3-0 win over Russia, Löw's charges provided a glimpse of what they're capable of when afforded the freedom to use their pace, power and precision in a more ambitious attacking approach.
The outdated brand of football Germany produced in their dismal World Cup title defense has to be left in the past. The Netherlands are further along in their rebuilding process, but on Monday Die Mannschaft have a chance to play catch up as they look to ensure there are no further consequences from a year to forget.