Nawaz Sharif's life-time disqualification from politics comes as no surprise for Pakistan observers. The three-time former prime minister was ousted on corruption allegations in July of last year. Earlier this year, Sharif was barred from his Pakistan Muslim League (PML-N) party's presidency, after which he handed over the party's rein to his younger brother Shahbaz Sharif. Finally, in a historic decision on Friday, the Supreme Court banned him from ever holding a public office.
Sharif was named in the Panama Papers scandal, which severely tainted his image. He denies the corruption charges, but the opposition parties and the country's judiciary think otherwise. Despite being removed as premier, Sharif remains a popular politician.
Read more:
Asma Jahangir: 'Panama Papers report aimed at ousting PM Sharif'
Pakistan: One step forward, two steps back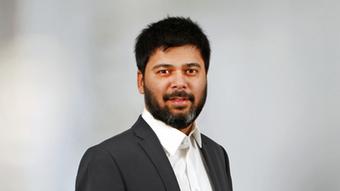 DW's Shamil Shams
Corruption is rife in the South Asian country and most Pakistani politicians, including late PM Benazir Bhutto, have been named in high-profile graft scandals. That, however, could never impede their ascent to power.
While corruption in Pakistan shouldn't be ignored, the main issue in the country right now is a clash of institutions, with the powerful military and judiciary allegedly trying to undermine the supremacy of parliament.
Sharif, who was close to the military establishment until he was ousted in a military coup in 1999 and later sent into exile by former military dictator Pervez Musharraf, was trying to be more assertive with the military and judiciary after he won the 2013 general elections. He was also seeking to forge closer ties with his country's archrival India — something the army generals strongly oppose.
Read more: Why ousted Pakistani PM Nawaz Sharif turned against the powerful military
The military, obviously, does not want its power reduced. Improved ties with India means a cut in the defense budget. The civilian government deciding foreign policy matters also means a different approach toward militant Islamists, who the US and Afghan government say are backed by Pakistan's security agencies. Civilian supremacy may also negatively impact the military's domestic businesses, as without political clout the army generals can't dictate their terms on tax exemptions and other economic benefits.
For Sharif, a businessman, it is also important to rein in the military to reap the benefits of the global capital coming into Pakistan and the region. The current security situation in Pakistan has kept investors at bay.
'Cutting Sharif to size'
The Friday verdict by the Supreme Court is a legal action but carries immense political ramifications. The court disqualified Sharif for life under Article 62 (1) (f) of the constitution, which sets the precondition for a member of parliament to be "sadiq and amin" (honest and righteous). The judges believe Sharif is neither "honest" nor "righteous" because he failed to declare some financial assets during last year's trial that saw him losing premiership.
But the probe into Sharif's alleged corruption is ongoing, and such rulings give a perception that the former PM is being politically victimized. Sharif's supporters and some liberal analysts say that the "corrupt" military generals and judges remain untouchable in the South Asian country.
Pakistan's general elections might take place in August. Political analysts say that Sharif's popularity has been rising since his ouster. After today's ruling, Sharif won't be able to participate in politics but he will continue to be his party's ideologue and a "father figure" for his supporters. His party has won several key by-elections since he was removed from office, and if that is any indication, the PML-N, with or without Sharif, could easily secure a majority in the next parliament.
But the efforts to "cut Sharif to size" appear to be ongoing. Recently, a pro-Sharif popular TV channel was taken off air in many parts of the country, with analysts and media reports suggesting it was done at the military's behest.
Such measures might keep Sharif out of politics, but not for long. Sharif's narrative is becoming popular in Punjab province, which is the stronghold of both the ex-premier and the military. For the first time in the country's history, the anti-military establishment slogans are being raised in Punjab. The province's middle class wants economic ties with India, China and other regional countries, and they see the military as a hindrance to that end. With or without Sharif, the fight for economic supremacy will continue.
Read more:
Ahead of elections, Pakistan heads toward more political chaos
Imran Khan: Nawaz Sharif's ouster 'strengthens Pakistani democracy'
Pakistan at a crossroads
The upcoming polls will determine what path Pakistan will eventually take. Sharif is a popular politician and should play a role in politics. The country's democratic forces need to assert themselves to overcome the military's decades-long dominance. It is not the time for opportunism for opposition politicians like Imran Khan and Asif Ali Zardari. They might see the ban on Sharif as their chance to come to power, but even if they manage to do that, they will not have any real power.
For the West, the civilian assertion in Pakistan is probably more crucial than ever. Global investments are linked to the peace in the region, and with the military calling the shots in Pakistan, those cannot be achieved. Just criticizing Pakistan for using jihadist proxies in Afghanistan won't be sufficient. It is time for the US and the West to support the forces that could change the situation on the ground through popular vote.