On Friday, Pakistan's peak court announced the much-awaited verdict amid tight security in the capital Islamabad. The security measures were due to fears the ruling could trigger a violent reaction from Prime Minister Nawaz Sharif's Muslim League-N party's supporters.
Around 3,000 security personnel were deployed around the Supreme Court building ahead of the verdict.
As many political commentators in Pakistan had anticipated, the judges found PM Sharif guilty in the Panama Papers case, which had kept Sharif's prime ministership hanging by thread since last year.
The five-bench panel of judges said a request would be filed in the National Accountability Bureau to further investigate the corruption cases against the premier and his family. All five judges were in favor of disqualifying PM Sharif.
Sharif's office said in a statement that the premier had resigned following the verdict despite having "serious reservations" about the judicial process.
"Hundreds of Sharif's supporters, local and foreign journalists and opposition activists were present at the Supreme Court building. Opposition politicians cheered the disqualification decision," said Sattar Khan, DW's correspondent in Islamabad. He added that the verdict could weaken democratic forces in Pakistan who have been trying to assert themselves against powerful military generals, who many analysts say call the shots in the Islamic country.
Ruling party officials said that despite disqualification, Sharif would continue to make decisions for the Muslim League-N.
'Panamagate'
In April last year, Sharif found himself in a precarious position following the "revelations" made by the famed Panama Papers. Leaked documents showed that three of Sharif's children had links with offshore companies that owned properties in London. Sharif denies any wrongdoing.
Subsequently, a petition against Sharif was filed in the country's Supreme Court, which in April ruled against Sharif's disqualification as prime minister but formed a Joint Investigation Team (JIT) to further probe allegations.
In a report submitted to the apex court on July 10, the JIT said Sharif's sons, Hussain and Hassan Nawaz, were used as proxies to build family assets.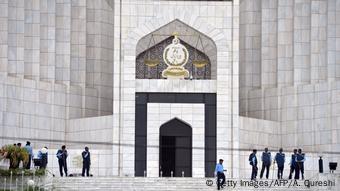 Security was tight around the Supreme Court building ahead of the verdict
The JIT also pointed out failure on the part of the Sharif family to produce the required documents that would confirm their "known sources of income," underlining that the prime minister's family was not able to reconcile their assets with their means of income.
Consequently, the six-member JIT recommended that the case be forwarded to the National Accountability Bureau, which deals with corruption cases.
The Friday verdict means that Sharif could no longer retain his seat in parliament. He is likely to nominate a premiership candidate from his party to succeed him and serve as prime minister until the general elections next year. Sharif was swept into power in 2013 after comfortably winning the general election.
But the political consequences of the Supreme Court verdict are such that Sharif's party would come under enormous pressure to announce snap elections. Opposition leader Imran Khan, who heads the Pakistan Tehreek-e-Insaf (Movement for Justice, PTI) party, is already demanding an early vote.
Three-time PM Sharif never completed a term as prime minister, having been removed in his second term by a military coup by General Prevez Musharraf in 1999.
Khalid Hameed Farooqi, a Brussels-based Pakistani journalist who covers diplomatic affairs, told DW that the apex court decision could reflect negatively on Pakistan. "Sharif has a good reputation in the European Union. His departure would have an adverse effect on Pakistan's foreign relations," said Farooqi.
Read: Panama Papers: Pakistani PM's aide calls for international support
'Politically motivated'
Despite the hype around the corruption scandal, some analysts say that Prime Minister Sharif was "victimized" by the country's powerful military establishment, which is allegedly backing the opposition parties. The army leadership is very skeptical of Sharif due to his repeated attempts to improve ties with India and enhance trade between the two South Asian nuclear-armed archrivals. Also, a strong civilian government has always been a threat to the military's unchecked power.
Read: #DawnLeaks: Pakistani PM Sharif 'forces' powerful military to back off
Michael Kugelman of the Wilson Center in Washington noted there was a "pretty strong precedent of the Pakistani judiciary being very active and essentially sending elected officials packing." The expert also said the Panama Papers case was "more about his family" than Sharif himself.
"You have to acknowledge the fact that Nawaz Sharif himself is not really being accused of anything that is against the law," Kugelman said prior to the verdict.
Sharif's supporters say that corruption scandals involving politicians are not a new occurrence in Pakistan. Former President Asif Ali Zardari has been accused of massive corruption, and there are already court cases against him. There are graft allegations against the military generals as well, but hardly anyone from the army has ever been tried.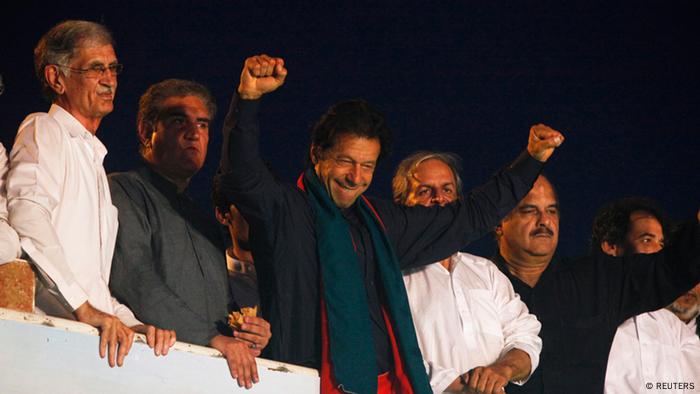 Opposition leader Imran Khan calls for early elections
The activists decry the Pakistani military's alleged lack of respect for the rule of law. Last year, former military dictator Pervez Musharraf, who is facing multiple charges in Pakistani courts, was allowed to leave the country to seek medical treatment abroad. Considering the nature of the cases against Musharraf, it should not have been that easy for him to exit Pakistan. The former general is accused of treason, and involvement in the 2007 assassination of former Prime Minister Benazir Bhutto.
Read: Asma Jahangir: 'Panama Papers report aimed at ousting PM Sharif'
Analysts say it all comes down to the fact that Musharraf was a former military chief, and it was just a matter of time before he would be sent abroad. There are different sets of legal rules for civilian politicians and for army generals, they say.
"The Panama Leaks scandal in Pakistan is more a political issue than legal. There have been bigger corruption scandals in the country; none attracted that much attention," Ali K. Chishti, a Karachi-based security and defense analyst, told DW.
Asma Jahangir, a prominent lawyer and rights activist in Pakistan, told DW the Panama Papers case was never about accountability.
"The question of accountability, in my opinion, should be that when Nawaz Sharif was close to the military establishment, why were the courts so lenient with him? Now when Sharif is no longer close to that establishment, they are acting against him. This is my concern: how has the judiciary become so independent all of a sudden? Maybe it is not a relevant question, but it is something that people will be asking," Jahangir told DW.
"You can't see this Panama Papers case in isolation. There is a history of opposition demonstrations [by Imran Khan's PTI party] behind it and it is apparent that the strings are being moved from somewhere," Jahangir said, alluding to the military establishment.