In April last year, Pakistani Prime Minister Nawaz Sharif found himself in a precarious position following the "revelations" listed in the famed Panama Papers. Leaked documents showed that three of Sharif's children had links with offshore companies that owned properties in London. Sharif denies any wrongdoing.
Subsequently, a petition against Sharif was filed in the country's Supreme Court, which in April ruled against Sharif's disqualification as prime minister but formed a Joint Investigation Team (JIT) to further probe allegations.
In a report submitted to the apex court on Monday, July 10, the JIT said Sharif's sons, Hussain and Hassan Nawaz, were used as proxies to build family assets.
The JIT also pointed out failure on the part of the Sharif family to produce the required documents that would confirm their "known sources of income," underlining that the prime minister's family was not able to reconcile their assets with their means of income.
Consequently, the six-member JIT recommended that the case be forwarded to the National Accountability Bureau, which deals with corruption cases.
Read: Asma Jahangir: 'Panama Papers report aimed at ousting PM Sharif'
Pakistan's Supreme Court is currently hearing the case to decide whether a criminal case can be initiated against the premier. On Monday, PM Sharif's lawyers filed objections against the JIT report in the apex court.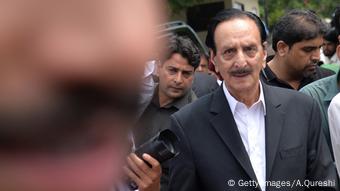 Raja Zafar-ul-Haq: 'The international community should not allow democracy to derail in Pakistan'
In an interview with DW, Raja Zafar-ul-Haq, a senior member of the ruling Muslim League (Nawaz group) party, says the JIT report is flawed and that PM Sharif will continue to fight against what Haq says is a conspiracy to dislodge the counry's elected government.
DW: Political analysts say the Joint Investigation Team's report has damaged Prime Minister Nawaz Sharif's reputation. Do you agree with the assessment?
Raja Zafar-ul-Haq: Not at all. Initially, the prime minister wrote a letter to the Supreme Court, asking the judges to form a judicial commission to inquire the case. The commission included five senior judges. Later, the commission constituted a Joint Investigation Team (JIT), which was comprised of six senior government officials and was tasked with the investigation of the Panama Papers case against the Sharif family.
The JIT took 60 days to compile and submit a 10-volume report to the commission. Nine out of ten volumes have been made public. But we demand that all 10 volumes as well as video recordings of the Sharif family's JIT interviews be made available.
The JIT investigation is flawed. One of the most important witnesses of the case was a Qatari prince, but the JIT did not care to interview him.
We also want to know which JIT member made PM Sharif's son's inquiry picture public.
What do you have to say about the composition of the JIT? Why were military intelligence officials part of an inquiry that dealt with a civilian case?
It was totally wrong. Members of the Inter-Services Intelligence (ISI) were part of the JIT, which should not have been allowed because the prime minister is a civilian representative.
Intelligence officials also went abroad to conduct the inquiry and later formulated the report to suit their interests. They were given full authority to deal with a civilian matter.
Your party has reservations against the JIT report, but don't you think that PM Sharif should step down after such serious allegations?
PM Sharif will not resign. He was elected as prime minster by the people of Pakistan, who gave him a huge mandate to rule the country. There is no need for the PM to step down. Prime Minister Sharif has a majority in parliament and he will complete his term. We will continue to fight for the supremacy of democracy in Pakistan.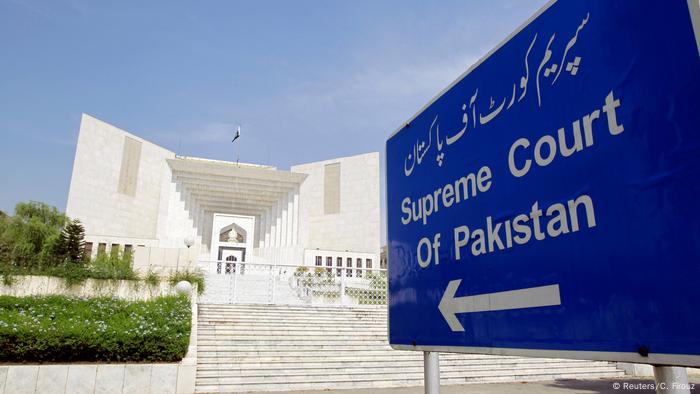 Pakistan's Supreme Court is currently hearing the Panama Papers case against PM Sharif and his family
How do you view the civilian-military ties in Pakistan? Some experts accuse the army generals of pulling the strings in a campaign to destabilize Sharif's government.
It is unfortunately true. Historically, the elected governments in Pakistan have always been hindered to function smoothly and there have always been attempts to undermine democratic forces. For that reason, democracy has never flourished in Pakistan. But we are determined to face all challenges to uphold the democratic process.
- Military and opposition up pressure on Pakistani PM Sharif
- #DawnLeaks: Pakistani PM Sharif 'forces' powerful military to back off
In case of a potential Sharif ouster, how do you expect the international community to react?
The international community should not allow democracy to derail in Pakistan. Political parties have not been given a chance to evolve and work properly since Pakistan's independence [from British rule in 1947].
The international community should not just be an observer; it must speak out in favor of democratic sustainability in Pakistan.
Read: The civilian surrender - Pakistan reinstates military courts
Some analysts argue that the military establishment does not favor Nawaz Sharif because he seeks friendly ties with Pakistan's arch-rival India. Do you also think that PM Sharif is being targeted because of his foreign policy inclinations?
We want to establish good relations with our regional neighbors and the rest of the world. In the run up to the 2013 general election, Nawaz Sharif promised that if he came to power, he would pursue a foreign policy that would normalize ties with Afghanistan and India. After assuming power, he has been working toward this goal.
Raja Zafar-ul-Haq is a senior member of the ruling Pakistan Muslim League (Nawaz group). He also heads PM Sharif's party in the upper house of parliament, the Senate.
The interview was conducted by Shah Meer Baloch, DW's correspondent in Islamabad.