Prime Minister Narendra Modi came over to Germany to inaugurate the Hannover Messe - the world's biggest industrial trade fair - where India was a partner country this time around. Three days of intensive interactions with Chancellor Merkel and other representatives of German politics and businesses seem to open a new chapter in the Indo-German relationship.
PM Modi's long-awaited visit fits into Indian aspirations of development and creation of millions of jobs by promoting the manufacturing sector. In view of the German excellence in these areas, India requires Germany's support in its ambitious endeavor. There are lots of fronts like clean energy, smart cities, skills and infrastructure development where both India and Germany want to pull their resources together.
On the other hand, faced with the demographic decline Germany also needs India which has a vast pool of young people. In Modi's scheme of things Germany plays a very important role in his nation's development.
With a population of over 1.2 billion, and more than 60 percent of them still living in rural areas, a big section of India's population is still dependent on the agriculture sector. India needs to expand its manufacturing base to improve the living standards of millions of young people, whose aspirations for a better life brought Modi and his BJP party to power.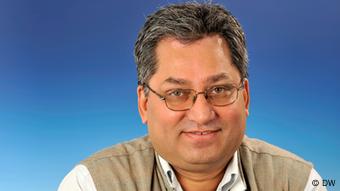 DW's Mahesh Jha
It explains his eagerness for coming to Germany and meeting Chancellor Merkel last year, when he was on his way to Brazil for a summit. He made a stopover in Berlin but Angela Merkel had already left for Brazil where the German football team was to play in the World Cup final. Both leaders therefore were unable to meet then.
However, months later, Modi's next visit has taken place and during these three days both the leaders have had enough time to meet and understand each other's point of views. It is obvious that both the countries would want to intensify their bilateral relations. Angela Merkel, known for her candid approach, did not hesitate to tell the visiting prime minister what the German industry expects from the Indian government.
She made it clear that more reforms and level playing field for German companies in public tenders are a prerequisite for stronger business ties. Chancellor Merkel also assured her help in restarting the stalled negotiations between India and the EU towards a free trade agreement (FTA).
A country with a projected growth rate of 7.5 percent does not need any recommendations, but India needs to do a lot of homework before investors will start queuing up. Bad infrastructure, difficulties with land acquisition and not so transparent taxation remain the major concerns for the German industry.
Modi has promised a big improvement on these fronts. Merkel was quick to grab this chance for ensuring the promised progress and suggested that the next government-level consultation in autumn would give a chance to revisit the currently raised issues.
The plans for having the long-stalled summit level meeting this year shows that both countries are in a hurry. The reset button is pressed, now it is time to follow it up vigorously. Apart from an improved investment climate it would be necessary to create a broader infrastructure with people of both countries who can support, sustain and expand these relations.
Modi is a man with a mission and his passion for development was evident in these meetings. Modi has chosen the Lion as a mascot for his "Make in India" campaign. Chancellor Merkel has promised to bring the Eagle when she visits India this year. The "kings of the earth and sky" will be partnering for a different kind of relationship.
Join the discussioon and add your comment below.