He is still something of a political pop star. Despite a hint of exhaustion, the French president maintains his passion and fighting spirit for the European project. However, Emmanuel Macron has surely by now experienced how slow and frustrating EU reform is. The bloc creeps along while an unpredictable US president, threats of a trade war, high immigration, and crisis and war in the Middle East make citizens uneasy.
Eurozone stuck in the mud
Macron's address to European Parliament only briefly mentioned his lauded eurozone reforms. He has realized that his hopes for an EU-level finance minister, a common EU budget and EU-level bank deposit insurance will have to be postponed. Angela Merkel's ruling conservatives have put the brakes on those ideas, muting the German chancellor's initial cautious praise for some of them. For German leaders, the priority is to protect Germany's public finances from the potential risks posed by the rest of the EU.
Read more: Emmanuel Macron: 'En Marche' to Brussels?
On the surface it may seem that Merkel and Macron get along well on the European stage, appearing together warmly at summits. But there is little substance behind it. Merkel needs to take her own conservative party into consideration more than she so far has. At the finance ministry, the center-left Social Democrat Olaf Scholz is in charge, and he is of much the same vein as his conservative predecessor, Wolfgang Schäuble. There is nothing left of the bold, but largely undefined, promises made in the original government coalition agreement.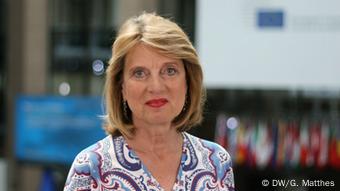 DW's Brussels correspondent Barbara Wesel
Despite the outwardly friendly appearances, the French president faces a hard fight when he visits Berlin on Thursday. Macron was high-flying, but has flown too close to the sun and is now crashing back to a reality in which European-level troubles and national-level concerns and ego stand, as they always do, in the way of EU progress. It is the story of quick disillusionment.
Defending European democracy
Macron has seen that he is not only fighting to push forward a renewed and modernized EU, but also just to protect the EU as it is. He has sharply criticized the rise of authoritarian governments and the dismantling of democracy in Eastern Europe. Given German Interior Minister Horst Seehofer's thoughts on the matter, Macron's own are important and welcome.
Read more: How France's Emmanuel Macron wants to reform the EU
Liberal democracy, says Macron, is what separates Europe from other parts of the world. He wants to deny the new authoritarians of democratic power, such as by supporting a proposal from Berlin to withhold EU financial support from those who do not uphold EU values. He wants to give more for refugee integration. Macron is clearly seeking solutions for an array of issues, promising more money for an EU budget. He is aware that talk is cheap in Europe and always par for the course.
The French president has also shown that he can listen. He heeds the questions of European members of parliament, addressing objections and disagreement, and tries to do at the EU-level what he did at the French-level: engage citizens in a conversation about their desires for and concerns about the future, this time in the hopes of reviving European consciousness. There is still an idealist in Emmanuel Macron, even if more realpolitik comes through.
Berlin: Don't leave Macron in the lurch
The French government has made a strong effort to establish contacts and connections with the German government. The German-French economic engine had been celebrated as a model for the future, but we have been hearing less and less of that. Merkel and Europe will suffer if she cannot find the strength to put a stop to the rebels and nationalist urges in her own ranks.
Read more: Is Emmanuel Macron Europe's new Angela Merkel?
Macron meanwhile is set to continue battling the trend towards nationalism, self-interest and unilateralism. His success demands at least a modicum of support from Berlin. Without Germany as a partner, Macron's presidency, and the future of Germany and the EU, are in danger. That may seem like an overstatement, but that's just how serious the times are.