The history of the 116-year-old Nobel Banquet is as rich as some of its finest sauces. But, alas, the creamy likes of lobster and Bearnaise sauce are unlikely to make the menu today.
"It's a mixture of food fashion and health thinking with the sauces," says Ulrica Söderlind, who worked as a cold-buffet chef for the Nobel kitchen from 1989 to 1993. "At one point Bearnaise was considered a very luxurious sauce due to the expensive ingredients, such as the herbs."
It is also a very French sauce, a staple of haute cuisine, made with clarified butter, egg yolks and tarragon. It's traditionally served with beef filet. And that's all fine and dandy. It's the tradition in which the Nobel Banquets began. But over the passed century or so, Söderlind says the banquets have moved towards more Nordic or Scandinavian tastes.
"In the 1980s, the menus started to reflect [that]," Söderlind told DW. "Nordic berries became common both in the main course and in the dessert."
Two world wars and a plate of austerity
In 1901, the first Nobel Prize Award Ceremony and banquet were held at the Grand Hôtel in Stockholm. It was a modest affair compared to the Jubilee banquet 90 years later. The first banquet was attended by "113 male guests." In 1991, 1,500 guests - one presumes, of both sexes (or all three) - including Nobel laureates and other dignitaries, dined in the presence of the Swedish Royal family.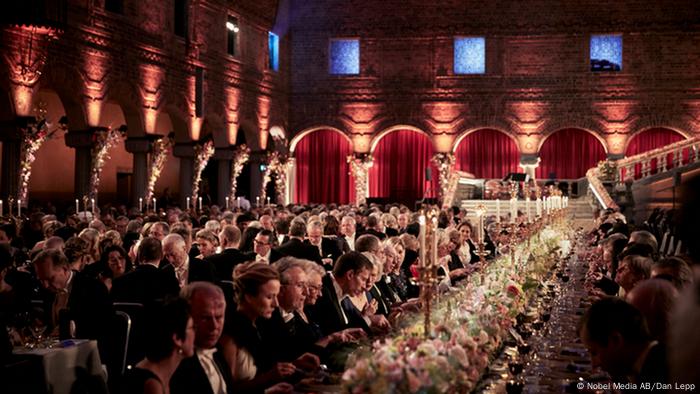 The 2016 Nobel Banquet: no longer just for male guests, as it was when the banquets started
But the banquet has not always enjoyed such a straight-forward, upward trajectory. For one, there were no banquets during the two world wars.
"The Nobel Foundation has always been very sensitive towards the global situation," says Söderlind.
And equally so to national sensitivities.
"In 1907, when the laureates were on their way to Sweden, the Swedish King Oscar II died and a quick decision was taken" to cancel the banquet. They made a similar decision in 1956 in acknowledgement of the political crisis in Hungary. The laureates made do with a brunch instead.
These moments in history started something - a dousing, or sobering, of the appetites.
The early menus featured between 10 and 12 dishes, including, in 1901, Öregrund fish, marinated mussels and shrimp, and filet of boeuf a l'Imperial.
There was no banquet in 1919, the first year after World War I. Then, in 1920, the menu was shorn down to just four dishes. Söderlind considers it one of "the most austere" of the banquets.
But even at its most austere, the banquet beats a bag of fish and chips, any day.
The 1920 menu started with a consommé with fresh vegetables. It was followed by cold salmon with grilled tomato and haricots verts, a saddle of roe deer with artichokes and cauliflower, asparagus, and a dessert of apricot ice cream parfait. And that's no ordinary parfait - it is the Nobel Parfait, a veritable highlight of the night.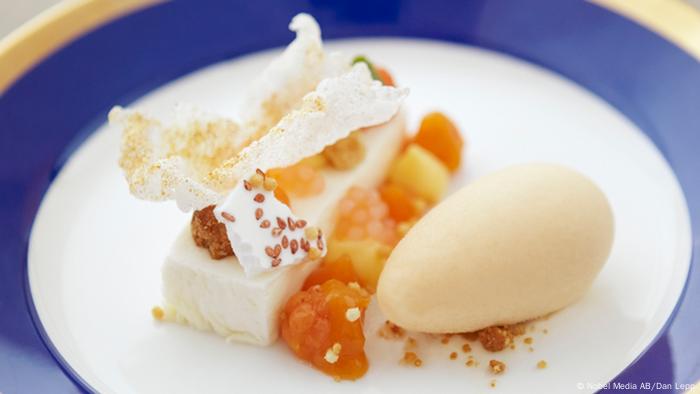 A Nobel dessert: cloud of sudachi fruit, cloudberry sorbet, miso crumbs and deep-fried rice paper
After the second world war, things were "sized down" yet again, this time to just three dishes.
And in 1947, it was austerity on a plate: a serve of sandwiches.
"The entire menu is 'slim' and I do believe that had to do with the fact that it was only three years after the Second World War," says Söderlind. "It took time to build up the food supplies, and the 1947 menu indicates, at least to me, the difficulties in composing a feast [at that time]."
The cuisine keeps a-changing
It's not just food shortages and global crises, however, which have forced change upon the Nobel Banquet. Changing tastes, attitudes to food and health, and concerns over sustainability have meant some of the banquet's favorite dishes have gone for good.
Having worked in the Nobel kitchen, Söderlind kept up her association with the banquets until 1995. She later studied the first century of menus and their recipes to write a book, The Nobel Banquets - A Century of Culinary History.
Through her research, Söderlind has been able to track the trends. For instance, she says vegetables became more common in the latter part of the first one hundred years. And as vegetables advanced to the fore, another significant dish, turtle soup, made its retreat.
"Turtle soup was very popular up until the 1940s," says Söderlind. "After that it was forbidden to serve turtle soup in Sweden. It had been an influence from the French cuisine. Turtle meat was considered to be very exclusive in Sweden at the time."
A quick scan of the menus on the Nobel Foundation's web site shows turtle soup was served at least 11 times between 1903 and 1946. It has since been banned in many countries as turtle species are endangered. But you can still find it in parts of the United States - if, indeed, your tastes are inclined that way.
Excuse me, what's the vegan option?
Each year, the Nobel Foundation selects a special chef and pastry chef to oversee the event. This year the honor has gone to Chef Tom Sjöstedt and pastry chef Daniel Roos.
The chefs develop the menus in collaboration with the Nobel Foundation's gastronomic advisors: Fredrik Eriksson of Långbro Värdshus, Artistic Leader of Restaurangakademien; Gert Klötzke, Professor of Gastronomy at Umeå University; and Gunnar Eriksson, Chef de Cuisine at Stadshusrestauranger (City Hall Restaurants).
As you can imagine, there's a lot to consider for 1,300 guests or more. Some may have special requirements. They may have allergies, or require kosher or halal alternatives to the main menu.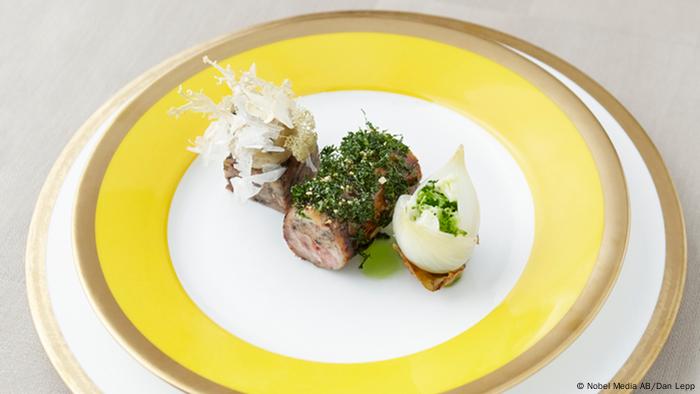 Feast your eyes on quail in black garlic and leek ash, Jerusalem artichoke, preserved wild mushrooms and jus of roasted chicken skin and mustard seed
"Some years ago," says Elin Bergqvist at Stadshusrestauranger, "a chef from the banquet kitchen worked in the kitchen of the Jewish elementary school in Stockholm to prepare the kosher menu in a correct manner. A Rabbi came to the kitchen to bless the food."
These days, says Bergqvist, the Kosher food is made in a Kosher kitchen, sealed, blessed, and then delivered to the banquet. The kosher food is also served on brand new plates. Similarly, Halal meat is prepared according to custom and tradition, sealed and delivered to the banquet kitchen.
Tradition and custom is important for the Nobel Banquets. But that doesn't mean they are immune to trends and other culinary developments. So they also have to accommodate vegetarian and vegan guests.
"This year there are 4 vegans and 36 vegetarians," says Bergqvist. "And the starter is vegetarian."
Last year, the full vegetarian menu looked like this: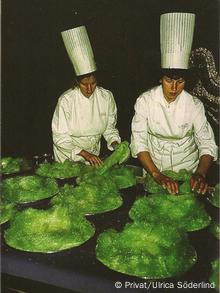 Söderlind and a colleague working with sugar for the dessert at the 1990 Nobel Banquet
Tatar on salted baked yellow beet with nettles and ramson and pickled winter apple; glow baked portobello swept in celery with Jerusalem artichoke; Vanilla and coconut pudding with cloudberry cream, fried rice paper and cloudberry sorbet.
If only airlines served vegetarian menus like that on long-haul flights.
Ulrica Söderlind, the one-time Nobel kitchen staff member, who is now a senior lecturer at Umeå University School of Restaurant and Culinary Arts, says she would "love to see a total vegetarian or vegan menu" at the Nobel Banquet.
"That would really be something out of the ordinary," says Söderlind, "and there is absolutely no reason why such a menu could not be grand!"
The Nobel Banquet menus are kept secret until just before the event. The menu for 2017 is revealed on Sunday 10 December at 7.00 p.m. (CET).