German Foreign Minister Frank-Walter Steinmeier, whose nation is playing the lead role in mediating the crisis with Russia over Ukraine, said he sees no grounds for optimism over the current standoff.
"There is no reason for optimism in the current situation," Steinmeier said Tuesday during a joint news conference with Russian Foreign Minister Sergei Lavrov in Moscow.
"What we've got to do is work hard, work hard to convince people in a situation in which the (peace) process that was previously started isn't able to function on its own," Steinmeier sad.
Steinmeier is the first senior European minister to visit Moscow since July, and the trip comes with relations between Russia and the West at a post-Cold War low.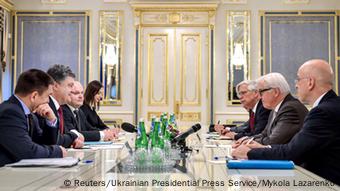 Steinmeier met with Ukrainian leadership in Kyiv prior to departing for Moscow
The German foreign minister's visit to the Kremlin follows immediately after talks with Ukraine's President Petro Poroshenko and Prime Minister Arseniy Yatsenyuk in Kyiv.
In the Ukrainian capital he urged all sides to adhere to a peace plan agreed to in Minsk in early September that has been repeatedly violated, but according to Steinmeier, offers the best chance at ending the violence that has killed more than 4000 people.
Steinmeier called for a division line between Ukrainian government troops and pro-Russian rebels to be drawn as soon as possible in order to preserve peace.
"Even if the main obligations have not been fulfilled, it would be a huge loss to reject [the Minsk agreement]," Steinmeier said after talks with Lavrov in Moscow.
Lavrov spoke of a Russian-German "partnership," but highlighted the deep divisions between Russia and the West when he called for Kyiv to take into account recent elections in rebel-held Luhansk and Donetsk. Kyiv and the West have refused to recognize the results of those elections.
German Chancellor Angela Merkel held several hours of inconclusive talks with Russian President Vladimir Putin last weekend at the G20 summit in Brisbane, Australia. Merkel has said Russia's recent destabilizing policies, specifically the annexation of Crimea, "challenges the peaceful order of Europe."
'Serious military buildup'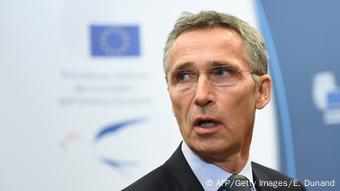 NATO has accused Russia of propping up rebels in eastern Ukraine with weapons and troops
The discussions are taking place after NATO Secretary General Jens Stoltenberg accused Russia on Tuesday of a "serious military buildup" both in eastern Ukraine, and in Russia.
"We see the movement of troops, of equipment, of tanks, of artillery and also advanced air defense systems," Stoltenberg said before holding talks with EU defense ministers in Brussels. He called for Russia to pull back its forces and respect the terms of the Minsk agreement.
Moscow has vigorously denied accusations of supporting the rebels with troops and weapons.
bw/es (Reuters, AP, dpa)