Iranian President Hassan Rouhani arrived in India on Thursday for a three-day visit where he will seek to move ahead on multi-billion dollar energy and infrastructure deals with India, including the first phase of the keystone Chabahar Port project.
According an official Iranian press release, Rouhani's first stop is Hyderabad, where he will meet with Muslim scholars and visit cultural and religious centers. On Saturday, he will arrive in New Delhi for an "official welcoming ceremony," which alongside talks with Prime Minister Narendra Modi, will include meetings of businesspeople from the private sector of both countries.
Reuters news agency reported the Iran is hoping to secure billions of dollars in Indian investment on petrochemical plants, railways, industrial development – along with building the Chabahar Port, located in southern Iran.
Read more: Examining the implications of the Indo-Iranian Chabahar port deal
There are concerns in Iran that the US will seek to resume international sanctions and scrap the 2016 nuclear deal, which puts pressure on investors and infrastructure developers who don't want their assets in Iranian interests jeopardized.
India is also one of Iran's primary consumers of oil. During the EU-US led oil and financial embargo from 2012-16, Indian oil imports from Iran were reduced significantly, but not cut off completely.
According to the New Delhi-based Institute for Defense Studies and Analysis (IDSA), Indian imports of Iranian crude oil dropped to five percent in 2014-15 from 13 percent between 2009-10.
Read more: China: Oil slick from Iranian tanker triples in size
According to India's Economic Times, during 2016-17, after sanctions were lifted, India imported a record high half-million barrels of oil per day from Iran.
Modi also visited Tehran in 2016 and agreed to invest $500 million (400 million euros) in India's development of Iran's Chabahar Port. Rouhani and Modi are expected to sign an agreement after their meeting, which will begin the first phase of Indian-run port operations.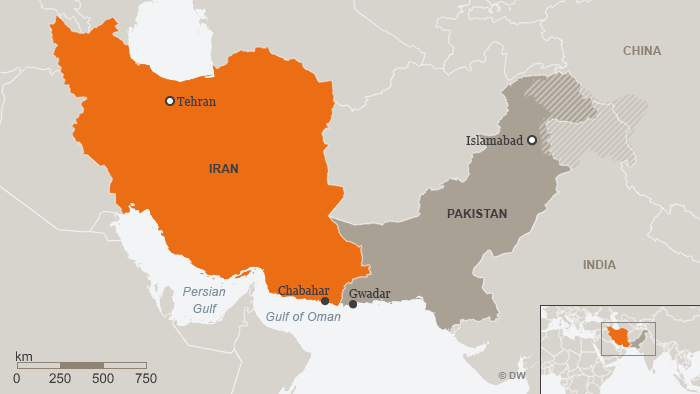 Modi's unique diplomacy
Prime Minister Modi's meeting with Rouhani on Saturday is the latest in a month-long diplomatic tour de force. Just last week Modi visited Abu Dhabi, Dubai, Muscat and Ramallah. In January, Israel's Prime Minister Benjamin Netanyahu visited India for six days of pomp and pageantry.
Modi's latest diplomatic engagements show how he can take advantage of India's neutral stance in a fractured Middle Eastern geopolitical climate to ensure Indian business can get the best outcome from their investments.
In a recent article published in the Indian newsweekly Open, South Asia analyst Michael Kugelman wrote that Modi's diplomacy goes beyond his penchant for pomp.
"When he engages in international diplomacy, he means business. He gets things done, and makes deals - deals that help address key national interests in a big way," wrote Kugelman.
At his stop in the United Arab Emirates, Modi secured a 10 percent stake in an Abu Dhabi offshore oil field. In Oman, Modi signed a defense pact allowing the Indian navy access to Duqm port for military use.
Modi's Middle East tour also showed that he his capable of accomplishing a diplomatic balancing act. After his sanguine meetings with Israel's Netanyahu a few weeks ago, Modi became the first Indian PM to visit the Palestinian West Bank. There he laid a wreath on the tomb of late Palestinian leader Yasser Arafat and, according to Israeli media, called him "one of the great leaders of our time."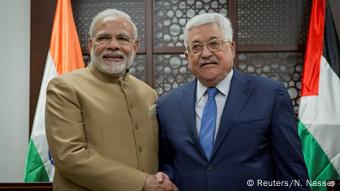 After his meetings with Israel's Netanyahu a few weeks ago, Modi became the first Indian PM to visit the Palestinian West Bank
Modi also signed six agreements with Palestinian authorities, promising $50 million (40 million euros) in aid for building a hospital and investments in education and public services.
"I have once again assured President Abbas that India is bound by a promise to take care of the Palestinian people's interests," Modi said after meeting with the Palestinian President. "India and Palestine's historic relations have stood the test of time. Palestinian interests have always got our support and remain at the top in our foreign policy."
Some observers noted that Modi's visit to Palestine was an effort to balance out its emerging defense and economic relationship with Israel. India has long been a supporter of Palestinian statehood and has recognized the state of Palestine since 1988.
Read more: Opinion: Is the end near for Iran's theocracy?
Read more: Benjamin Netanyahu praises 'marriage made in heaven' with India
India's quid pro quo with Iran
Iran and India have also traditionally had positive relations. India has managed to balance both sides, although frequently put under pressure by US interests. According to a recent US congressional report, India "generally cooperated" with multilateral efforts to use sanctions against Iran.
However, India also managed to maintain partial economic ties with Iran during the sanctions period, which did not alienate Tehran and allowed for a quick resumption of mutual investment after the nuclear deal in 2016.
The pragmatic business relationship between India and Iran still has vulnerabilities. A recent example is the spat over Iran's Farzad B natural gas field in the Persian Gulf, which had been long sought by India's state-owned oil and gas company OVL, which was close to sealing a deal with Iran to develop the field.
After it was reported that the deal fell through and that Farzad B would likely be awarded to a Russian energy company, India retaliated by reducing its oil imports from Iran. Iran in turn said it would be reducing its credit lines to India.
Ahead of Rouhani's meeting with Modi, Indian media reported that there was still hope for a breakthrough on the deal, and that OVL offered to invest $6.2 billion (5 billion euros) to develop the field.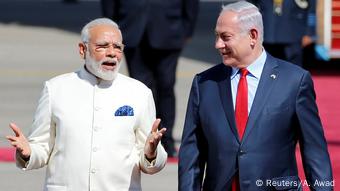 In January, Israel's PM Netanyahu visited India for six days of pomp and pageantry
But India is currently eyeing a much larger deal with Iran that would open up the gas fields and product markets of Central Asia, providing a major source of energy and income to feed India's growing economy.
India's arch rival Pakistan cuts off Indian transport routes to the region. India seeks to develop connections through Iran and bypass Pakistan to open up Central Asia. India's potential entry point is the port at Chabahar, located on Iran's southern coast around 930 nautical miles (1,700 kilometers) from the Port of Mumbai.
In return for cooperating with India, the Iranian economy will potentially gain multi-million dollar investment contracts. According to Reuters, the first phase of developing Chabahar Port will be for India to equip and operate two berths with a capital investment of $85 million (68 million euros) on a 10-year lease.
Read more: How have India and Pakistan fared economically since partition?
Managing conflicting interests
India's closer ties with Israel have not stood in the way of developing investment in energy and infrastructure deals with Iran, which have more pragmatic significance and have yet to sour relations on either side.
According to Smruti Pattanaik, a research fellow at IDSA in New Delhi, India recognizes that individual relations are driven by individual objectives and it can maintain strong relations with conflicting parties.
"There is a strategic imperative that drives India-Iran relations, which has no connection with India's relationship with Israel," she told DW. "This is recognized by Iran."
"In the grand scheme of things, setbacks have not detracted from Modi's calm, collected, and - above all - clever diplomacy. Indeed, the days of non-alignment may be over, but India continues to defy the divides of international relations," wrote analyst Kugelman in Open.
There continues to be speculation from other observers that international pressure may end up putting a strain on Modi's neutrality and complicate its relations with Iran. But if the past is any indicator, Modi should find a way to please both sides while also taking something home for himself.