German Interior Minister Thomas de Maiziere's last stop on his tour went well. In Tunisia, he met directly with the prime minister, instead of his counterpart. It was a stroke of luck; Habib Essid knows the subject matter only too well, having negotiated a repatriation deal with Italy during his term as Tunisia's interior minister.
The talks went off without complications, as they did in the other countries the minister visited. The result: In a pilot phase, an initial 20 Tunisians are to be flown back to their country on a chartered flight. The number may be small, but for de Maiziere it is nonetheless a "breakthrough." It represents a start in dealing with a country for which there were previously no regulations.
Overseeable numbers
In Germany, there are roughly 1,300 Tunisians for whom deportation is being sought. And as was the case in Morocco and Algeria, de Maiziere was careful to stress that Germany is not trying to deport the "tens of thousands of law-abiding citizens who own businesses, pay taxes, and send their children to German schools."
He is seeking deportation for those who came to Germany from North Africa at the end of last year along with the flood of refugees, but who have no chance of being granted asylum. Many of them claimed to be Syrian refugees. The number of North African migrants who have been granted asylum lies between 0 and 4 percent; it's not clear why the number of migrants from the region rose so sharply last fall.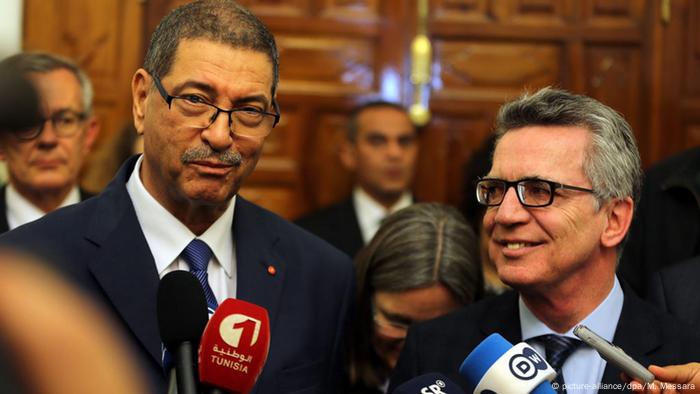 De Maiziere (right) with Tunisian Prime Minister Habib Essid
Laissez-passer papers from North Africa
In the past, Germany had bad experiences when attempting to deport illegal immigrants. The supposed countries of origin didn't want to take any migrants back as long as it was unclear whether they were really Algerians, Tunisians, or Moroccans.
During his trip, the German interior minister agreed on a clear procedure: Germany would deliver names and fingerprints, and the countries would compare these with information from their databanks. Should it become clear that the person is a citizen of Morocco, Algeria or Tunisia, those countries will issue so-called "Laissez-passer" papers to allow them to enter. The deportees would then be flown back on regularly scheduled flights.
It will have to be seen whether the procedure will work in practice. Germany also has work to do, as it must first provide the countries with data. It's unclear just how many of the affected migrants are registered with German authorities with their fingerprints.
Safe countries of origin
In the run-up to de Maiziere's visit to the region, there was much talk of putting pressure on the governments, and what price might have to be paid for a repatriation agreement. German politicians threatened to cut development aid; there was also speculation about what rewards might be offered to ensure cooperation.
During his trip, the interior minister stressed that both sides have an interest in maintaining good relations. Before departing, de Maiziere also labeled all three countries "safe countries of origin." The countries see themselves as such, and de Maiziere was given no cause to doubt their safety during his trip.
German asylum regulation categories aside, security is a big issue in the region - mainly in Algeria and Tunisia. De Maiziere announced new partnerships in the area of security in all three countries.
There will be a counter-terrorism data exchange with Algeria, and Tunisia will receive 29 off-road vehicles and anti-explosives systems. De Maiziere also announced the completion of a "security agreement negotiated over many years" with Morocco.
It's hoped that his mission will increase the German people's sense of security as well. After all, newly arrived North African migrants were blamed for many of the attacks that unfolded in Cologne on New Year's Eve.
With his trip, de Maiziere is sending the message that Germany will decide who enters the country - and who must leave.