A white banner measuring eight meters across was unfurled from the top of Madrid's landmark post office building on Monday, reading: "Refugees Welcome." It was a clear and bold statement by the Spanish capital's municipal authorities who have apportioned 10 million euros ($11 million) to helping asylum seekers as part of the European response to the refugee crisis.
"Madrid is the city of the hug," said City Hall in a statement that accompanied the hanging of the banner. "And, in this symbolic way, it wishes to offer its solidarity to its neighbors with regard to the dramatic situation of the families who are fleeing their places of origin."
However, the Spanish central government has taken a more cautious line. Earlier this summer, Spain agreed to take in just over 2,800 refugees - many of them reassigned from Italy and Greece - but it resisted a European Commission proposal for it to take in around double that number.
In late August, Deputy Prime Minister Soraya Saenz de Santamaria warned that the country's "ability to take in [refugees] is extremely stretched," due to the illegal immigration from Africa that it is trying to bring under control.
In recent days Prime Minister Mariano Rajoy appears to have signalled a change of tack. During a press conference alongside his British counterpart David Cameron, he said that Spain would take in "all those people who have the right to asylum and who request it."
Although the Spanish government insists it does not yet have an exact revised refugee quota confirmed, there have been reports that the country will be asked to take in around 15,000 people over the next two years, fewer than only Germany and France.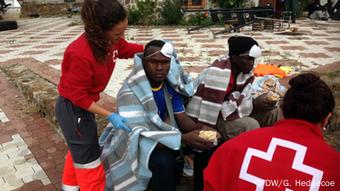 Local authorities are stepping up the pressure to take in more refugees
Political pressure
The international shift in mood caused by images such as that of the body of the three-year-old boy Aylan Kurdi washed up on a Turkish beach seems to have influenced the Rajoy government. However, internal political pressure also seems to have played a part.
Madrid City Hall is one of several new left-leaning local administrations in Spain which have promised to make the European refugee situation a priority. In late August, Barcelona's new mayor, Ada Colau, came up with the plan to create a network of "refuge-cities" which use municipal resources and local volunteers and Valencia, Zaragoza and A Coruna, among others, have all joined Madrid in signing up to it.
"It is shameful and outrageous that our states and Europe in general are not able at this point to fulfil their obligations," Colau said, shortly after unveiling her initiative. She also described Spain's initial refugee quota as "ridiculous."
Further pressure has come from the Spanish Catholic Church, which has chided the central government for its response to the crisis, while preparing many of its own churches, monasteries and other buildings for the arrival of asylum seekers.
Unemployment and austerity
One of the reasons the Spanish government has cited for its initial reluctance to pursue a bolder policy is that resources are relatively thin in a country that only recently emerged from its worst economic crisis of recent decades. Although the economy is now growing fast, unemployment is still at over 22 percent and many of the country's public services have been pushed to the limit during five years of harsh austerity.
Shortly before his government's change of policy, in an interview with Die Welt newspaper, Foreign Minister Jose Manuel Garcia-Margallo criticized the European refugee quota system and argued that Spain's high jobless rate would make it difficult for new arrivals to integrate.
In the wake of Rajoy's apparent U-turn, the minister still offered a caveat: "Any commitment [to take in refugees] should be accompanied by the funds to offer them a worthy life, with healthcare and social services."
The government's economic concerns have also been highlighted by the inclusion of Finance Minister Cristobal Montoro in the newly created government commission which handles the refugee issue.
Many of the Syrians who have already reached Spain entered the country via one of its two African territories, Ceuta and Melilla, which border Morocco. Refugees in Spain are put in reception centers for six months, where they are given food, shelter, clothing and legal counselling. However, this compares unfavorably with the more comprehensive welcome offered by countries such as Germany.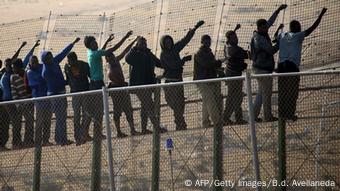 Spain may have a way out for many refugees
The Spanish welcome
"In other countries there is financial help for refugees and there is work," a Syrian engineer called Emin Ehmed, told El Pais newspaper as he travelled on the ferry from Melilla to mainland Spain. "In Spain, after six months they dump you in the street."
Although Spain is not the most desirable destination for refugees, many of its people believe their country should have no qualms about taking in those fleeing conflicts.
"There's always money available for this kind of thing," Maria Luisa Aranz, an office worker in Madrid, told DW. "Maybe there isn't for less important things but when it comes to helping people there has to be enough money."
Jose Luis Bermudez, a janitor, agrees. "My grandfather emigrated to Germany to look for work after the [1936-39 Spanish] civil war and they treated him extremely well there," he told DW. "People here forget that when the civil war ended, a lot of Spaniards left and went to live in Argentina, Brazil, Uruguay and Paraguay and nobody stopped them. We've had problems in the past and we've received help. We have to be consistent."