Moscow prosecutors would like to see Russian star director Kirill Serebrennikov imprisoned in a camp for six years for embezzlement as a guilty verdict was sought at the Meshansky District Court on Monday, June 22. The three other suspects accused along with Serebrennikov face four and five years respectively.
As the accusation continues to provoke shock and outrage among the Russian and international cultural community, the defense pleaded for an acquittal. In closing remarks, Serebrennikov again stated his innocence.
Accusations of fraud
Since Serebrennikov became the artistic director of the Gogol Center in 2012, the venue has become a home for Moscow's liberal-minded artists and intelligentsia. Meanwhile, his cinematic works have generated controversy among an increasingly conservative Russian hierarchy. His film The Student, which screened at Cannes in 2016, was seen as an allegory for this trend with its portrayal of a student who becomes a religious fanatic. The director had also criticized the Russian state's treatment of the LGBTQ community, and its seizure of Crimea in 2014.
Read more: Vladimir Putin interview: Liberal idea has 'outlived its purpose'
Now the 50-year-old is charged with responsibility for embezzling 129 million rubles (about €1.6 million, or $ 1.8 million) in state funds via the Platforma arts project, which was founded and managed by Serebrennikov between 2009 and 2015, and which received 216 million rubles of Russian Culture Ministry funding.
A magnet for young, innovative theater practitioners, over six years Platforma staged more than 340 theater projects ranging from chamber plays for small audiences to events in packed stadiums.
The project's main venue was Moscow's Winzavod, a factory converted into a cultural center. Serebrennikov's personal style was characterized by a fusion of theater, film, modern dance, new media and music. He has also made a name for himself as an opera director.
'Ideals of freedom'
Platforma enjoyed cult status, in particular among young people, because, as Kirill Serebrennikov said in his closing remarks in court this week, "the youth always choose freedom."
"[It] gave the artists and spectators the feeling that the ideals of freedom will sooner or later become a foundation of our lives in this country, too," he added.
But such freedom might have ultimately bothered the authorities. After the relatively liberal presidency of Dmitry Medvedev (2008- 2012), the culture scene has grappled with increasing censorship as the conservative Orthodox Church increases its influence within the Russian state.
Since 2017, Serebrennikov and like-minded artists and intellectuals, including art historian Sofia Apfelbaum, who works for the Russian Culture Ministry, have been under investigation. Serebrennikov was arrested in August of that year, and spent the following year and a half under house arrest.
Prosecutor targets Platforma
The indictment is based on testimony from Platforma project accountants who said they did in fact embezzled funding on a large scale following orders by the head of the project. The defense and many observers claim that the witnesses were put under pressure.
Observers have pointed out that in view of the number and quality of the projects realized, the amount of funding appears to be rather small. Meanwhile, the court commissioned three expert opinions, the first two of which exonerated the defendants.
Meanwhile, as part of the embezzlement charges against Serebrennikov and his colleagues at the Gogol Center, prosecutors claimed a production of A Midsummer Night's Dream never occurred — even though it had won many awards and went on to tour abroad.
Serebrennikov did admit, however, that Platforma's bookkeeping was sloppy, even "catastrophic," adding that he was only involved in the artistic side of things, not the bookkeeping.
But now these mistakes are to be exploited in order to "discredit the message of the project and its makers," Serebrennikov said.
"Free Kirill!"
The Serebrennikov trial has been criticized nationally and internationally as a political mock trial. More than 3,000 celebrities from the Russian culture scene have signed an open letter siding with Serebrennikov. German Chancellor Angela Merkel as well as a host of international stars like Care Blanchett also lobbied for the Russian film and theater maker.
"The sentence demanded by the public prosecutor's office against Serebrennikov is highly shocking," Zurich Opera House Director Andreas Homoki told DW. "In particular in a country that is so proud of its artists, the sentence would be another regrettable step into isolation."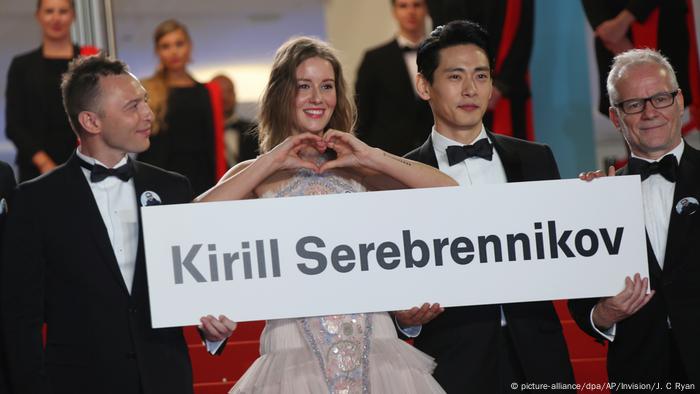 The film community expressed their support for the detained director at the 2018 Cannes film festival
In 2019 while under house arrest, Serebrennikov also received one of Russia's most prestigious film prizes, the Nika Award for his film Leto (Summer). In March, he staged Decamerone at the German Theater in Berlin.
Renowned opera director Barrie Kosky called the persecution of his "beloved and esteemed colleague" an "international scandal" and in a statement to DW urged others active in the culture scene to show solidarity, too. In 2016, Serebrennikov produced his adaptation of Rossini's comic opera from 1816, The Barber of Seville, at Kosky's Komische Oper Berlin.
The verdict is expected on Friday, June 26 in Moscow.