The list of prominent supporters backing Kirill Serebrennikov's release is growing. On Sunday, German theater director Thomas Ostermeier and director and playwright Marius von Mayenburg spearheaded apetition demanding the release of their Russian colleague, who has been under house arrest since August 23.
"The charges against him are untenable and indicative of the fact that the intention is to silence an internationally renowned director," read the petition.
Among the 35 international signees are Australian actress Cate Blanchett, German filmmaker Volker Schlöndorff, Austrian writer and playwright Elfriede Jelinek and German actress Nina Hoss.
The petition also called on the German government "to ensure that Serebrennikov doesn't become the victim of a politically motivated defamation of character and doesn't end up in prison."
The artists called his house arrest "a communication ban, a prejudgement and a prohibition to work for one of the most famous contemporary Russian artists."
A provocative artist
Kirill Serebrennikov, 47, has been a key figure in Moscow's theater scene for years and has been the artistic director of the city's Gogol Center since 2002.
He has won acclaim for his drama, operas and movies that are known for criticizing the role of the church and state in Russian society and mocking the country's problem with corruption.
Serebrennikov has been charged with embezzling at least 68 million roubles ($1.15 million) in state funds earmarked for an art project, but has asserted his innocence. His case is widely seen as an example of Russia's crackdown on freedom of expression.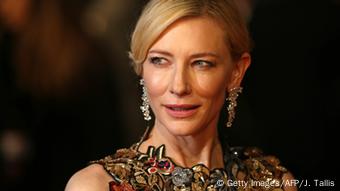 Cate Blanchett was one of 35 international artists who signed the petition
Read more: How German actor Lars Eidinger's new film unleashed a scandal in Russia
He appeared in court last Wednesday, saying from inside a metal cage in the courtroom, "I've been working honestly. I need to finish filming a movie and put shows on."
The court put him under house arrest until his trial on October 19. Serebrennikov could face up to 10 years in prison. He had been working on a film about a Soviet rock star when he was detained.
He was also working on staging the opera "Hänsel und Gretel" at Stuttgart's Staatsoper, slated for premiere in October. Serebrennikov's team will continue the project in his absence, reported Spiegel.
kbm/eg (AP, Reuters)