A group of men and women flee a plague-ridden city and isolate themselves in a deserted countryside mansion, passing time by telling each other stories. That's the basic plotline of Giovanni Boccacio's The Decameron.
The classic dates from the 14th century, but the version staged by Kirill Serebrennikov at Berlin's Deutsches Theater feels like a modern TV series. Or even like a story in the near future, given current developments related to the coronavirus outbreak. With people in real life stockpiling toilet paper and disinfectants, cultural and sports events cancelled and entire countries under lockdown, this new play tells love stories in times of quarantine.
Russian star director Kirill Serebrennikov, released after a year of house arrest in April 2019but still not allowed to travel abroad, directed the Berlin production of The Decameron from Moscow over Skype.
As if that weren't challenging enough, the director also hired through a classified ad five German senior citizens without any previous acting experience. Their role in the play is to pointlessly roam around the stage for hours, only to deliver great monologues in the final scenes.
After several postponements, the highly-awaited premiere finally took place in Berlin on March 8.
Timeless love stories
From the 100 tales that make up Boccaccio's Decameron, Serebrennikov picked 10 stories. They are told in two languages, Russian and German, turning the play into a nearly four-hour event.
Serebrennikov offers a free adaptation of the original literary material; most stories are transposed into the present, while others are told without any reference to time or location.
One of the stories the director selected is one about a groom who falls in love with a queen and takes on the appearance of her husband, the king, to spend the night with her. Another tells of a jealous father who painfully kills his daughter's lover.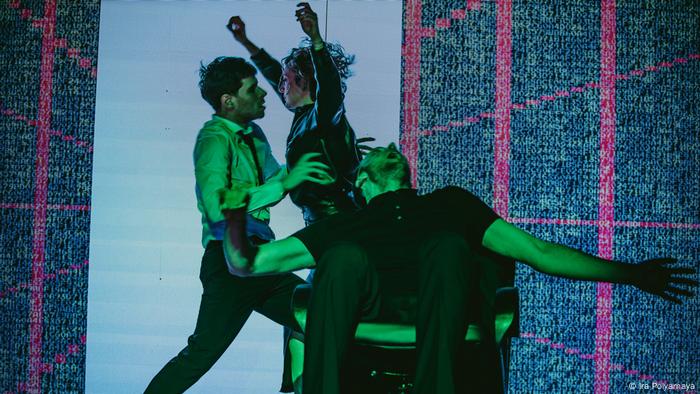 Love is a strange game: A scene from Serebrennikov's 'Decameron'
They are stories of unrequited love and passion, with protagonists devoured by their emotions — literally devoured, as emphasized by drag performer Georgette Dee in a strong monologue. In the role of an unfaithful wife, she explains that every time she meets a lover, her husband has the same nightmare: A wolf attacks his wife and tears up her face. As the wolf and the wife become older over the years, one thing becomes clear: It is simply impossible to tame either.
Love as a struggle
The piece is staged in a huge gym, which is only surprising at first glance. Serebrennikov uses sports as a metaphor for the strenuous struggle of each individual with himself, his own instincts and feelings. According to Serebrennikov, love is never mutual; every relationship is flawed and you can only get another person to love you through dirty tricks.
While not creating a masterpiece with his Berlin staging of The Decameron, Serebrennikov offers an interesting and incredibly sad take on the timeless work.