North Korean leader Kim Jong Un arrived in his armored train in Vladivostok on Wednesday, a day before he is due to meet Russian President Vladimir Putin in the eastern Russian port city.
Kim was met by Russian officials including Russia's ambassador in Pyongyang Alexander Matsegora. He walked the red carpet laid out for him from the platform to the waiting limousines, with a military orchestra playing the anthem of North Korea and then the one of Russia, according to a video shared by Russia's Tass news agency.
Kim then headed to Vladivostok's Russky Island where the summit is set to take place. His car was accompanied by a group of bodyguards until he left the area.
Upon crossing the Russian border hours earlier, Kim told Russian officials he was "pleased to be on Russian soil."
"I've heard so much good things about your country and I've dreamt about spending time here for a long time," he told Russian officials he arrived hours earlier at Hasan station near the North Korean border, according to a local Russian government statement.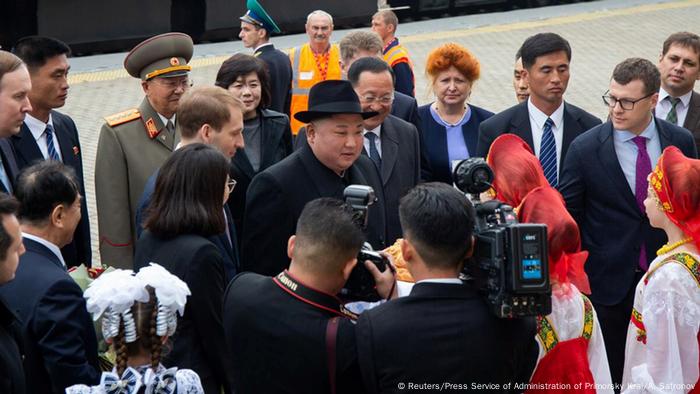 Kim Jong Un was given bread and salt as symbols of Russia's hospitality
Deputy Foreign Minister Igor Morgulov and Alexander Kozlov, the minister for Russia's Far East, greeted Kim after he exited the train in Hasan. Russian officials gave the North Korean leader flowers, bread and salt, according to Russia's Tass news agency. Kim also visited a wooden house of Korean-Russian friendship, built on the border to mark the visit of his grandfather, Kim Il Sung, to the Soviet Union in 1986.
Read more: North Korea test-fires new 'guided weapon'
Kim was expected have dinner with Russian Deputy Prime Minister Yury Trutnev in Vladivostok later on Wednesday, South Korean media reported. The talks with President Putin, scheduled for Thursday, would likely focus on Pyongyang's nuclear program.
Closing off an island
The visit — Kim's first to Russia and his first meeting with Vladimir Putin — comes amid an impasse in nuclear talks with the United States. The much-anticipated summit between the North Korean dictator and US President Donald Trump in Hanoi broke down in February.
Even so, Russia seeks to "consolidate the positive trends" stemming from Kim's contacts with Trump, according to Kremlin adviser Yuri Ushakov. In addition to China, Russia is the only other country which shares a land border with North Korea, and Moscow has indicated it would like to see sanctions on Pyongyang relaxed.
Putin and Kim are expected to meet at a university campus on Vladivostok's Russky Island. Russian maritime authorities have announced that the waters around the island will be closed to all maritime traffic during the summit. The North Korean dictator is due to head back home on Friday.
Kim Jong Un became the leader of North Korea in 2011, after succeeding his late father, Kim Jong Il.
amp/dj (AP, dpa, Reuters, Interfax)
Every evening, DW sends out a selection of the day's news and features. Sign up here.