A 120-strong delegation of South Korean musicians and artists, including K-Pop singers Cho Yong Pil and Seohyun, performed in the North Korean capital Pyongyang on Sunday, in the presence of the isolated state's leader Kim Jong Un and his wife Ri Sol Ju.
Kim clapped his hands as he watched the performance, the first by South Korean stars in 15 years, amid a thaw in relations with Seoul after years of tensions over the North's nuclear program.
Read more: German BND spy agency: North Korean rockets can hit Europe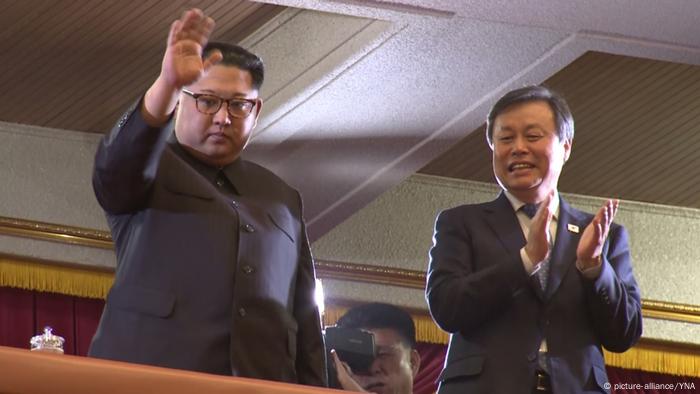 Kim Jong Un clapped his hands and performers sung about reunification
Girl band made new fans
Among the acts on stage at the East Pyongyang Grand Theater was K-pop girl band Red Velvet — five South Korean pop industry it-girls who have taken Asia by storm.
The two-hour concert was described by many as a cultural charm offensive by the South, and was triggered by the Pyeongchang Winter Olympics, to which the North sent athletes, cheerleaders and Kim's sister as an envoy.
Sunday's gig ended with a standing ovation after a finale in which all the stars appeared on stage to sing a song about unification.
Kim later shook hands and took photos with the stars backstage, and called for inter-Korean cultural events to be held more often.
"Please tell (South Korean) President Moon Jae-in how great an event like this is... I am grateful for a gift like this (concert) to the people of Pyongyang," Kim told visiting Seoul officials.
The last time South Korea sent a musical artist to perform in the north was in 2005 — during a previous period of reconciliation — but it is the first time a North Korean leader has attended such an event.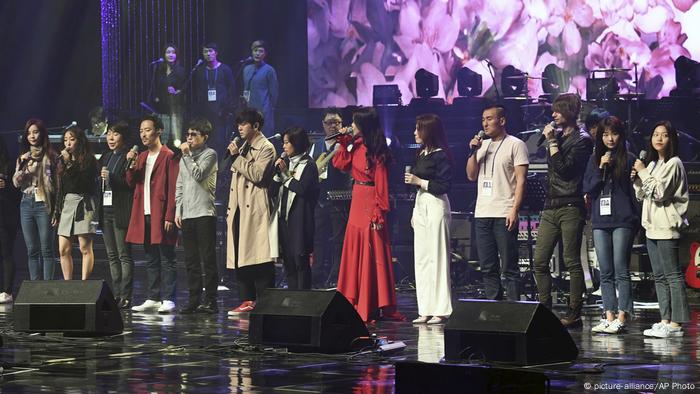 Eleven musical acts as well as dancers, technicians and martial artists gave a concert for Kim on Sunday
In a second concert by the K-pop stars on Tuesday, they will be joined on stage by several North Korean performers.
Read more: North Korea: UN blacklists ships, firms to curb smuggling
Smuggled K-Pop music and South Korean TV dramas have become increasingly popular, despite the North's strict curbs on unauthorized foreign culture, which can lead to prison sentences.
More cordial relations
The concert is the latest evidence of easing tensions between Pyongyang, its neighbors and the US.
Last week, Kim made his first overseas trip as leader to Beijing for talks with Chinese President Xi Jin Ping, ahead of an inter-Korean summit, slated for April 27. The possibility of the country's de-nuclearization was discussed.
Kim is also expected to meet with US President Donald Trump before the end of May, and has pledged not to conduct any missile or nuclear tests in the lead-up to the meetings.
Meanwhile, the annual US-South Korean military exercise, which got under way in the South Sunday, will last for just one month compared to the normal two months.
Read more: North and South Korea 'suspicious' of China
Although 300,000 South Korean soldiers and 11,500 US troops are taking part in the drills, no US aircraft carriers or nuclear submarines were expected to join the drills, after Pyongyang angrily denounced the maneuvers in the past.
mm/aw (AFP, AP, dpa, Reuters)
Each evening at 1830 UTC, DW's editors send out a selection of the day's hard news and quality feature journalism. You can sign up to receive it directly here.