Israeli media reported this week that Israel and Russia have reached an agreement that allows Syrian government troops under President Bashar Assad to return to the Golan Heights border region, as long as the Russians guarantee no Iranian or Hezbollah troops will be there. Israel's government has increasingly voiced concerned about Iran's presence in Syria in recent months and, since February, launched repeated airstrikes against Iranian military targets in the country.
Read more: Iran and Israel's Syrian shadow war laid bare
On Monday, Russian Foreign Minister Sergey Lavrov said that Assad's forces should be the only military presence on Syria's southern border. "Of course, all non-Syrian forces should be withdrawn on a reciprocal basis," he told Russia's RIA news agency. "This should be a two-way process. The situation, when only representatives of the Syrian armed forces will be deployed on the Syrian side of the border with Israel, should become the outcome of such work."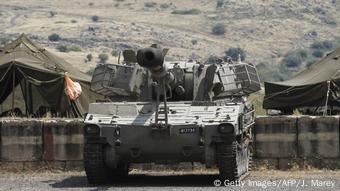 Iran's presence in Syria has put the Israeli military on high alert
As Prime Minister Benjamin Netanyahu has made clear, Israel's ultimate goal is to have no Iranian presence in Syria. "Israel is not interested in partial agreements, but the removal of the Iranian army from all of Syria," his office told Hadashot news.
Avoiding Israel-Iran 'battlefield'
As Israeli-Iranian tensions continue to escalate, Russia is hoping to keep the two countries from waging a full-blown proxy war in Syria, explained Yossi Mekelberg, an international relations professor at Regent's University London and research fellow at the Chatham House think tank. "The Russians would not like to see Syria become a battlefield between Israel and Iran. It diverts from Russian interests," he told DW. "The Russians are not great friends with Iran. They have a common interest with the Iranians to keep [Assad] in power, but that's about it."
Read more:The West tends to 'exaggerate' Iran's role in the Syrian conflict
According to Mekelberg, the Iranians would likely consent to such an agreement with the Russians. "Russia is calling the shots in Syria right now and is the country with the most leverage there," he said. He did note, however, that Iran could opt to resist the agreement in some fashion. "If the Iranian Revolutionary Guard were to defy Russia, it could really test [President Vladimir] Putin's resolve," he said. For now, however, Mekelberg believes that the Iranians likely not interested in escalating Syria's ongoing civil war.
While the agreement is an effort to reduce tension in the region, Israel is likely to demand strict adherence to the deal from all sides. "Israel has declared that it won't tolerate Iranian presence in Syria close to the border and the trade of weapons with Hezbollah," Mekelberg said, noting that the Israeli military could launch more airstrikes towards Iranian targets in Syria if it were to spot Iranian troops among Assad's army near the Golan Heights.
Netanyahu heads to Europe
Netanyahu is set to travel to Berlin and Paris next week for talks expected to focus on Iran. While the Israeli prime minister is likely to make the issue of Iran's military presence in Syria a key focus of his trip, his European counterparts may find other issues, such as rescuing the Iranian nuclear deal, to be a higher priority.
"I would be very surprised if any of the Europeans would be interested in starting a war with Iran and conducting airstrikes against Iran," Mekelberg said. "There are issues that need to be addressed, such as Iran developing ballistic missiles. Iran is an expansionist country in the region and has to be contained. But military operations are not necessarily the answer to contain Iran. This is definitely not the case for striking Iran directly."