When Ferat Kocak was jolted out of his sleep in the early hours of a cold February morning this year, the flames were already licking at the roof of the house he shares with his elderly parents. He can't be sure if it was the sound of his car's windows shattering in the heat of the blaze that woke him up, or maybe the flickering orange glow which suddenly illuminated his room.
Whatever it was, it most probably saved his life.
Kocak, an eloquent man of Turkish descent, recalls how he rushed to the window and saw that his car parked in the garage next to the house was on fire.
It was then, he says, that he put two and two together and shouted for his parents to wake up.
"I immediately knew it was a right-wing attack. There was no question about that."
Read more: The far-right's push to enter Germany's judiciary
Arson attacks target activists
What makes Kocak, who works in marketing for a private university in Berlin and is involved in local politics for the Left Party, so certain is the fact that the arson attack is just one of many that have hit Berlin's Neukölln neighborhood in recent months.
On the same night, the car of a man who runs a left-wing bookshop in Neukölln also went up in flames.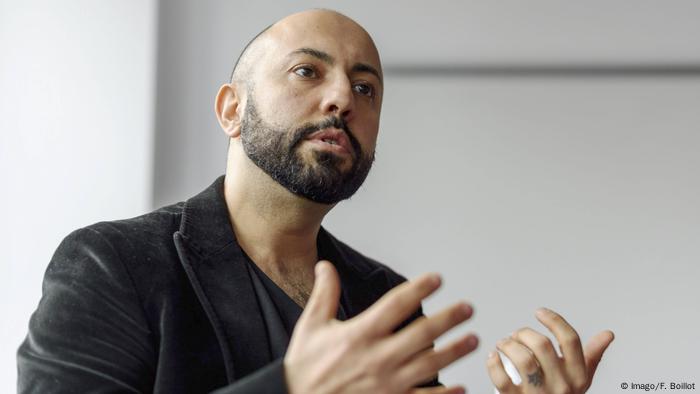 Kocak says his mother suffered a heart attack due to all the stress caused by the attack
Tourists flock to this district known for its trendy bars, cafes and a cuisine as varied as its inhabitants, a mix of students, expats and Germans whose parents moved here from Turkey and the Middle East.
But there are some, it seems, who are less enamored with its multicultural appeal: Beginning in 2016, Neukölln has been rocked by a series of arson attacks, broken windows and racist slogans smeared on walls targeting those who dare to speak up against right-wing extremism or openly support refugees. Sometimes, refusing a flyer handed out by activists from the right-wing NPD party can be enough to trigger a violent response.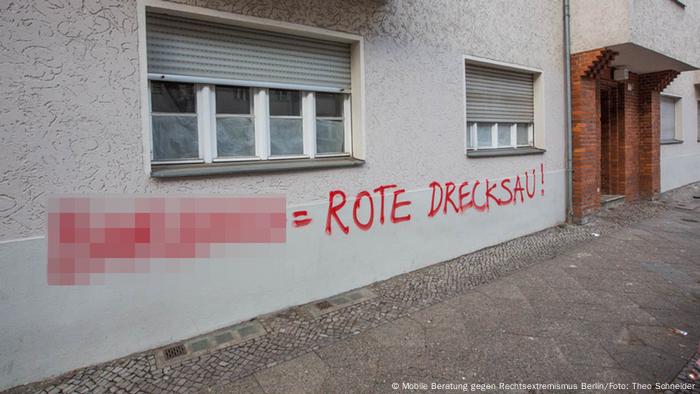 Slogan target activists at their homes
Photos provided by activists show slogans painted on walls denouncing those living there as "red swine" or "lefty rat."
According to ReachOut, a local NGO that monitors right-wing, anti-Semitic and racist attacks and supports the victims, some 38 attacks occurred in Neukölln in 2016, 36 in 2017. Earlier this year, the district's parliament passed a resolution asking the police to label the attacks as "terror."
But even without the label, the violence is sending a chilling message to local activists.
Ferat Kocak, for one, told DW he wasn't at all surprised when the arson attack occurred. In a way, he'd been expecting it.
He's involved in local politics and went to a kick-off meeting for a left-wing alliance in Neukölln. He's also outspoken on Facebook, with public posts such as "Get Nazis out of the minds."
Who's behind the attacks?
Talk to victims and local activists and they all point to a small group of right-wing extremists, and in particular two members of the local National Democratic Party (NPD) party. After all, they say, it requires an extensive knowledge of the neighborhood to commit such crimes, such as observing where activists park their cars and pinpointing people engaged in local activism.
The National Democratic Party is seen as Germany's most extremist active far-right party with a wing which traditionally espouses violence.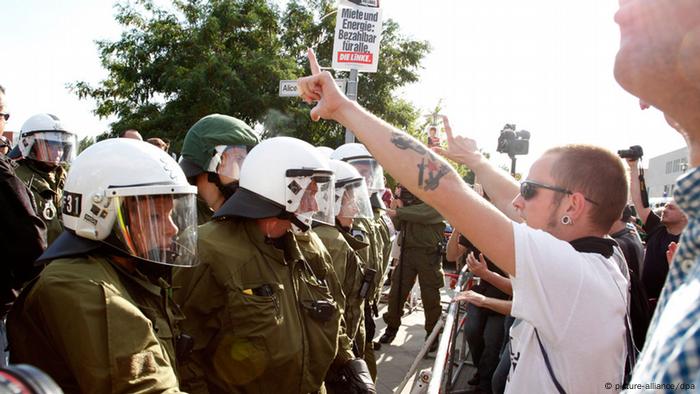 NPD members protesting against a refugee center in Berlin (archive)
The NPD, however, failed the five percent hurdle in the last general elections needed to enter parliament. Last year, an attempt to ban the party failed when Germany's Constitutional Court ruled that the NPD had anti-constitutional objectives, but did not have the political clout to undermine German democracy.
Read more: No more state money for party linked to neo-Nazis?
In the NPD's gloomy local headquarters in Berlin, Sebastian Schmidtke serves sparkling apple juice from a can from the party's merchandise with the slogan "Appel juice — naturally German!". The smartly dressed Schmidtke explains that the blinds are permanently drawn because of past attacks by what he labels "left-wing extremists."
Schmidtke, who acts as the party's spokesman in Berlin, is polite, polished and quick to denounce any kind of violence. He is also acutely aware of what is acceptable — and legally permissible — to say.
He concedes that he does not like the "makeup of Neukölln ", which he laments is too "überfremdet", a politically charged term which roughly translates as foreign infiltration.
Germany, he says, "should remain German."
But, Schmidtke is quick to add, change — such as deporting "criminal foreigners" — must be achieved through political means. His party, he keeps on stressing, does not condone violence.
Of course, he couldn't vouch for all of the party's 5,000 members, he adds when pressed, but should anyone commit an "extreme act of violence," the party would consider expelling such a member.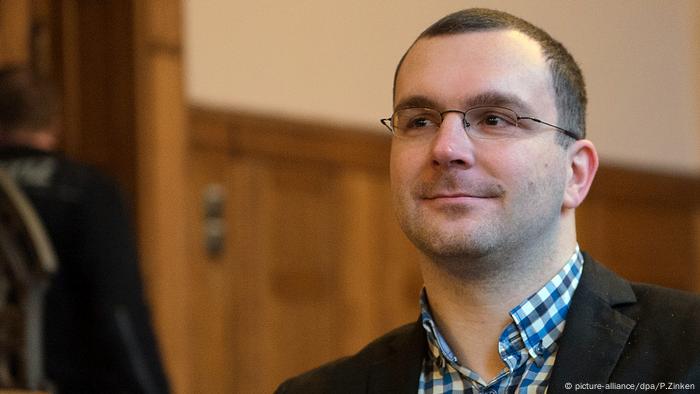 Schmidtke claims his party does not espouse violence
So far, Schmidtke, who himself was accused of attacking a demonstrator back in 2013, concedes, that has never been the case. Over the years, others in the party leadership have received sentences for committing hate speech and grievous bodily harm, including one case where a member tried to run over a refugee with his car.
In February, shortly after the arson attack on Kocak's car, Berlin's criminal investigation office (LKA) raided the houses of two suspects. Investigations are ongoing.
Since then, according to ReachOut, the attacks have stopped.
"Don't let them mess with your head"
But there's a fear it may only be a brief lull. They point to another period which saw Neukölln rocked by attacks in 2011 and 2012, followed by a period of relative calm, when the NPD member many suspect of being behind the current attacks was jailed.
Shortly after he was released in 2016, the current wave of attacks resumed.
And then there's the unresolved murder of teenager Burak Bektas, who was shot for no apparent reason by an unidentified man when he was standing on a street corner chatting with a group of friends in Neukölln. The murder happened six years ago, but the police have yet to find the perpetrator. Talk to victims of the current attack and activists and they all refer to the case.
As yet, there is no apparent link to the current attacks or their perpetrators, but it's a chilling reminder for them that some extremists may stop at nothing.
Ferat Kocak for one is convinced the perpetrators are biding their time, waiting for the media and public's attention to drift on to other stories.
At night, he lies awake, straining to hear any sound that might signal that the perpetrators may have returned.
Not long ago, his father took him aside and said: "Who cares if they burn down another car? The important thing is: Don't let them mess with your head."
His father, Kocak says, may have a point. But it's hard to forget the fear he felt that night.