When event salon owner Mehmet Dogan held an Islamic circumcision celebration at his Cologne venue in 2015, he never imagined music and dancing may send him to Germany's top court and spark further debate about religion in Germany.
It was Good Friday, a somber and reflective Christian holy day remembering Jesus' crucifixion, when municipal authorities fined him some €280 ($345) for holding festivities celebrating what, according to Turkish and Islamic traditions, is a boy's first step into manhood.
Read more: 6 facts about Catholic and Protestant influence in Germany
Good Friday is a so-called "silent holiday" protected under Germany's Basic Law. It means that a "Tanzverbot" (dancing ban) has to be observed, but regulations differ across Germany's 16 states according to regional laws.
In the state of North Rhine-Westphalia (NRW), from 6 p.m. Thursday to 6 a.m. Saturday "all nonpublic, entertaining events outside of apartments" are prohibited. Not only is dancing prohibited, but a whole host of other activities ranging from sports events, moving home and washing cars to, apparently, Islamic circumcision parties.
For nearly three years, Dogan had pursued his case in lower administrative courts, arguing that circumcision celebrations held inside did not disturb Christians and that it should be protected under freedom of religion.
Last week, NRW's top administrative court upheld lower court decisions, writing in its ruling that "regardless of religious references, the celebrations would certainly have entertaining character and thus contradict the serious character and special nature of Good Friday."
Respect for other religions
The court also ruled that the "balance of interests" fell in favor of Good Friday "as a central Christian holiday with its traditional character as a day of mourning, remembrance of the dead and inner contemplation." Whereas Good Friday is fixed, "neither the circumcision nor the subsequent celebration are tied to a specific day," it wrote.
A self-described atheist from the minority, traditionally secular Alevi sect of Islam, Dogan told DW that everyone should be allowed to freely practice their religion and show respect to other religions.
"Circumcision is an important religious event for Muslims," Dogan told DW. "I don't find it right that in Germany, the heart of advanced democracy, Christian holy days take precedence over Muslim, Jewish or other religious beliefs or practices."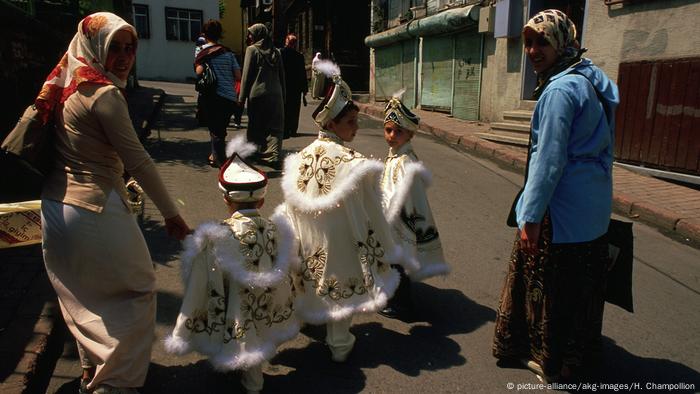 In Turkey, young boys are dressed up in sultan costumes as part of circumcision celebrations that mark a first step into manhood.
The circumcision case raises larger questions at a time when immigration and the role of Islam in Germany are a central political debate. But Dogan is not alone is questioning the "Tanzverbot," which some call unconstitutional.
Read more: German Interior Minister Horst Seehofer: 'Islam doesn't belong to Germany'
A YouGov poll last year found 38 percent of Germans want Good Friday restrictions lifted, while 52 percent said they should remain in place.
Every Good Friday there are protests or acts of civil disobedience against the restrictions from groups demanding a clear separation of church and state. In some cases, it appears to be working.
Read more: Germany hangs up its dancing shoes for Good Friday 'Tanzverbot'
For years, a group in the western city of Bochum challenged a Good Friday ban on showing some 700 films by organizing a public viewing of one restricted film, Monty Python's religious satire "The Life of Brian." Each time they received a fine.
Blacklisted films
However, for the first time this year local authorities will allow the film after legal action saw the case wind up in Germany's Constitutional Court. Although the Karlsruhe-based court did not issue a verdict, it offered "legal information" that led local authorities in Bochum to issue an exception for the film viewing.
As for Dogan, his lawyer tells him that he has a good chance of winning a case if he challenges NRW at the Constitutional Court. For now, though, he is undecided as he questions whether it is worth the effort and the negative reactions from the public.
"It is a lot of responsibility," he said, noting that his original interest was to make money and run his business. "I'm one person; changing German laws seems like a big task that I never really thought about."
Read more: Opinion: The eternal dispute between politics and religion
He added: "There is also a backlash. I've received letters from Germans saying: 'You came to Germany and now you are trying to change our laws and religious practices.'"
Read more: German ministers respond to Horst Seehofer's Islam comments
Cihan Sinanoglu, a spokesperson for the Turkish Community in Germany, an umbrella interest group, told DW that a big issue shouldn't be made out of the Good Friday circumcision party case.
"I would find it better if religion actually plays no role, if the state was neutral on religion. But it is clear that there are certain traditions here and the state has an interest in maintaining these traditions," he said.
Given a whole host of other conflicts between Germany and Turkey, larger debates about Islam and the rise of right-wing populist parties like the Alternative for Germany (AfD), a ban on circumcision parties for a day or two out of the year "isn't a major issue," he said.
"If this issue had been discussed several years ago, it wouldn't have been so overheated. With the AfD and right-wing populism, but also with Islam central in the debate, I don't think someone should make an issue out of it," he said.
Read more: AfD regional leader Andre Poggenburg resigns following anti-Turkish speech