In an interview published Wednesday in German mass-market daily "Bild," Defense Minister Ursula von der Leyen sought to reassert both her authority and her responsibility as the top figure in the German military's chain of command.
The minister's leadership has come under sharp criticism from military representatives and politicians after revelations that an extreme right-wing German officer had been allegedly planning a terror attack.
"I bear the entire responsibility for everything that happens in the Bundeswehr," von der Leyen said in the "Bild" interview.
"My responsibility is to remedy proven abuses, which I am currently doing," she added.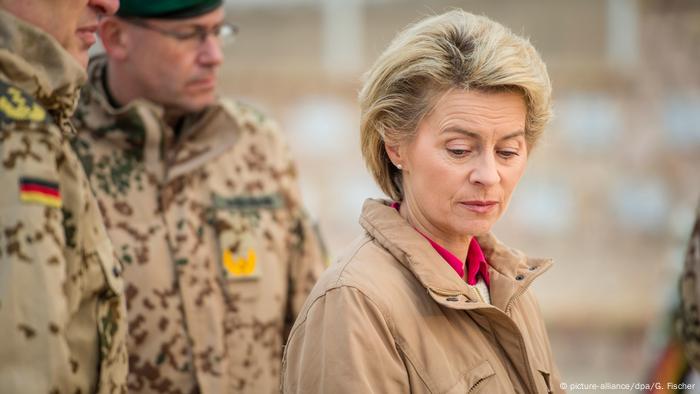 The civilian defense minister Ursula von der Leyen has been criticized for her leadership
Criticism of von der Leyen spreads
German government spokesman Steffen Seibert on Wednesday said von der Leyen enjoyed the support of Chancellor Angela Merkel and the entire cabinet in conducting an investigation "into all facets of the Franco A. case concerning the Bundeswehr."
Von der Leyen is a member of Merkel's ruling Christian Democrat party (CDU). Her print interview came amidst renewed criticism of her leadership. Defense expert Rainer Arnold, of the CDU's junior coalition partners the Social Democrats (SPD), accused von der Leyen of insufficient interest in "inner leadership."
Arnold referred to von der Leyen's remarks on Sunday that troops have an "attitude problem" and "weak leadership."
"I think it was wrong, it destroyed trust and it was unnecessary," he said in an interview with German public broadcaster ARD on Wednesday.
His criticism of von der Leyen added to that of the armed forces' representatives, who stated "leadership goes top down," implying that any problems among troop ranks ultimately stemmed from the defense minister.
A trip to Franco. A's base
Since last Wednesday's arrest of terror suspect Lieutenant Franco A. and the news that the Bundeswehr had indications of rightwing extremism in its ranks since 2014, Von der Leyen has focused her attention on investigating the affair.
The defense minister canceled a planned US trip to instead travel on Wednesdays with General Inspector Volker Wieker to Illkirch, a French town south of Strasbourg where Franco A. had been stationed as part of a German-French brigade. Wieker said the suspected right-wing soldier may have stolen ammunition destined for use in live round exercises.
The 28-year-old Franco A. had registered as a Syrian refugee and was suspected to have been planning an attack on a refugee accommodation center in Erding in southeast Bavaria, as well as on members of the political left.
Read more: Germany promises quick answer to soldier-refugee mystery
Multiple scandals
The extreme rightwing terror scandal is not the only one causing concern for von der Leyen. She has also promised on-the-ground investigations concerning cases of abuse, sexual degradation, harassment and humiliationamong Bundeswehr ranks. The probes would be "painful" but "for the good of the Bundeswehr," von der Leyen said.
cmb/rt (AFP, dpa)