In an interview published Wednesday in German mass-market daily "Bild," Defense Minister Ursula Von der Leyen responded to recent criticism of her leadership by reasserting both her authority and her responsibility as the top figure in the German military's chain of command.
Read more: Von der Leyen goes on the offensive in latest Bundeswehr scandal
"I bear the entire responsibility for everything that happens in the Bundeswehr," von der Leyen said in the interview.
"That includes foreign deployments from Afghanistan to Iraq and Mali. That includes reforms in the nature of our weaponry and turnarounds in finances and personnel. My responsibility is to remedy proven abuses, which I am currently doing."
Her print interview came one day after she spoke to German public broadcaster ARD, promising on-the-ground investigations concerning cases of abuse, sexual degradation, harassment and humiliation among Bundeswehr ranks. She said the probes would be "painful" but "for the good of the Bundeswehr."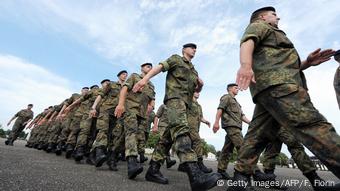 Von der Leyen has accused the German army of having an "attitude problem"
Read more: Defense Minister von der Leyen sacks general over sex abuse scandal
Criticism from her armed forces
Von der Leyen faced criticism after she told the German television broadcaster ZDF on Sunday that "the German army has an attitude problem, and it has apparently weak leadership at different levels."
Representatives of the German armed forces association have responded by saying, "If Mrs. von der Leyen says there is a leadership problem, then one must naturally say: leadership goes from the top down."
Canceled US trip
Earlier Tuesday, the Defense Ministry announced that von der Leyen had postponed a planned trip to the United States in order to focus on the ongoing army investigation that has seen an exchange of fierce criticism between the civilian leader and the military.
Read more: Germany promises quick answer to soldier-refugee mystery
Von der Leyen had been scheduled to meet with UN officials and US Defense Secretary James Mattis in New York City and Washington, DC, on Wednesday.
Announcing the cancellation, the ministry cited von der Leyen's desire to prioritize the ongoing investigation into last Wednesday's arrest of Lieutenant Franco A., who was allegedly planning an attack motivated by far-right ideologies.
The 28-year-old had registered as a Syrian refugee and was suspected to be targeting asylum seekers, as well as members of the political left.
"The minister's top priority is to clear up the circumstances in the case of Lieutenant A. from Illkirch," the ministry said in a statement as it announced the change in travel plans.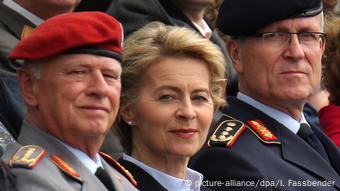 Von der Leyen will meet with top military representatives on Thursday
Top brass to meet
Von der Leyen will instead travel with General Inspector Volker Wieker to Illkirch, a French town south of Strasbourg where Franco A. had been stationed. Wieker said the suspected right-wing soldier may have stolen ammunition destined for use in live round exercises.
According to German media, the Defense Ministry had received indications that Franco A. was part of a small right-wing extremist group within the troops. Further information was to be provided to representatives of the Bundestag's defense committee within the framework of a comprehensive information-gathering process.
On Thursday, von der Leyen is scheduled to meet top military officials in Berlin to discuss the investigation, along with other recent cases of military misconduct.
ls, cmb/cmk (dpa, Reuters)