German Defense Minister Ursula von der Leyen has come down hard on her troops over a number of recent scandals, provoking outrage from soldiers' representatives who accused her of "massively damaging the army."
Von der Leyen told ZDF television on Sunday that the army suffered from an "attitude problem," "a misunderstood esprit de corps," and "apparently weak leadership at different levels."
The comments came after a 28-year-old lieutenant who falsely registered as a Syrian refugee and was alleged to be planning a right-wing motivated attack was arrested in Bavaria on Wednesday. A 24-year-old student suspected of being an accomplice was also arrested and found with explosives.
Over the weekend, it became known that the army had had indications since 2014 that the officer had right-wing extremist sympathies but his superiors did not take any action. Von der Leyen said the lieutenant had written a Master's thesis that clearly contained "primitive racial ideas."
However, even though this was noticed, his superiors "whitewashed" everything, did not mention anything in his personnel file and also failed to inform military counter-intelligence (MAD), the defense minister said.
Von der Leyen tied the case with earlier incidents at a military base in Pfullendorf, where a female soldier was sexually harassed, as well as another case in Sondershausen, where there was also misconduct during training. Last week, the Defense Ministry sacked the army's training commander for failing to properly investigate misconduct.
'Bewildered and outraged'
The Bundeswehrverband, the armed forces association representing soldiers, lashed out at von der Leyen for her comments.
"Her comments leave us bewildered and outraged," the organization's head, Andre Wüstner, told the "Passauer Neue Presse" newspaper.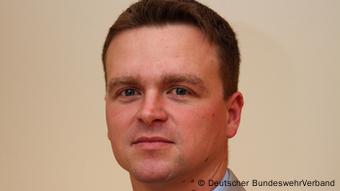 Wüstner says he is "shocked" at the comments
"If the minister is truly serious about that, then she's massively damaging the Bundeswehr. To say all 250,000 in the Bundeswehr have an attitude problem affects us all."
The association called on the defense minister to retract her comments, saying that otherwise the motivation of troops could be influenced, along with their trust in political leadership.
On Monday, von der Leyen wrote a follow-up open letter to troops saying a "large majority" of soldiers and civilians in the army conducted service in a "decent and impeccable" manner. But she said that in light of the number of recent incidents and mistakes these were more than isolated cases.
"We must all question our training practices, from the teams to the commanding officers," von der Leyen wrote, requesting the patience and trust of soldiers.
cw/tj (AFP, dpa, Reuters)