Interior Minister Thomas de Maiziere said Saturday that a probe had been set up at the Federal Office for Migration and Refugees (BAMF) in Nuremberg to deliver "very quick results" into how the suspect established a second identity, allegedly for plans to attack foreigners.
Defense Minister Ursula von der Leyen, while attending a regional election campaign event in North Rhine-Westphalia, also said she had instructed Inspector General Volker Wieker to examine the case's extent within Germany's Bundeswehr.
The French-speaking 28-year-old lieutenant, identified only as Franco A. under Germany's privacy laws, was said to hold far-right views and was taken into custody Wednesday in Frankfurt after being arrested in northern Bavaria.
He has not spoken to authorities. Also arrested was a 24-year-old student. Both were active in a rowing club in Offenbach, their home city, just east of Frankfurt, according to the German news agency DPA.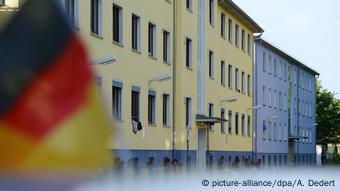 Franco A. first sought asylum at this center in Giessen, Hesse
Franco A. was attached to a special German-French brigade based in France's Alsace region and had eight years of military service. He applied for asylum in January 2016 in Zirndorf, Bavaria, as a non-Arabic Syrian.
He portrayed himself as "David Benjamin," a fruit seller originating from a French colonial-era community in Damascus, according to DPA, to sidestep the assumption that Syrian refugees typically speak Arabic
Ruse not spotted
BAMF, which has a special security unit for conspicuous cases, interviewed Franco A. in French last November, reportedly without spotting the alleged ruse. Franco A. was then granted partial protection status as a refugee.
On Friday, Interior Ministry spokesman Tobias Plate denied that there were "structural problems" in BAMF procedures but conceded "this decision was wrong."
The newspaper "Die Welt" reported Saturday that 40 extra BAMF specialists would be assigned to the unit.
Criminal psychologist Rudolf Egg, based in Wiesbaden, the capital of the state of Hesse, said Franco A. had put "enormous effort" into his asylum application.
Pistol in Vienna toilet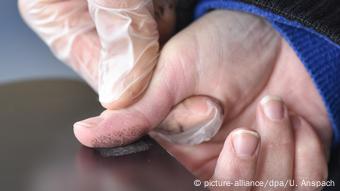 A fingerprint match led to Wednesday's arrests
Wednesday's arrests and searches of 16 premises - mainly Bundeswehr bureaus and living quarters, in Germany, France and Austria - followed the planting of a loaded 70-year-old collectors' "French Unique" pistol in a Vienna airport restroom.
Austrian authorities informed their German counterparts in February after the suspect went to retrieve the pistol. A fingerprint match led investigators to his refugee registration last November.
Masters thesis on subversion
The German news magazine "Der Spiegel" reported Saturday that the soldier had written a Masters thesis on "political change and subversion strategy" in 2014 at an elite French university. The thesis was found to contain far-right thinking.
A supervising professor had concluded the text did not conform with the fundaments of liberal democracy. The lieutenant distanced himself from the work with the explanation that he had authored it under time pressure, the magazine reported.
The Bundeswehr has insisted it had received no indications of the officer's extremist thinking. Conspicuous behavior was not spotted, despite two security checks by the Cologne-based military intelligence service MAD, "Spiegel" reported.
MAD also focus of NSU inquiry
Germany's Militärische Abschirmdienst (MAD) was the focus of widespread criticism by federal parliamentarians in September 2012 when it emerged that it had held back a file on Uwe Mundlos.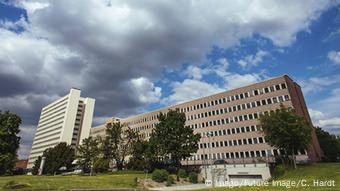 Cologne headquarters of MAD
Mundlos, who was found dead in a burnt-out camper in 2011 in Thuringia's city of Eisenach, was a member of the Nationalist Socialist Underground (NSU) and suspected of involvement in a killing spree up until 2007 that mostly claimed the lives of resident foreigners, mainly of Turkish origin, and German police officers.
MAD had in 1995 tried to recruit Mundlos, then doing military service in Germany's eastern state of Thuringia, as an informer in far-right circles, according to a document on the Bundestag parliament's website on the-then inquiry.
Control mechanisms 'flouted'
On Friday, Hans-Christian Ströbele, an opposition Greens party parliamentarian on parliament's cross-party intelligence supervisory committee said, "All control mechanisms, which are already legally applicable, have seemingly been flouted."
He accused the MAD of leading the committee astray.
Katarina Barley, the general secretary of the Social Democrats - still partners in Merkel's coalition as federal elections in September approach - accused von der Leyen and de Maiziere of not having firm grips on their ministries.
Liberal FDP general secretary Nicola Beer said the affair exposed "pure chaos" in the migration policy of Merkel's current coalition government.
DPA on Saturday reported that other past asylum cases at BAMF were to be reexamined.
Chancellor Angela Merkel's conservatives wanted federal police and intelligence officers to work alongside existing BAMF staff, it said.
ipj/sms (dpa, AFP, AP, Reuters)