The bad news is that Peter Rabbit is behind bars. The good news is that Gary Blackburn hasn't been condemned to pay any fines. And, more importantly, there is hope for his fanciful exhibition of British culture and kitsch set in the hinterlands high above the river Rhine.
"At the moment I have a good feeling," he says. "I see more chance for 'Little Britain' than for Britain staying in the EU."
Blackburn's optimism belies the recent setback of having to shutter much of his outdoor exhibition following a summer of enthusiastic visitors, whining neighbors and drawn-out wrangles with local bureaucracy.
Read more: 'Little Britain' in Germany's Rhine region lives on borrowed time
Britannica in the woods
Blackburn came to Germany's Rhine region more than two decades ago from Nottingham, around 30 kilometers (20 miles) away from Sherwood Forest, where Robin Hood, the outlaw hero of English folklore, is said to have cavorted.
"Little Britain" was his response to Brexit, but it was also inspired by his work as a tree surgeon in a part of Germany that was the scene of intense fighting during World War II. The trees in the Rhineland were silent witnesses to the battles fought here, and they still bear the marks. "Every tree down on the Rhine has shrapnel," he says.
It was in that spirit that Blackburn bought a British-made tank that had been owned by the Swiss Army and transformed it into a "monument for freedom and peace."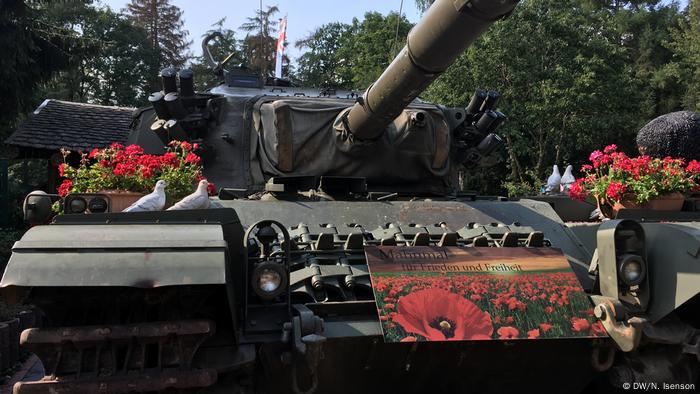 The tank now runs on solar power
The tank was augmented by a pavilion he dubbed "Robin Hood's Hideaway," two double-decker buses, British telephone booths, a letter box and dozens of plaster figures of characters from British life and literature. In the spring Blackburn began advertising "Little Britain" as a local, free attraction, drawing visitors on weekend outings, residents from a nearby senior home and hikers on their way into or out of the woods. Dozens of merrymakers turned up at Blackburn's place to celebrate the wedding of Prince Harry and Meghan Markle on May 19.
Read more: Royal wedding: German fans gear up for Harry and Meghan's big day
But not all were charmed by the displays. Some neighbors complained. And in July the local authorities told him he was breaking the law, that he lacked necessary building permits and that he would have to clear it all away by August. The matter was complicated by the fact that Blackburn leases a parcel of land from the municipality that lies directly next to his property — and to 'Little Britain.' Authorities were apparently concerned about possible misuse of public land.
The clearance order kicked off a series of reports in the local media and a non-binding petition signed by thousands of people calling for "Little Britain" to stay. It was a big hue and cry for this fairly sleepy countryside community, and it didn't take long until the district administrator, Achim Hallerbach, stepped in as a mediator. Last week he brought together Blackburn and the mayor.
The law is the law
"It's not for local government to decide whether 'Little Britain' is a treasure or an eyesore, repulsive or charming, tasteless or valuable. We have to ensure the laws are observed," Hallerbach's office said in a press release after the meeting. "Even someone who wants to install a roof on their house's terrace, and is unsure if a permit is needed, naturally asks at the mayor's or the building authority beforehand."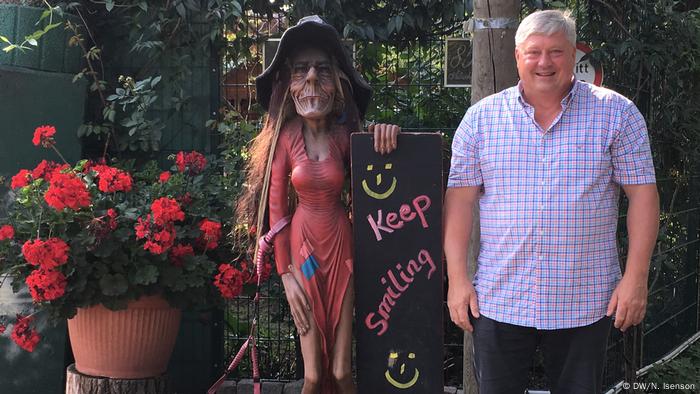 Blackburn is a heartfelt optimist
Blackburn says he tried to follow the law, but his building plans were rejected, as were his attempts to have his setup recognized as an open museum or a promotional display.
When it came to the tank, it was difficult to establish exactly what the rules were, he says. After learning that the tank would require a building permit if it were to remain stationary, he had it rigged with a motor that connects to solar panels on his house, allowing it to move at a walking pace. He believes it may be the only tank in the world to run on solar power.
"I've tried everything," Blackburn claims. And yet he isn't done trying.
Read more: How I came to appreciate German bureaucracy
'Mr. McGregor got Peter Rabbit'
The meeting with the officials showed him a way forward. Blackburn says he's hired an architect to help him get things right "and do everything the way the district administrator and the local authorities want."
He has also been trying hard to show good will. He's shuttered Robin Hood's Hideaway, where Queen Elizabeth sits with her corgis, shifted the buses off the municipality's property, taken down the "Little Britain" sign at the street and placed the bulk of the figures in storage.
"Since we put it all away there's been kids coming here asking, 'Where's Peter Rabbit?,'" he says, referring to the famous character from the eponymous children's book. "Mr. McGregor got Peter Rabbit in a cage with Alice in Wonderland," he adds. "It's a bit sad to see it locked away."
Blackburn is in for the long haul: The process could take up to two years. But that doesn't seem to bother him.
"I believe 'Little Britain' will be back before Britain will be back in the EU," he says. "We're certainly on the right way."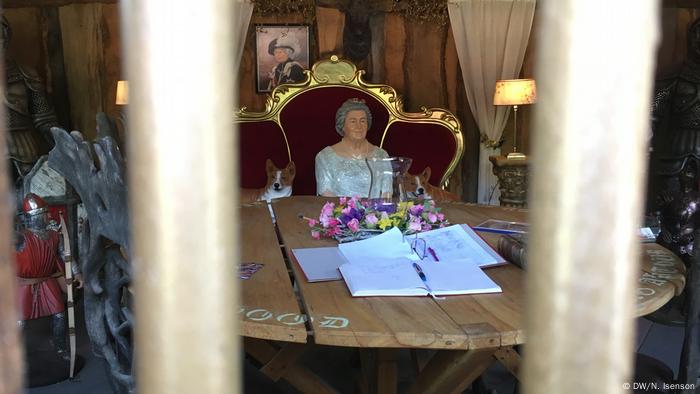 Blackburn's queen is locked away in Robin Hood's Hideaway these days
Every evening at 1830 UTC, DW's editors send out a selection of the day's hard news and quality feature journalism. You can sign up to receive it directly here.