German Chancellor Angela Merkel has defended the Iran nuclear deal in an interview with an Israeli TV channel, saying it was preferable to having no agreement at all.
Her comments, broadcast by Israel TV's Channel 10 on Sunday, highlight differences over the deal between Germany and Israeli Prime Minister Benjamin Netanyahu, who has vehemently criticized the internationally brokered accord for not doing enough to contain Iran's nuclear ambitions.
Read more: What is the Iran nuclear deal?
"Prime Minister Netanyahu believes that the nuclear deal with Iran does not provide the security Israel desires," Merkel said. "We believe it is better to have this agreement, even if it is not perfect, than to have no agreement. We will continue to discuss this, but Germany will watch very closely to ensure that this agreement will be fulfilled."
The 2015 deal with Iran, which was negotiated by several world powers, including Germany and the United States, calls on Tehran to curb its nuclear program in exchange for an easing of sanctions imposed amid fears that Iran was seeking to develop a nuclear arsenal.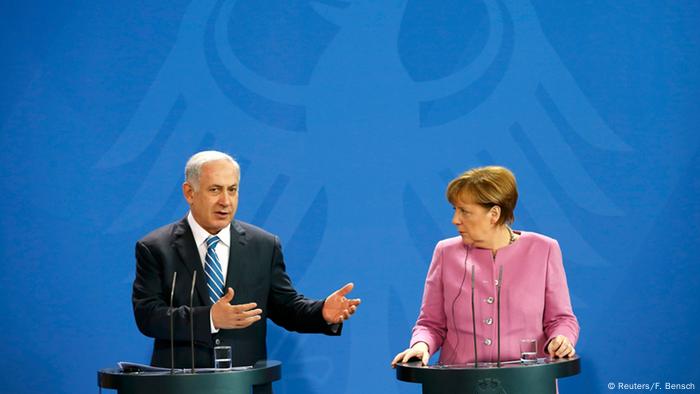 Merkel and Netanyahu disagree on the relevance of an international accord that curbed Iran's nuclear program
'A new phenomenon'
But the Iran nuclear deal wasn't the only subject on the agenda. Merkel also denounced "another form of anti-Semitism" emerging in Germany.
"We have a new phenomenon, as we have many refugees among whom there are, for examples, people of Arab origin, who bring another form of anti-Semitism into the country," Merkel said.
Read more: Berlin fights anti-Semitism with synagogue, Jewish secondary school
Over the past year, Germany has witnessed an increase of anti-Semitic attacks. Last week, video of a Syrian refugee attacking a man while calling him a Jew in Arabic prompted public outrage in Berlin. The suspect later surrendered himself to police in the German capital.
"The fact that no nursery, no school, no synagogue can be left without police protection is depressing," Merkel added.
Differences on settlement building
In her interview, Merkel also touched on differences between Israel and Germany regarding the Netanyahu government's settlement expansion in the West Bank and east Jerusalem, areas that Palestinians claim for a future independent state.
"I think this situation causes some headaches because the two-state solution is not becoming more likely through a policy of settlement building," she said.
Read more: Israel at 70: What does the future hold?
However, the chancellor said that despite policy disagreements, Germany would always have a special relationship with Israel "stemming from the eternal responsibility we bear for the Shoah" using the Hebrew word for the Holocaust, Nazi Germany's killing of an estimated 6 million Jews during the Second World War.
ls,tj/se (AP, AFP, dpa)
Each evening at 1830 UTC, DW's editors send out a selection of the day's hard news and quality feature journalism. You can sign up to receive it directly here.