As their country turns 70, Israelis are coming together to celebrate at beach parties from the shores of Lake Tiberias in the north down to the the southern city of Eilat. Celebrations will also take place on Rothschild Boulevard in Tel Aviv where David Ben Gurion announced Israel's independence on May 14, 1948. In keeping with the Hebrew calendar, Israel's independence day festivities begin in April.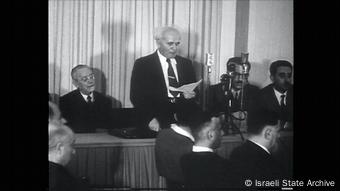 A proud moment for Israel
"I am very proud of what my country is today. The state of Israel is its people, its ordinary people, who make this state," says Laura Artzi, who is out shopping on Jaffa Street in Jerusalem. For most Israelis, Independence Day is first and foremost a day off to spend with family and friends, have a barbecue or watch air force jets fly over Tel Aviv. Days before, street vendors sell the Israeli flag and other items in blue and white to commemorate the day.
Actor Yair Lehman is preparing to play Theodor Herzl, the father of modern political Zionism, during the Independence Day festivities. "Seventy years, it means on the one hand, I am glad, for all its historical reasons," he says. "But it is also a time to be worried, where is this country, the nation going from here? What will be the relationship with our neighbors, and what about all our internal disagreements?"
Overshadowed by new tensions
Reminiscent of Israel's long history of wars and conflict, the renewed tensions at Israel's northern border have overshadowed this year's celebrations. The Israeli army is on high alert for a potential Iranian retaliation after an airstrike on a Syrian base last week that Russia attributed to Israel. The airstrikes the US, Britain and France carried out on Syrian military installations last Friday, in retaliation for an alleged chemical attack on civilians in the Syrian town of Douma, have added to the tension. And in the south, mass protests by Palestinians in the Gaza-Strip at the demarcation fence with Israel are expected to continue into May.
Read more: US-led strikes on Syria: A move with unpredictable consequences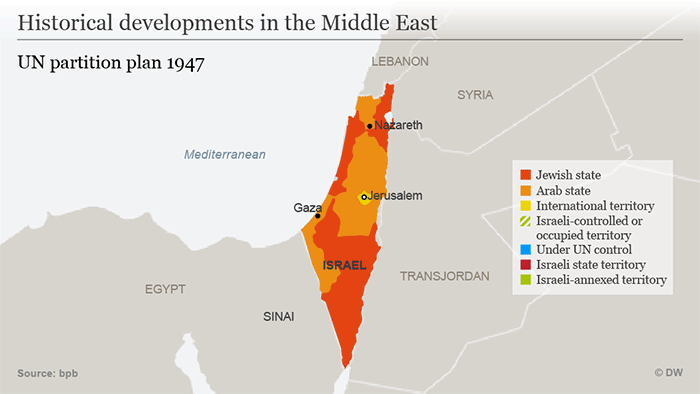 Traditionally, the day before Independence Day, Israel officially mourns its fallen soldiers and victims of conflict. For many years, an "alternative" memorial day has also been held by Israeli and Palestinian civil society organizations to jointly honor their loved ones who have been killed in the conflict. The somber mood of memorial day will transition to a festive mood with a traditional torch lightning ceremony on Mount Herzl in Jerusalem to celebrate Israel's birthday.
Reflections on past and present
Seventy years ago, Michael Shiloh was a 14-year-old pupil when he listened to David Ben Gurion's announcement of independence in Tel Aviv. Looking at pictures from that time in his home in Jerusalem, he remembers the euphoria after the speech and the singing and dancing in the streets. "This was only three years after the Holocaust. Auschwitz still existed in April of 1945," says Shiloh whose parents fled Nazi-Germany and came to what was Mandatory Palestine in 1935. "So there was this cloud over my parents head, but on the other hand, there was euphoria, there was this collective feeling, we've made it, we are safe, we have a state of our own."
Read more: German-Israeli relations: What you need to know
But that feeling did not last for long: A coalition of Arab countries, who had already rejected the UN partition plan in November 1947, attacked the new state. Ten months of fighting ended in an armistice in 1949. An estimated 700,000 Palestinians were forcibly displaced or fled their towns and villages during this war, which Israel refers to as Independence War. Those Palestinians became refugees in today's occupied West Bank and Gaza and in other Arab countries they fled to like Jordan, Syria and Lebanon. Only a minority stayed in today's Israel.
Palestinians commemorate loss of their land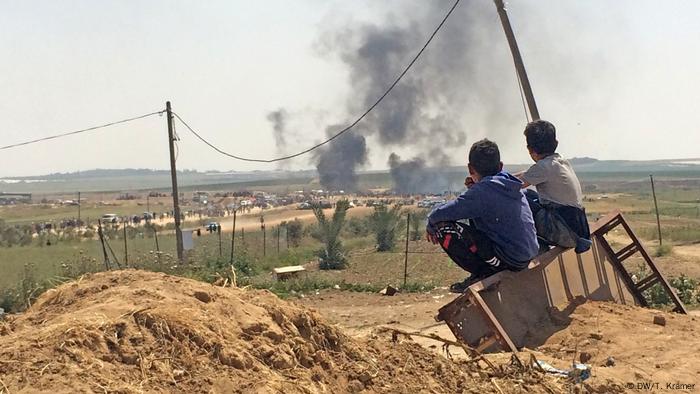 Recent clashes in Gaza have put the plight of the Palestinians firmly back in the spotlight
A day after Israel celebrates its creation, Palestinians mourn the loss of their land, which they refer to as "nakba" ("catastrophe"). Since the end of March, at least 30 people have been killed and hundreds more wounded by Israeli sniper fire in the current mass protests in Gaza which have put the issue of the right of return of Palestinian refugees firmly back on the agenda.
"It is a reminder to Israel, that the questions of Palestinian refugees, is still not solved, even after 70 years," says Ahmad Abu Irtema, 33, one of the young initiators of the protests from Gaza City, who insists that the majority of the events are peaceful. The small territory is home to about 1.2 million refugees and their descendants. Israel accuses Hamas which controls the Gaza Strip of using these demonstrations for its own violent means. The issue of refugees is one of the most contentious in the Israeli-Palestinian conflict. But beyond asking for a just solution for refugees, protesters also say they want to highlight the decade-long closure of the Gaza-Strip, as well as Israel's military occupation of Palestinian territories, which it has maintained for over 50 years.
For Michael Shiloh, who went on to become a diplomat serving in Israeli missions and embassies around the world, it is the missing peace that is his main concern. He was closely involved with the team that worked on the Oslo peace negotiations in the early 1990's. "We are successful in many ways," Shiloh says. "But we didn't arrive at any arrangement; not at peace with the neighbors, not even with an interim arrangement that would give us the feeling of security and justice."
Read more: When Israelis started to talk about the occupation