Russia's military on Monday blamed Israel for an early morning bombing raid on the Syrian government's T4 air base near the western city of Homs. It said Israeli F-15s had fired eight missiles at the facility.
The accusations were echoed by Syrian state media, which reported the weapons were launched from Lebanese territory. At least 14 people were killed, most of them members of Iran-backed groups, according to the Syrian Observatory for Human Rights.
Russian Foreign Minister Sergey Lavrov described the attack as a "very dangerous development."
Both the United States and France denied carrying out the raid. Israel, which has struck several Syrian army targets over the course of the seven-year conflict, declined to confirm or deny its involvement. It has, however, repeatedly warned it would not tolerate Iran's military presence in Syria.
The strike came after an alleged chemical attack by Syrian forces on the rebel-held town of Douma on Saturday.
Read more: Syria: rebels evacuate Douma under new agreement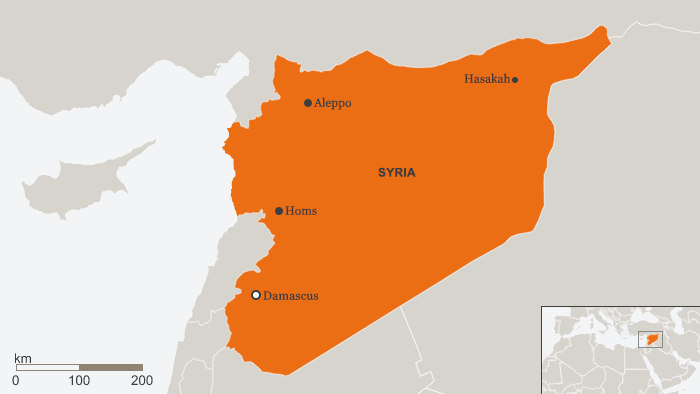 Germany demands accountability
The European Union said Monday that accounts "from several sources" indicate Syrian President Bashar Assad's government was responsible for the suspected poison gas attack on opposition-controlled Douma, which killed dozens of people, including children.
German government spokesman Steffen Seibert said the regime's actions were "abhorrent."
"Those responsible for the use of poison gas ... must be held to account," he told reporters in Berlin. He also urged Damascus ally Moscow to "give up its blockade mentality" at the UN Security Council and clear the way for an investigation into the use of chemical weapons in Syria.
US not ruling out airstrikes
US Defense Secretary Jim Mattis on Monday said the US is not ruling out military airstrikes against Syria in response to reports of the toxic gas attack.
"The first thing we have to look at is why are chemical weapons still being used at all when Russia was the framework guarantor of removing all the chemical weapons," Mattis said. "Working with our allies and our partners ... we are going to address this issue ... I don't rule out anything right now."
His comments came after President Donald Trump on Sunday warned there would be a "big price to pay."
Trump announced on Monday that he would make a decision on the US response "within 24 to 48 hours," saying during a Cabinet meeting with reporters that, "If it's Russia, if it's Syria, if it's Iran, if it's all of them together, we'll figure it out."
The UK also called for a "strong" response, with Prime Minister Theresa May urging "the regime and its backers including Russia," be held to account if they are found to be responsible.
Denials
The Syrian government denied staging Saturday's suspected poison assault on Douma. Russia, Assad's ally, said such accounts were "fabricated."
"Our military specialists have visited this place ... and they did not find any trace of chlorine or any other chemical substance used against civilians," Lavrov said.
Moscow said some 8,000 fighters and 40,000 civilians would be bussed out of the besieged town, and said that proved "no chemical weapons were used in this area."
In February, Macron had said "France will strike" in the event of a lethal chemical weapon attack on civilians by government forces in Syria.
UN Security Council to meet
Relief workers inside Douma told AFP on Sunday that at least 48 people died after showing symptoms consistent with exposure to chlorine gas. Witness reports said bodies still lay in the streets and hospitals were teeming with dead and wounded.
The UN's chemical weapons watchdog said it was gathering more evidence "to establish whether chemical weapons were used."
Read more: What does the chemical weapons watchdog OPCW do?
In April 2017, Trump ordered a strike on another Syrian air base, Shayrat, 70 kilometers (45 miles) west of T4, following similar allegations that Assad had used banned chemicals on civilians.
The UN Security Council has called an emergency meeting for Monday to discuss the incident amid worldwide outrage over the alleged used of poison gas.
nm/rt (Reuters, AFP, dpa, AP)