German Chancellor Angela Merkel on Friday met with Lebanese Prime Minister Saad Hariri to discuss refugees and economic stability in the region.
At home, Merkel is under pressure to find a solution to significantly decrease migrant arrivals to Germany. The chancellor's two-day visit to the region was aimed at supporting efforts to host Syrian refugees closer to their country in exchange for aid.
What Merkel said:
"If you have 4.5 million inhabitants and take in more than a million refugees, then you can imagine what that task is for a country." – Lebanon hosts the most refugees per capita in the world.
"We want to contribute to reaching a political solution in Syria that will allow refugees to return to Syria." – This year, Lebanese authorities have increased calls for Syrian refugees to return to their country, but humanitarian organizations have warned that the situation is still too dangerous. But Merkel noted that refugees could only be returned with UN coordination.
"During our political talks, we pointed out that Germany could participate in [infrastructure] projects, but Lebanon must reform to be more attractive to these investments." – The chancellor was accompanied by a business delegation exploring how German business could participate in infrastructure projects in Lebanon.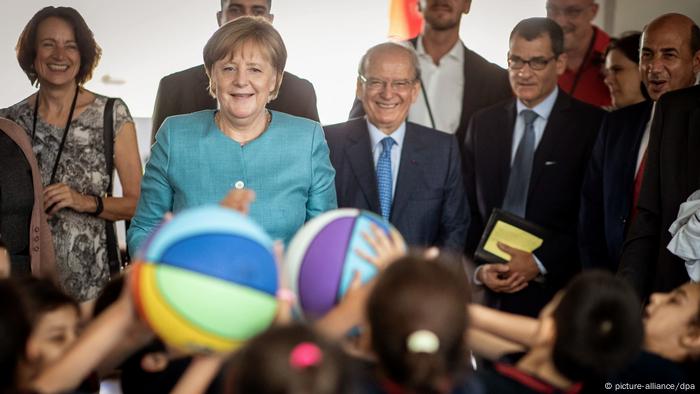 German Chancellor Angela Merkel also visited a school that teaches Lebanese children in the morning and Syrian refugees in the afternoon
How many refugees does Lebanon host? According to the UNHCR, Lebanon hosts 982,012 registered Syrian refugees. But the actual number is likely much higher since not all Syrians fleeing war in their country have registered with the UN.
What is the German government providing? Last year, Germany provided 380 million euros ($443 million) to Lebanon. Berlin has signaled its intention to also aid Lebanon with waste management and its energy sector, which remains in a shambles following years of war.
Earlier this year, international donors pledged more than $11 billion for reconstruction, but urged Lebanon to reform in order to make it more attractive for investment.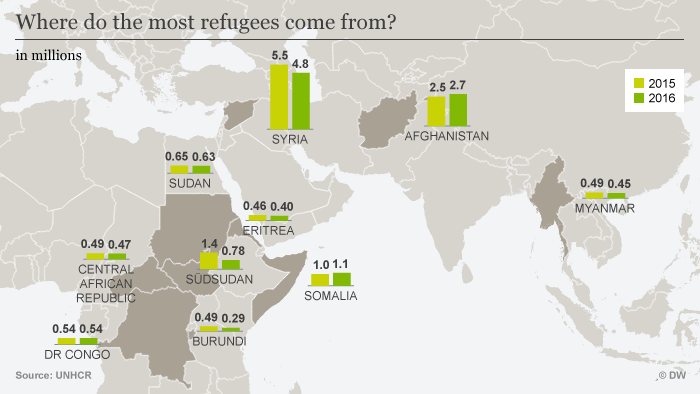 Why is Merkel under pressure? German Interior Minister Horst Seehofer has called for asylum-seekers to be rejected at the German border if they were registered in another EU state. But Merkel has refused to accept Seehofer's demands. Instead, she has insisted on an EU-wide approach.
EU leaders are expected to gather on Sunday for an informal mini-summit to explore options, especially resettling refugees from front-line countries such as Italy and Greece to share the burden. But several countries, including Hungary and Poland, have refused such measures.
Read more: How do refugees in Germany view Seehofer's tougher migration plan?
At the end of June, EU leaders will gather for an official summit, during which Merkel is hoping to have secured more support for a bloc-wide approach to irregular migration and the question of refugees.
ls/ng (dpa, AFP, Reuters)
Each evening at 1830 UTC, DW's editors send out a selection of the day's hard news and quality feature journalism. You can sign up to receive it directly here.