When it comes to education in Germany, family background is still a strong predictor of how well students will do in school. Children of teachers or doctors, for instance, are much more likely to earn good grades and go on to university than kids of parents without academic degrees.
"Where you come from has significant influence on how successful you're going to be with your education in Germany, a lot more than elsewhere in Europe," Andreas Schleicher, the director for education and skills at the Organisation for Economic Co-operation and Development (OECD), told DW.
But a new study by OECD indicates that things may be changing. Researchers have found that a growing number of kids from socio-economically disadvantaged households are managing to succeed in German schools.
The OECD working paper released on Monday compared students from different countries in terms of their academic resilience, which the authors defined as "the ability of 15-year-old students from disadvantaged backgrounds to perform at a certain level in the Programme for International Student Assessment (PISA) in reading, mathematics and science that enables them to play an active role in their communities and prepares them to make the most of lifelong-learning opportunities."
Germany: Steps in the right direction
The OECD-average for resilient students lies at around 25 percent, according to the most recent PISA results from 2015. That means that just one quarter of children whose parents didn't receive a higher education, or kids who grow up in homes without books, do well in math, science and reading.
But in Germany, that number is significantly higher. Some 32.4 percent of disadvantaged students in the country qualify as resilient, a figure that has continued to rise since researchers began collecting data in 2006.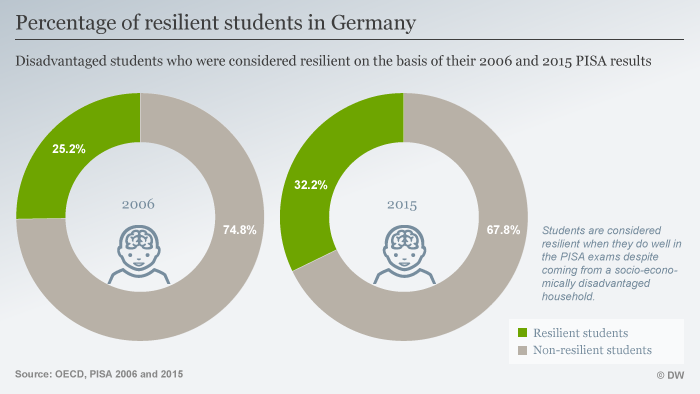 In order for disadvantaged students to do well, two factors are especially important: a mix of students from different social backgrounds going to class together and a positive learning environment.
That can be achieved by having low teacher fluctuation rates, so kids can build up trust and openly communicate with their instructors. Principals who can motivate their teachers and who set goals and strategies to reach them also play an important role.
Read more: OECD education study reveals gender gap and strong disparity
The OECD researchers say the increased academic resilience among students in Germany can be traced back to recent changes made to the country's education system. In 2003, authorities agreed to invest more in so-called Gesamtschulen, where kids of different academic abilities are taught together instead of separately.
Schools where kids stay until the afternoon have also become more common in Germany in recent years. These "Ganztagsschulen," or all-day schools, with their group projects and after-class activities, are "good places to increase resilience in students," according to the researchers.
Highest number of resilient students in East Asia
While the number of resilient students has increased in Germany, there is still a lot of room for improvement.
"Teachers need to focus even more on individualized teaching, on working with different students' strengths and weaknesses," OECD education director Schleicher said. "Another challenge is convincing the best teachers and best principals to come work at the most difficult schools."
Certain regions in Asia are outpeforming Germany when it comes to preparing students from non-academic households for a university career and lifelong learning. More than half of disadvantaged students in Hong Kong and Macao, for instance, and almost half in Singapore were considered resilient according to their 2015 PISA results.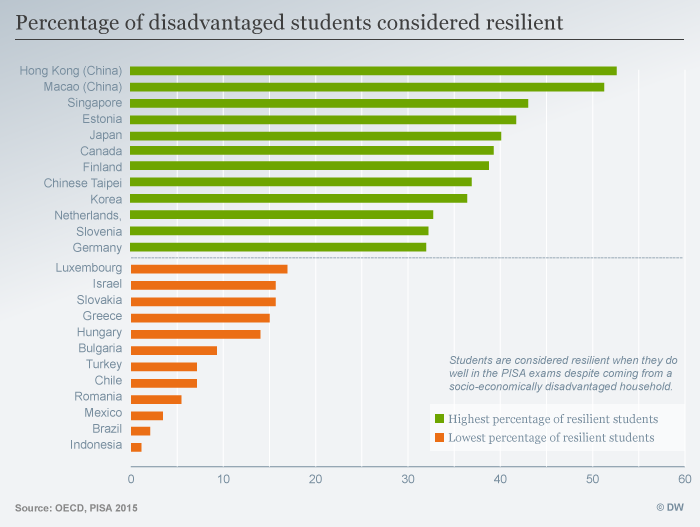 "Teachers there teach only 11 to 16 hours a week, so about half of what German teachers have to put in," Schleicher said. "They can use the rest of the time to compare notes with other teachers, work with students outside the classroom or support parents. They make so much room to counteract social disadvantages in Asia and it's really working."
Read more: PISA survey indicates the best students are in East Asia
Finland and South Korea are also doing better than Germany, although the number of resilient students in these countries has actually gone down from 2006 to 2015. Mexico, Brazil and Indonesia come in last in the ranking. But Schleicher is convinced that these countries can improve their numbers.
"Resilience is often accepted as something that's just hard to change," he said. "But Germany has shown that you can really get things moving in just a few years."