For several years now, citizens from the western Balkans — with the exception of Kosovo — have been able to travel visa-free throughout the European Union for up to 90 days. That privilege was extended to citizens of Georgia and Ukraine in 2017.
The right to visa-free travel to the EU is very popular among citizens of those countries afforded it, but its potential for abuse has caused headaches for government authorities.
From the very start, France and Germany feared that the visa-free rule could lead to unwanted immigration and insisted upon including an "emergency brake" when Brussels negotiated travel liberalization with partner countries: In the event that visa-free travel should lead to an increase in asylum applications in EU countries, the privilege could be revoked.
EU member states have repeatedly threatened to invoke the mechanism, most recently after an increase in asylum applications filed by Georgians and Armenians in Germany.
Read more: 'Golden visas' for EU offer the rich bigger bang for the buck
Although citizens from Armenia need a visa to travel to the EU, the former Soviet republic is hoping to receive freedom of movement privileges within the next few years. But those hopes are now in jeopardy following news that Armenians have increasingly been found to have been abusing EU asylum laws.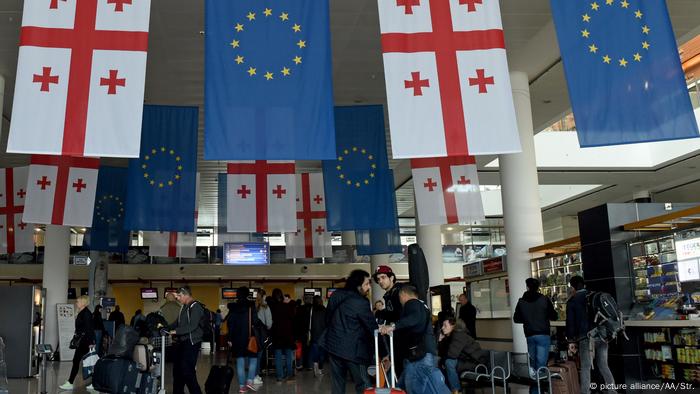 Georgians began traveling to the EU visa-free in March 2017
"High numbers of applications and low acceptance rates," is how Stephan Meyer, parliamentary state secretary for Germany's Interior Ministry, described the problem when speaking to German publisher Funke Mediengruppe.
Germany's Federal Office for Migration and Refugees (BAMF) reports that some 3,500 Georgians and almost 3,900 Armenians applied for asylum in the country last year. Although the numbers do not suggest a mass influx of asylum seekers, they are seen as running counter to how the visa-free travel program was intended to work.
Countries of safe origin
The number of Georgians and Armenians seeking asylum in Germany has also risen sharply in the first quarter of 2018. BAMF says some 1,400 Georgians submitted asylum applications in January and February alone.
Asylum is almost never granted in such cases because German authorities fail to find evidence of individual political persecution. Acceptance rates for Georgians and Armenians are around 2 percent.
Read more: Refugee numbers in Germany dropped dramatically in 2017
That figure is also on par with cases of asylum being granted to citizens of North African countries. The German government intends to label all countries that have acceptance rates at or below 5 percent as being of "safe origin."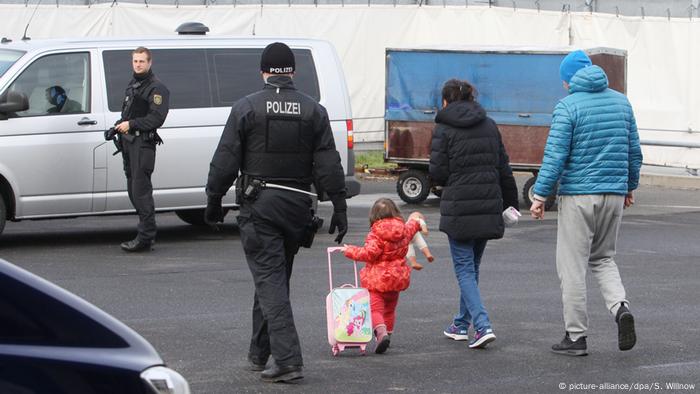 Asylum applications from Georgians and Armenians are rarely accepted in Germany
That declaration would make it easier to deport those people denied asylum. German law requires proof that neither political persecution nor inhumane treatment are prevalent in a country before it can be declared safe. According to Meyer, the Georgian government would welcome that distinction.
In February, Meyer told newspaper Die Welt: "If the trend isn't stopped very soon, the EU will have to prove it can do something and rescind visa-free travel. Our citizens won't accept anything less, and rightly so." He added that it was "brazen and unacceptable" to abuse visa-freedom "in order to apply for asylum that will not be granted just to receive welfare payments and take advantage of our healthcare system."
Crime concerns
The view among some authorities that an increase in asylum applications could lead to a spike in crime is another part of the equation. "People from Georgia come here, apply for asylum and then use the time they have to wait for a reply to, firstly, receive financial assistance, and secondly, to break into apartments and houses," said former Interior Minister Thomas de Maiziere when speaking with DW in March.
Read more: German media 'distort' refugee crime rates, study finds
In its report "Crime in the Context of Immigration," Germany's Federal Criminal Police Office found that during the first nine months of 2017, an above average number of Georgians were suspected of crimes, mainly related to property theft.
In late February and early March, federal police conducted immigration controls at German airports specifically targeting members of organized crime groups from Georgia.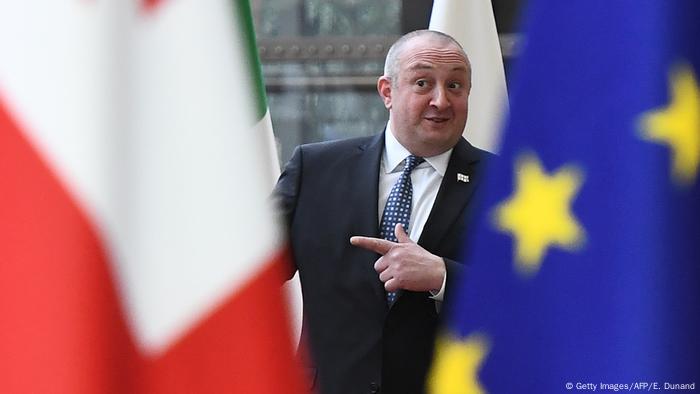 Georgian President Giorgi Margvelashvili said he would adress the EU's concerns
Sweden's threat
In February, officials from the western state of North Rhine-Westphalia called on Germany's federal government to rescind visa-free travel privileges, pointing to the "criminal activity" of Georgian asylum seekers.
Read more: Almost half of rejected asylum seekers in Germany winning on appeal
Swedish authorities have noted a similar trend. At a recent meeting of EU interior ministers, Sweden's Morgan Johansson complained that the number of Georgians seeking asylum in his country had risen dramatically despite the government rarely granting asylum. He said members of organized crime gangs were among those submitting the applications. He demanded the Georgian government take steps to end the practice, otherwise the country risked losing its visa-free status.
The message seems to have been received. Georgian President Giorgi Margvelashvili declared that his administration was ready "to more actively protect the visa liberalization that was so hard to get." Georgia, he said, has an "active and responsible stance regarding the issues that our EU partners have raised."
Each evening at 1830 UTC, DW's editors send out a selection of the day's hard news and quality feature journalism. You can sign up to receive it directly here.