On Sunday, Ukrainians celebrated their first day of visa-free access to most of the EU's 28 nations following a measure adopted by the European Parliament in April and the European Council heads of government in May.
One of many elements of the EU-Ukraine association agreement signed in 2014, expanded access was put on hold during the major tensions that followed the overthrow of Russia-backed President Viktor Yanukovych that winter, and was further delayed after a 2016 referendum in the Netherlands initially rejected the pact.
Two weeks ago, the Dutch parliament backed a revised pact, which European Commission President Jean-Claude Juncker said could be finalized at a EU-Ukraine summit in July. If so, it is likely to come into force in September.
The new waiver allows one in 10 Ukrainians - those with biometric passports - to travel in the European Union without visas for up to 90 days in any 180-day period for tourism, business or family visits, but not to work.
Excluded from the setup are Britain and Ireland, but included are four non-EU Schengen zone members: Iceland, Liechtenstein, Norway and Switzerland.
In Kyiv late on Saturday, Ukrainian President Petro Poroshenko told a crowd that the new travel arrangement "symbolizes a final breakaway of our state from the Russian empire."
Poroshenko described the moment as the onset of a "different historical era" and said Ukraine would now seek cheaper rail and aviation links with EU cities.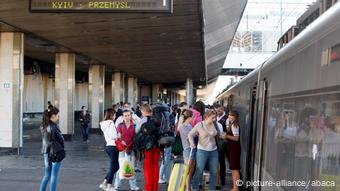 Ukrainians, some without visas, board a train from Kyiv to Poland
Ukraine's border authority told the news agency Interfax that 600 people with the new passports entered the European Union in the early hours of Sunday.
Contested borders
Ukraine's popular pro-EU uprising in 2014 was followed by Russia's annexation of Crimea and the imposition of Western sanctionson Moscow. Despite peace efforts involving German diplomats, since 2014 fighting between pro-Russia separatists and government forces in Ukraine's industrial east has claimed more than 10,000 lives and displaced many more people.
Since Saturday, four Ukrainian soldiers have been killed in the most recent fighting, according to a report carried by the German news agency DPA.
Russian officials have often rejected claims that the Kremlin is arming the rebels.
In May, when the European Council finalized its visa waiver for Ukrainians, the EU announced that the measure contained a suspension mechanism "if there are serious migration or security issues with Ukraine."
Georgia, which fought a brief but bitter war with Russia in 2008, was granted a similar EU visa-free travel scheme that began in late March.
In February, Russian President Vladimir Putin signed a decree recognizing passports issued by the self-declared Luhansk People's Republic and the Donetsk People's Republic in eastern Ukraine.
At the time, Poroshenko blasted the decree as a "violation by Russia of international law."
ipj/mkg (APF, dpa, Reuters)