The European Union's foreign policy chief, Federica Mogherini, told a news conference in the Russian capital on Monday that the EU could not pretend that Moscow had not annexed Ukraine's Crimea in 2014, and that the bloc's sanctions over the issue would not be lifted.
She insisted, however, that cooperation between the two sides was not "frozen," but rather hampered by differences over issues such as Ukraine and Syria.
Mogherini was speaking alongside Russian Foreign Minister Sergey Lavrov on her first official visit to Moscow in her current role as the EU's top diplomat.
During earlier talks between the two, Lavrov also admitted that it was currently "a difficult period in relations between Russia and the West," but that Moscow still aimed "to restore full collaboration with the EU, our large trade and economic partner."
Frayed ties
Relations between Moscow and Brussels have cooled considerably since Russia annexed the Crimea region from Ukraine. Not only the EU, but also the United States and a number of other Western countries imposed sanctions, some of which have been expanded amid Russia's continued backing of pro-Russian rebels waging an insurgency in eastern Ukraine.
Russia responded by banning imports of agricultural products from the West.
Moscow has additionally drawn ire from the West for its support of Syrian President Bashar al-Assad in his bid to put down the armed rebellion.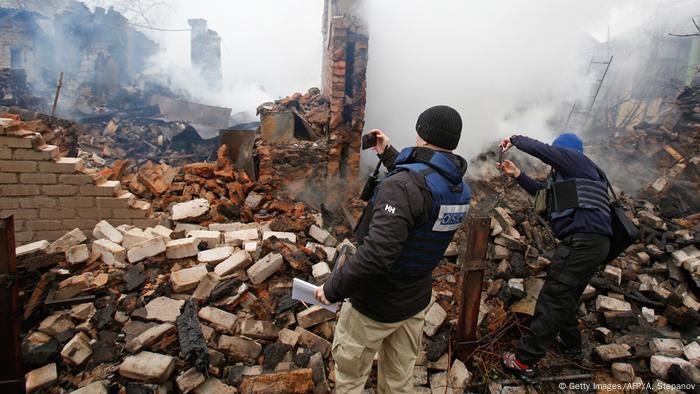 The fighting in eastern Ukraine has claimed some 10,000 lives, the UN says
'Duty to protect human rights'
At the conference, Lavrov called for a swift investigation into the death of an American paramedic working for the OSCE mission monitoring the fighting in Ukraine. The man was killed and two others injured on Sunday when the vehicle they were traveling in struck a mine.
According to the Interfax news agency, Mogherini earlier said the EU expected a thorough probe of the incident.
Mogherini also responded to a question posed at the news conference about the alleged persecution of gay men in the southern Russian region of Chechnya, saying Russia had a duty to protect the human rights of all its citizens.
"Our expectation is that the Russian Federation does its part to protect its own citizens in full respect of human rights principles," she said.
She added that she had discussed the issue during her talks with Lavrov.
tj/rc (dpa, Reuters)