Almost one in two refugees who appeals against the rejection of an asylum application by German migration authorities wins the case before administrative courts, a German newspaper reported on Monday.
The report by the Süddeutsche Zeitung, which cited the government's answer to a parliamentary question put by the opposition Left Party, said that some 44 percent of cases in the first nine months of last year were decided in favor of the refugees. That compares with just 29 percent in the same period in 2016.
The groups that had the most success with their appeals were Syrian refugees, who won in 69 percent of cases, and Afghans, who had 61 of their appeals accepted. Those from Morocco and Algeria were markedly less successful, winning in only 12 and 10 percent of cases respectively.
The latter two countries are to be declared "safe countries of origin" by Germany when fewer than 5 percent of asylum applications are granted by the Federal Office for Migration (BAMF), meaning that asylum seekers can be returned there under German law.
Read more - German asylum court cases soar by five times in past year
Many successful appeals overturned
The success on appeal meant that most of the refugees received protection under the Geneva Refugee Convention, but only a few were given asylum as enshrined in the German constitution, which is a status granted only to politically persecuted people who did not come to Germany from a secure third country.
The difference in status is important, as only those who receive asylum can be legally followed to Germany by family members.
Almost all rejected asylum applications were appealed, the Süddeutsche Zeitung said.
Many of the successful appeals, however, were themselves overturned after BAMF called for a further review, though no concrete figure was given.
Read more -Germany's 'voluntary return' scheme for rejected migrants misses its target
BAMF rejections 'reflect political will'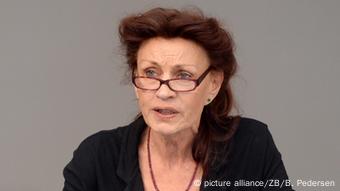 Jelpke: BAMF rejections reflect German policy
The Left Party expert for domestic affairs who posed the question, Ulla Jelpke, said that "the high success rate of appeals against asylum decisions" cast "a poor light on the quality" of the initial decisions.
She said it was "obvious" that the political will to deter asylum seekers resulted in BAMF issuing unjustified rejections.
"This means it is being simply accepted that those seeking protection are sent back to war, torture and persecution because of such decisions," she said.
Read more - Germany fears EU migration reforms will trigger refugee influx: report
tj/kms (dpa, AFP)