Speaking on a visit to Oslo, Steinmeier stressed the urgency of delivering humanitarian aid to Syrians under siege in Aleppo.
Steinmeier told reporters that a ceasefire in Aleppo was a prerequisite for the Syrian opposition to agree to return to negotiations.
"The US has made its offer. Russia can now show that it is genuinely interested in seeing an end to the fighting in Syria," Steinmeier told the Funke Mediengruppe, a German newspaper group, in an interview to be published on Monday.
"Moscow knows, like everyone else, that there is no military solution for the conflict in Syria," he added, highlighting that ending the fighting was not solely dependant on Moscow, but also on "other players inside and outside Syria who just want to keep fighting."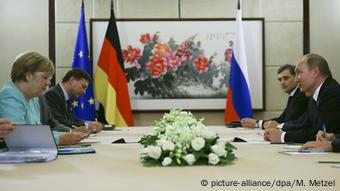 Merkel also spoke with Putin about the situation in Ukraine
Focus on Ukraine
Meeting on the sidelines of the G-20 summit in China, German Chancellor Angela Merkel also discussed the humanitarian situation in Syria with Russian President Vladimir Putin, German government spokesman Steffen Seibert confirmed.
The two leaders also spoke about the situation in eastern Ukraine. A ceasefire agreement between pro-Russian separatists and Kyiv government troops was signed in Minsk in February 2015, but many of its points have not yet been implemented and the ceasefire remains fragile.
It was the first meeting between Merkel and Putin in several months.
Relations between the two countries have been strained since the conflict began with Russia's annexation of the Crimean Peninsula in 2014.
ss/cmk (Reuters, dpa)