The leaders of the 20 most important countries in the world are meeting on September 4-5 in the Chinese city of Hangzhou as part of this year's Group of 20 (G20) summit.
Hangzhou is a city in the eastern province of Zhejiang, not far inland from Shanghai. It is renowned for its beautiful natural scenery, and boasts an ancient history, with thriving tourism as well as high-tech industries.
This is the first time China is hosting the summit, and like during other major international events the country has previously organized, Beijing is pulling out all the stops to make it a success and showcase China's growing clout on the world stage.
The government shut down local factories to generate cleaner air for the duration of the meeting, and restricted car traffic. Among other things, the government saw to it that 20,000 new electric vehicles were allocated to Hangzhou, and even distributed $1.5 billion in vouchers to persuade many local residents to leave the city for a few days. Tens of thousands of locals were recruited to look after logistics and make sure visiting dignitaries and their entourages would be well looked after.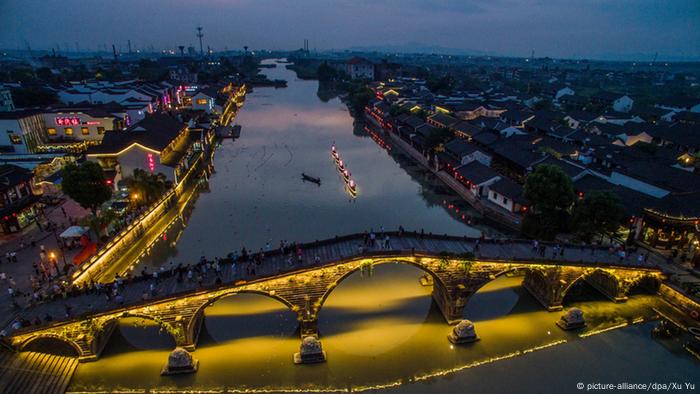 Hangzhou by night
Big talk
The G20 meeting offers the presidents and prime ministers a chance to discuss and coordinate their countries' policies on the major economic and geopolitical problems confronting the world.
Economic issues are set to dominate the agenda, with the global economy continuing to be plagued by tepid recovery and stagnant job growth. Concerns are growing about increasing opposition to free trade in many industrialized nations in Europe and North America - and similarly, there are perceptions in Germany and Europe that China is adopting protectionist measures and making it increasingly difficult for Western corporations to invest and do business in China.
In the run-up to the summit, Christine Lagarde, the head of the International Monetary Fund (IMF), warned about the "low-growth trap" facing the world, pointing to problems such as high debt, weak demand, eroding work forces and labor skills, weakening incentives for investment, and slowing productivity.
This, she added, "is feeding a political climate in which reforms stall and countries resort to inward-looking policies."
No breakthroughs?
Still, the summit is unlikely to produce any major reform measures, as member states remain divided over the steps needed to promote economic competitiveness and job creation. The leaders might merely renew their promises to use tax and spending policies to reinvigorate the world economy, but the chances of a meaningful new pro-growth push look slim.
"This meeting - the first since Brexit and the US presidential primaries - should send a clear message that world leaders have heard people's concerns about globalization, and are taking steps to better understand and address them," Mark Melatos, associate professor at the University of Sydney, told Reuters.
"The risk is that nothing much will be achieved," he warned. "More platitudes about the benefits of global trade and investment will ring hollow."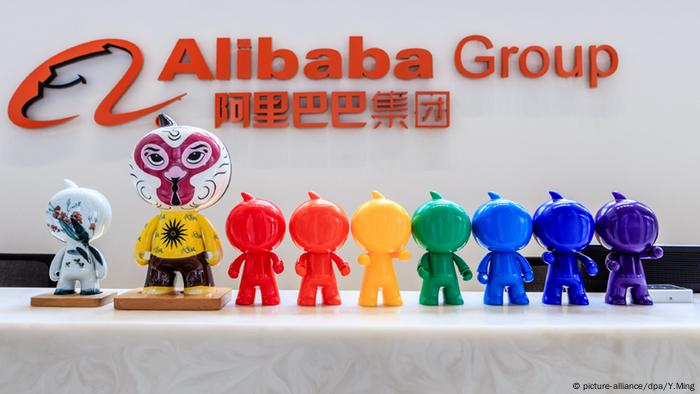 Alibaba Group, one of China's most important Internet-era companies, is headquartered in Hangzhou
Chinese leaders, however, are expected to soothe worries related to their country's growth prospects, underlining that the world's second-biggest economy continues to be in good shape despite the recent slowdown in its pace of expansion.
According to its government's statistics, China's economy expanded 6.7 percent year-on-year in the three months through June. While that's significantly slower than the double-digit growth it had experienced in recent decades, the rate seems to have stabilized after the recent stock market turmoil, and is much higher than anywhere in Europe and North America.
It should be noted in this context, however, that many experts have cast doubt on the reliability of official GDP statistics, including some Chinese officials. Some investors look at figures like total containers leaving Chinese ports, or total energy consumption, rather than official GDP growth figures, when assessing the state of the country's economy.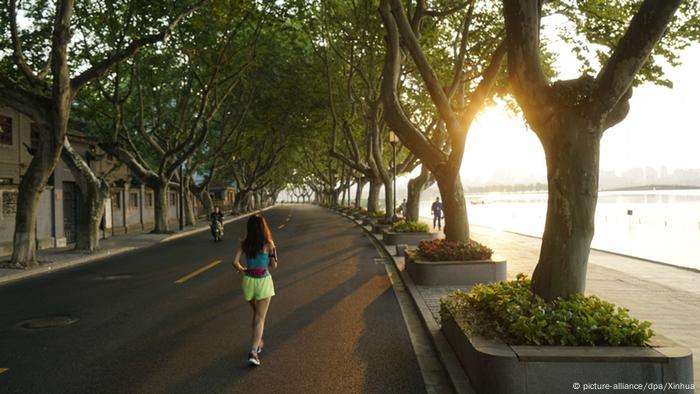 Hangzhou's West Lake is one of the city's special attractions
In any case, China's policymakers are likely to use the opportunity of the G20 summit to communicate with their counterparts about their financial policies and reforms, which they say are intended to reconfigure the nation from being an export-reliant manufacturing economy to one driven more by domestic demand, with a larger share of GDP generated by services rather than manufacturing than has been the case to date.
The final trip
For Barack Obama, this year's summit will be his last as US president. It gives him a chance to reflect upon his economic record. He's expected to use the trip to Asia to promote the Trans-Pacific Partnership (TPP), a 12-nation comprehensive trade and investment regulation deal that excludes China.
Obama invested a lot of political capital in TPP, but it's facing strong headwinds amid rising anti-globalisation sentiment in the US, where many politicians are admitting that previous deals similar in nature, like NAFTA, did expand trade, but at heavy cost to domestic US manufacturing industries and blue-collar workers, whose wages were pushed permanently downward as they faced competition from workers in much poorer countries.
For the outgoing president, the visit will also be an opportunity to highlight his second-term effort to put tackling climate change higher on the political agenda.
This Hangzhou hotel underlines how quickly the city, with a population in the metropolitan area of about 21 million, has grown - and modernised
At Hangzhou, China and the US are expected to give the Paris climate change agreement a big push forward, including potentially jointly announcing their ratification of the deal, and new action to curb fossil fuel subsidies, experts say.
With China - which has shown growing international leadership on climate change - hosting the summit for the first time, "we can expect climate and energy to be front and centre", said Joanna Lewis, a specialist at Georgetown University on energy and environmental issues in China.
China has set up a 'green finance' mechanism that it intends to unveil at the summit as well.
Saving steel producers
The meeting in Hangzhou is the first for G20 leaders since the UK voted in June to leave the European Union. Leaders are expected to discuss the fallout with British Prime Minister Teresa May on the sidelines of the summit.
Another issue likely on the agenda is the state of the steel industry, which has been gripped by a profound crisis due to a massive production glut in recent years. This has caused plant shutdowns and widespread job cuts in Europe and the US, triggering accusations against countries like China that they've been engaged in 'dumping' subsidized steel on the global steel market at a loss, and depressing prices deliberately in order to drive competitors in other countries out of business.
The EU even imposed anti-dumping duties on steel products emanating from China and Russia last month. And there are growing calls for curbing the excess capacity and stabilizing the market.
Monetary policy will also be a subject of conversation, with many calling for increased fiscal stimulus measures to kickstart growth. Furthermore, as concerns grow about over-reliance on central banks to deal with the hangover of the financial crisis, there are some tentative signs of a more relaxed approach to public spending.
The EU has taken a softer stance with some member states, including France and Portugal, over its budget rules. And Britain, which until recently wanted to turn its big deficit into a surplus by 2020, is considering fiscal stimulus to offset the shock caused by its Brexit vote.
Of all the issues on the table at Hangzhou, perhaps the one that's of longest-term significance is whether the US and China, the number one and two carbon polluters, can develop a lasting partnership to get serious about making the necessary investments and regulatory reforms needed to drive emissions down sharply, and quickly enough to prevent catastrophic climate changes over the coming couple of decades.
sri/nz (AFP, AP, Reuters, dpa)