Government spokesman Steffen Seibert told reporters in Berlin on Friday that letting such a referendum go ahead in Germany was "politically inconceivable" because it "so clearly contradicts our basic law and European values."
Turkish President Recep Tayyip Erdogan floated plans to bring back the death penalty following his narrow victory in last month's referendum to expand his powers.
Read more: Could Turkey resume executions?
Under Turkish law, Turkish nationals living abroad are eligible to vote in referendums and elections in Turkey. But Germany's Foreign Ministry has pointed out that all sovereign actions by other countries on its territory, such as referendums, first need to be approved by the federal government.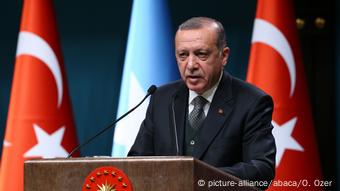 Erdogan has called for the death penalty to be reinstated
Read more: Erdogan calls on parliament to resume capital punishment
Germany allowed polling stations for Turkish nationals to vote in the April referendum on the presidential executive. No application for a referendum on the death penalty has yet been made by Ankara. If such a request were to be made, Seibert said the government would likely use its legal resources to prohibit a vote.
His comments echoed earlier remarks from the leading Social Democrat candidate in this year's federal elections, Martin Schulz. He told news magazine "Der Spiegel" that "we cannot allow voting in Germany on an instrument that contradicts our values and our constitution."
No death penalty in the EU
The possibility of a Turkish death penalty vote in Germany has been criticized by several German politicians in recent days, including Foreign Minister Sigmar Gabriel who said he "couldn't imagine" such a scenario.
Turkey abolished capital punishment in 2004 as part of its decades-long bid to join the European Union. The EU does not permit capital punishment, and EU officials have repeatedly warned Ankara that restoring the measure would spell the end of its accession ambitions.
Read: Why many Turks in Germany voted 'yes' in Erdogan's referendum
Relations between Ankara and the bloc have deteriorated significantly in recent months. Relations hit rock bottom in the leadup to Turkey's April referendum when several European countries, including Germany, blocked Turkish ministers from campaigning on their soil. Erdogan compared their bans to "Nazi tactics."
nm/rt (AP, dpa, epd, AFP)