Germany is on course to spectacularly miss its 2020 climate target, according to a new study by think thank Agora Energiewende.
Germany has committed to reducing its greenhouse gas emissions by 40 percent by 2020 compared to 1990 levels. But Agora calculates that without drastic new measures, the country will be looking at a reduction of just 30 and 31 percent.
The think tank said Germany was jeopardizing its reputation as a leader in the global fight against climate change.
Playing into Trump's hands
"Failure of the 2020 climate target won't just damage the climate but also Germany's international role," Agora director Patrick Graichen said in a press release.
With the US out to lunch on climate action, Germany is seen as the global leader
Germany helped broker the Paris Climate Agreement, and used its leadership of the Group of 20 this year - and of the Group of 7 in 2015 - to press for commitments from other major economies to reduce emissions. Executive head of state Angela Merkel has been dubbed the "climate chancellor."
But domestic efforts have fallen short, scientists and environmentalists say.
Graichen said US President Donald Trump, who found himself isolated at the G20 summit in June over his resistance to climate protection measures, would "be glad to rub our noses in" Germany's failure.
New government must act
"Just 30 instead of 40 percent less CO2 is not just a bit off target - it's a spectacular miss of the 2020 goal," Graichen said.
To get back on track, Agora is calling for Germany to adopt an emergency "Climate Protection 2020" program as quickly as possible after the federal election this month.
The think tank said the new government must act quickly to put new measures into practice in the first half of 2018, if Germany is to have any chance of meeting the 2020 deadline.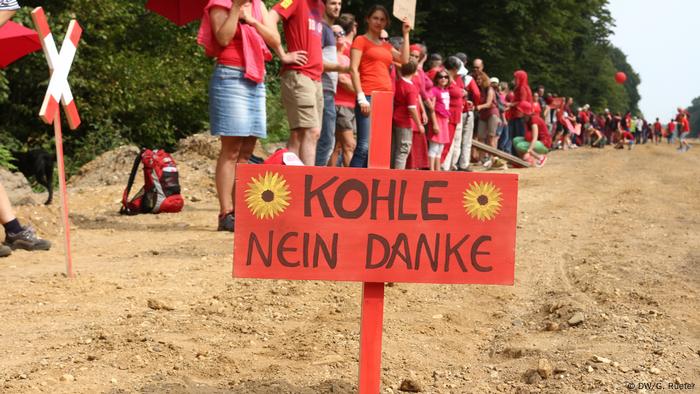 Coal? No thanks! Environmentalists say Germany has to ditch coal if it's serious about climate change
By 2016, German emissions had fallen 28 percent compared to 1990. The German government has already admitted it's unlikely to meet the 2020 target, forecasting an emissions cut of 35 percent. But the new analysis suggests even this may be over-optimistic.
If things continue as they are, Germany will miss its 2020 target by 120 million tons of CO2, the think tank found. It blamed the miscalculation on lower-than-predicted oil and gas prices, and higher-than-assumed economic and population growth.
Time to quit coal?
Germany's system of feed-in tariffs for renewable power, introduced in 2000, has resulted in impressive growth of wind, solar and biomass energy. Renewables covered around a third of its electricty consumption last year.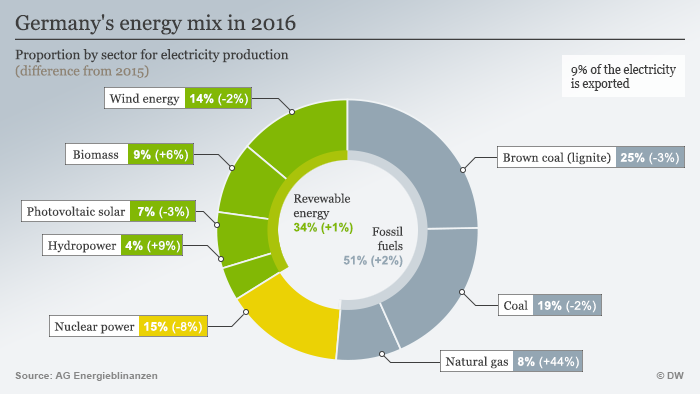 But the country still relies heavily on coal - in particular lignite, a carbon-heavy fuel mined domestically.
Environmentalists argue that only a rapid coal exit, along the lines of its nuclear phase out, will demonstrate that Germany is serious about combatting climate change.
Economic impact on Germany's coal-mining regions have so far prevented politicians from committing to a deadline for giving up the polluting fuel.
Responding to the Agora study, Sabine Minninger of Bread for the World said with world's poorest already suffering the impacts of climate change, its is irresponsible of Germany to miss its targets.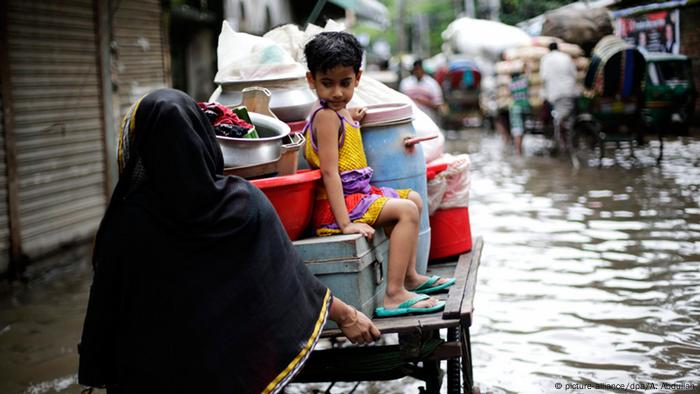 Environmentalists link the plight of those affected by extreme weather with Western economies' failure to cut emissions
She cited current flooding in Asia: "Without a coal exit, these disasters will increase unchecked," Minninger said in a statement.
Success may hang on election result
Germany's transition from fossil fuels to renewable energy has broad public support and the backing of all the major political parties. However, positions on how it should be implemented vary party to party.
Merkel is expected to remain chancellor after the election on September 24. But which party or parties will share power in the probable coalition with her conservative Christian Democratic Union remains to be seen.