Berlin said on Wednesday that it hoped tensions between Madrid and Catalonia would soon calm down, but emphasized the conflict was an internal Spanish matter.
"Germany is watching developments there closely. We have a great interest in the stability of Spain," German Chancellor Angela Merkel's spokesman Steffen Seibert told reporters. "Therefore, it is important that the rule of law is adhered to in everything that is happening there politically."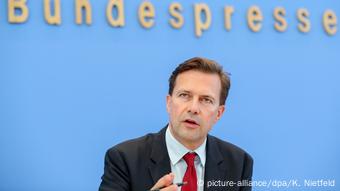 Merkel's spokesman, Steffen Seibert, told reporters that German had "a great interest in the stability of Spain."
When asked about a crackdown by Spanish police on people trying to vote in Catalonia's independence referendum on Sunday, Seibert declined to comment.
"It's absolutely not my role, as speaker of a government that is a partner of the democratic country of Spain, to evaluate police operations there," he said, adding: "We all of course hope that there will be a de-escalation."
Read more: Sympathy for Catalan independence grows in Madrid
Seibert noted that Merkel wasn't seeking to mediate the dispute between Madrid and Catalonia's regional government in Barcelona.
"Chancellor Merkel is not pursuing a mediation mission. It is an internal matter for Spain," he said.
EU calls for dialogue
The vice president of the European Commission said Wednesday that Catalan leaders had disregarded the law, but that Madrid and Barcelona needed to negotiate a peaceful resolution.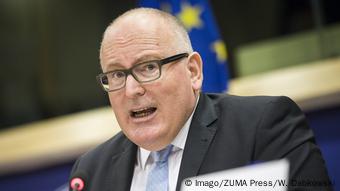 EU Commission Vice-President Frans Timmermanns defended Madrid's right to use force and called on both sides to resolve the crisis through dialogue.
The "regional government of Catalonia has chosen to ignore the law when organizing the referendum," he told members of the European Parliament during an emergency session in Strasbourg. "It's time to talk, finding a way out of the impasse, working within the constitutional order of Spain," he said.
Timmermans said the images of clashes between Spanish police and independence activists was "saddening," but defended Madrid's right to use "proportionate" force.
"None of us want to see violence in our societies. However it is, of course, a duty for any government to uphold the rule of law," he said. He repeated the Commission's line that the independence vote was an "internal matter for Spain."
During the parliamentary session, leaders from the two biggest party groups warned Catalan leaders not to forge ahead with independence.
"A unilateral declaration of independence would amount to a further provocation, which would throw oil on the fire after Sunday's meaningless referendum," the head of the socialist group, Gianni Pittella, told MEPs.
Manfred Weber, a senior member of Chancellor Merkel's conservatives and leader of the European People's Party (EPP) group agreed, saying Europe needed "not more nationalism but more cooperation" and that Catalonia would be outside the EU if it decided to leave Spain.
The leader of the Green group, Ska Keller, criticized Spanish Prime Minister Mariano Rajoy for pursuing a confrontational path that had "clearly failed." The EU, she said, should mediate a solution to the crisis.
But Esteban Gonzalez Pons from Rajoy's Popular Party rejected that suggestion, saying his country could solve the crisis by itself.
He also warned his colleages that Catalan independence could have a "domino effect" across the continent. "Instead of a Europe of 27 we will have a non-Europe of mini-states," he said.
Possible independence declaration on Monday
Catalonia's regional parliament will debate and vote on a declaration of independence from Spain on Monday, after pro-independence parties requested the move.
The Catalan regional government plans to present the final results of last Sunday's referendum on Monday said Mireia Boya, a regional parliament member with the far-left party CUP, speaking to the Associated Press.
Provisional results from the vote — which the Spanish government considers illegal — showed the "yes" side winning 90 percent of the vote, but with turnout around 42 percent. Opponents of independence had been encouraged not to vote by Spanish authorities.
The leader of Catalonia's regional government, Carles Puigdemont, said a declaration of independence could come "at the end of this week or the beginning of next" in an interview with the BBC on Wednesday.
He is scheduled to give a televised address later on Wednesday evening.
Read more: Markets price in new risk as Catalan standoff beckons
Tensions rising
Courts in Spain placed Catalan police officials and pro-independence civil leaders under investigation for "sedition" on Wednesday as tensions between Madrid and Barcelona continued to rise.
Spain's IBEX stock index fell below 10,000 points for the first time since March 2015 as bank stocks also tumbled amid the ongoing standoff.
In a rare televised speech to the nation on Tuesday, Spanish King Felipe VI said the conduct of Catalan authorities had been "irresponsible," calling the referendum a threat to national stability.
amp, rs/msh (AP, AFP, dpa, Reuters)