Interior Minister de Maiziere attacked Greece after an Afghan man committed a violent crime there and then managed to slip through the criminal system and make his way to Germany, where he now stands accused of murdering a student in the city of Freiburg earlier this month.
German police arrested the suspect, identified only as Hussein K., in the city of Freiburg on December 2 on charges of raping and murdering 19-year-old student Maria L.
K. had already been convicted of attempted murder in Greece in 2013 after pushing a 20-year-old student off a cliff on the island of Korfu. The woman sustained severe injuries. K. received a 10-year prison sentence and was released on parole in 2015 due to overcrowding in Greek prisons, disappearing soon thereafter after failing to check in with his parole officers, only to be heard of again in the aftermath of the Freiburg murder.
Fingerprints reportedly placed K. at both crime scenes.
De Maiziere demands greater EU cooperation on crime
De Maiziere held Greece accountable for launching a national but not international search after K. failed to report in to Greek authorities following his early release from prison.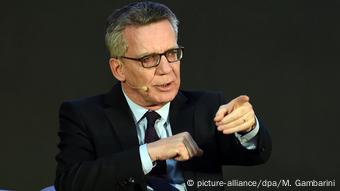 De Maiziere said Greece should have done more to locate K.
"This is a very exasperating incident. We will certainly have to discuss it with the Greek side," de Maiziere told reporters. The interior minister stressed that there was a need for greater international cooperation sharing information on criminals. He condemned the fact that existing European databases were not being made use of, highlighting in particular that the European fingerprint database for identifying asylum seekers, Eurodac, was not connected with other data sources, such as the central EU visa register from Schengen countries.
"If that were the case, the suspect would have been flagged on several levels with German authorities during routine checks," de Maiziere added.
The Union of German Detectives (BDK) also criticized Greek authorities for the way they dealt with the case. The head of the BDK, Andre Schulz, told the German daily newspaper "Bild" that the entire procedure was a case of "blatant failure."
Easy target for populists
The case has caused outrage throughout Germany amid fears of an uptick in xenophobia following the incident. German Chancellor Angela Merkel warned people against making generalizations about migrants in the wake of the event. Germany welcomed more than 1 million asylum-seekers in 2015.
Merkel, who will be running for a fourth term in next year's general election, repeatedly fell in popularity ratings on account of her open-door policy toward migrants, with some of her earlier supporters defecting to the populist, anti-immigrant Alternative for Germany (AfD) party.
The AfD has openly used the case in Freiburg for its own political gains, highlighting its view that migrants refuse to be integrated and are prone to attack Germans. The populist movement had similarly seized on the attack committed in Cologne on New Year's Eve, when hundreds of women were assaulted by gangs of men described to be of North African and Arab appearance.
Vice Chancellor Sigmar Gabriel has meanwhile urged politicians to avoid such anti-refugee sentiments.
Protecting minors
The case has stirred further debate in Germany about legislation protecting migrants who present as minors when they arrive in the country. Refugees under the age 18 have better chances of being granted permanent status in Germany regardless of their country of origin.
With Afghanistan being deemed a safe country of origin and Germany upping its deportations of Afghan migrants thought to have come to the EU for economic reasons, the case of minors continues to be a bone of contention.
Hussein K. reportedly claimed he was 17 when he arrived in Germany. That number is now under dispute as he had already been classified as a 16 or 17-year-old when he first arrived in Greece in 2013.
ss/sms (Reuters, dpa, AFP)