A new report published on Tuesday sounded alarm bells across Germany over allegations that Greek police knew that the man suspected of killing a medical student in the city of Freiburg had a violent past. According to the magazine "Stern," a man thought to be the suspect known as "Hussein K." was convicted of attacking a female student on the island of Corfu in 2013.
The magazine wrote that Hussein was sentenced to ten years in prison. If it is the same man, how he regained his freedom remains unclear. Stern claimed that he told authorities at the time he was 17, the same age reported by authorities in Germany three years later.
According to Freiburg-based newspaper "Badische Zeitung," local police are investigating this report. They cautioned, however, that they will need to work with Greek authorities and that such a task could take some time. Police spokeswoman Laura Riske told the paper that they had already compared the suspect's DNA to a Europe-wide database and had not found any matches.
Riske added that in the two weeks he has been in detention, the suspect has not given the police an official statement.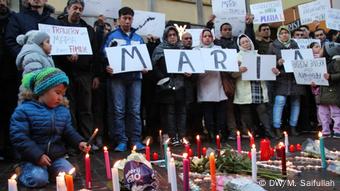 Maria had been an active volunteer for projects assisting asylum seekers
Freiburg in shock
Hussein K. was arrested for the rape and murder of a 19-year-old medical student in October in the university city in southwestern Germany. Maria L.'s body was found in the Dreisam river and her bicycle was discovered nearby. Authorities were able to identify Afghan asylum-seeker Hussein K. based on a strand of hair in the bushes next to Maria's body that matched his unique hairstyle.
Police have told the press that Hussein came to Germany as an unaccompanied minor in 2015 and had already been placed with a German foster family.
The idyllic town on the edge of Germany's Black Forest has been in a state of shock in the wake of the murder. The local Afghan refugee community was quick to condemn the attack, organizing a candlelight vigil for Maria on the city's main pedestrian intersection.
Public figures from German Vice Chancellor Sigmar Gabriel to SC Freiburg soccer team coach Christian Streich have warned against using the incident to promote a political agenda against refugees and asylum seekers.