A special 1,260-member assembly on Sunday confirmed general expectations and elected Steinmeier as the new ceremonial head of state of the German Federal Republic. He will succeed current President Joachim Gauck, who decided to step down after a single five-year term in office, citing his advanced age of 77.
In his acceptance speech, Steinmeier called Germany "an anchor for hope," saying that the country should take responsibility and serve as a role model for other countries. "[Germany] inspires others to be brave, not because everything is well here, but because we've shown how much a country can improve," he said.
Steinmeier indirectly addressed the surge of right-wing parties and anti-EU sentiments across Europe by asking Germans to defend freedom and democracy in the EU. "[These values] are not invulnerable, but I am firmly convinced that they are strong," he said.
Certainly not a drag
The normally sober proceedings were enlivened by a splash of color in the form of drag queen Olivia Jones (aka Oliver Knöbel), who turned up in a huge orange wig and a bright blue dress. Jones described herself as a "statement on all things diverse."
The Federal Convention does not consist solely of politicians, with states sometimes also sending leading community figures to vote.
Olivia Jones was one of the stars of the show
A parliamentary vote for president
Though the ballot included four other candidates for the largely symbolic but morally important position, Steinmeier was by far the favorite candidate, drawing support from across Germany's political spectrum. Alongside backing from his own Social Democratic Party (SPD), Steinmeier also received endorsements ahead of the election from Chancellor Angela Merkel and her conservative bloc (CDU/CSU), as well as from representatives in the Green and Free Democratic (FDP) parties.
Merkel threw her support behind Steinmeier's candidacy
Germans do not directly elect their president. Instead, a special assembly consisting of the 630 parliamentarians in the Bundestag, the lower legislature, and an equal number of representatives from Germany's 16 federal states cast their votes for the presidential candidates.
It is not always the case that the different parties unify behind a single presidential candidate, especially in a parliamentary election year. Steinmeier's election is expected to be a final moment of unity before the current grand coalition partners, SPD and CDU/CSU, begin campaigning in earnest against one another in an attempt to secure a parliamentary majority in upcoming legislative elections on September 24.
A popular politician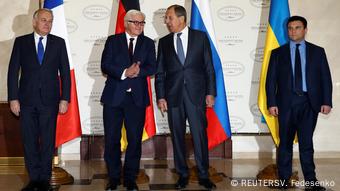 As foreign minister, Steinmeier worked with Russian and Ukrainian leaders to diffuse tension in Ukraine
Steinmeier is the first SPD president since Johannes Rau held the office in 1999. The 61-year-old Steinmeier served as foreign minister twice under Merkel - from 2005 to 2009 and from 2013 until one month ago - earning particular praise for his engagement between Moscow and Kyiv during the Ukraine crisis.
Prior to his diplomatic role, he served as Chancellor Gerhard Schröder's chief of staff, helping to design and implement a 2003 package of economic reforms and budget cuts.
Steinmeier has criticized the growth of right-wing populism and those who "make politics with fear." In statements made to a special gathering of SPD representatives and electors before his election, the veteran politician said the key question currently facing the German parliament was about what kind of glue still held society together.
According to a poll conducted for the German publication "Bild am Sonntag," 59 percent of Germans expect Steinmeier will be a good president, compared to 19 percent who believe he will not.
cmb,mb/jlw (AP, dpa)