Frank-Walter Steinmeier was sworn in as president of Germany in a ceremony on March 22, 2017 in Berlin. He took over the post from Joachim Gauck to become the country's 12th president.
Steinmeier used his first speech in the role to address Germany's currently troubled relationship with Turkey, after Ankara accused Berlin of employing "Nazi tactics" in its ban on campaign appearances by Turkish ministers on German soil. Germany has also expressed outrage at the arrest of German-Turkish journalist Deniz Yucel on charges of producing "terrorist propaganda."
Steinmeier urged Erdogan to "end the unspeakable Nazi comparisons," adding: "Do not cut the ties to those people who want partnership with Turkey! Respect the rule of law and the freedom of media and journalists! And release Deniz Yucel."
Germany's most popular politician
Steinmeier has been an established name in German politics for nearly two decades, most recently as foreign minister in the grand coalition, which is made up of Chancellor Angela Merkel's Christian Democratic Union, its Bavarian sister party the Christian Social Union and the Social Democrats. He had served in the position under a previous grand coalition as well.
Many in Germany have long seen the 61-year-old politician as the face of German diplomacy. His previous posts include being head of the Chancellery under former Chancellor Gerhard Schröder as well as parliamentary party leader while the SPD was in the opposition.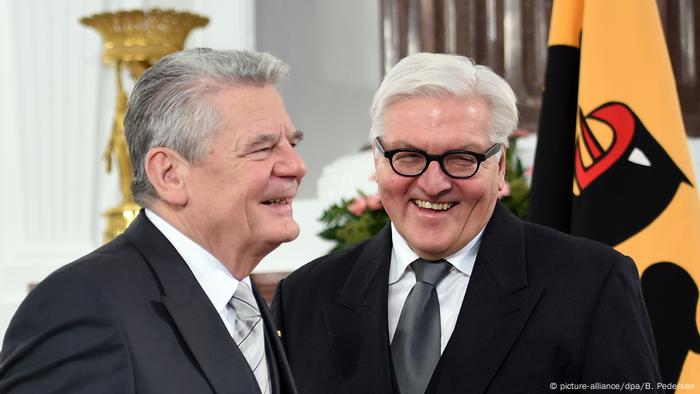 Joachim Gauck (l.) is replaced by Steinmeier after serving one term as president
Steinmeier is regarded by many in Berlin as possessing many of the qualities necessary for the office of president. Having served in Merkel's grand coalition government, he enjoys a high level of bi-partisan respect, has diplomatic experience, is internationally esteemed and has often proven himself in times of crisis.
Opinion polls also reflect his solid reputation. For years, Steinmeier has ranked as one of Germany's most popular politicians. After weeks of deliberation, his popularity contributed to the governing conservative Christian parties lending their support to the SPD's candidate for the presidency.
A carpenter's son from North Rhine-Westphalia, observers have long assumed that Steinmeier had his sights set on the country's highest office, particularly after he lost a bid to become chancellor to Merkel in 2009. In his many trips as foreign minister, in which he annually totaled almost 400,000 kilometers (249,000 miles) in the air, he came across as almost presidential.
And he was always intent on reconciliation. In the Ukraine conflict, in particular, he earned a high reputation through his tireless shuttle diplomacy between Kyiv and Moscow. At the time, Steinmeier helped to defuse the crisis, which was attributed to his considered manner and approach to diplomacy.
His choice of words has, however, been striking when it comes to US President Donald Trump. Before the US election, Steinmeier called the now leader of the United States a "hate preacher."Later he said Trump's presidency marked "the end of the old world order."
Rise to power alongside Chancellor Schröder
Steinmeier's career started alongside former Chancellor Gerhard Schröder. Steinmeier was head of the state chancellery when Schröder was still state premier of Lower Saxony. After the SPD won the federal election in 1998, he moved to the center of political power in Berlin, where he held the position of state secretary and later head of the Chancellery.
In 2005, he became foreign minister in the first grand coalition under Merkel. Later, Steinmeier was vice chancellor while also running as the SPD candidate to unseat Merkel during the federal elections in 2009. Many blamed the SPD's electoral loss on Steinmeier's lack of accessibility to the public.
After the 2013 elections that resulted in a renewed grand coalition between the CDU and SPD, Steinmeier returned to the Foreign Ministry. He is considered one of the most significant representatives of German foreign policy of the last decades, alongside such luminaries as Hans-Dietrich Genscher.
Steinmeier was born in Detmold, North Rhine-Westphalia on January 5, 1956, is married to Elke Büdenbender, an administrative law judge, with whom he has an adult daughter. Largely free of public controversy, Steinmeier's private life garnered some attention when he took a break from politics to donate a kidney to his seriously ill wife.
Merkel: a 'decision of reason'
Even representatives of the CDU's conservative Bavarian sister party, the CSU, have praised the new federal president. Ilse Aigner, a member of the CSU and also Germany's minister for food, agriculture and consumer protection, called Steinmeier a good candidate for the president's office, and the leading EU parliamentarian for the CSU, Manfred Weber, said he expects Steinmeier will provide continuity: "Germany needs strong leadership, especially in the current situation."
This article was originally written in German.