Party leaders from Germany's coalition government on Wednesday officially presented current Foreign Minister Frank-Walter Steinmeier as their selected candidate for federal president, a largely ceremonial and representative position whose holder traditionally acts as a moral compass for German society.
In his acceptance speech in Berlin, Steinmeier, who belongs to the Social Democrats (SPD), said he would work to create a feeling of optimistic confidence in a "crisis-ridden world."
"A president cannot make the world simpler than it is," the 60-year-old, approaching the end of his second stint as foreign minister, said. "A president must not be someone who simplifies; he must be someone who instills confidence."
He also spoke of wanting to smooth out divisions in German society by creating a fruitful political exchange.
"Now, everything depends on a lively, alert political culture," he said. "I intend to work on this without regard to party lines, but above all without regard to social divisions, [to achieve] a political culture in which we can have differences, but treat one another with respect."
"My joy at [being given] this task is great; my respect for it is even greater," he added.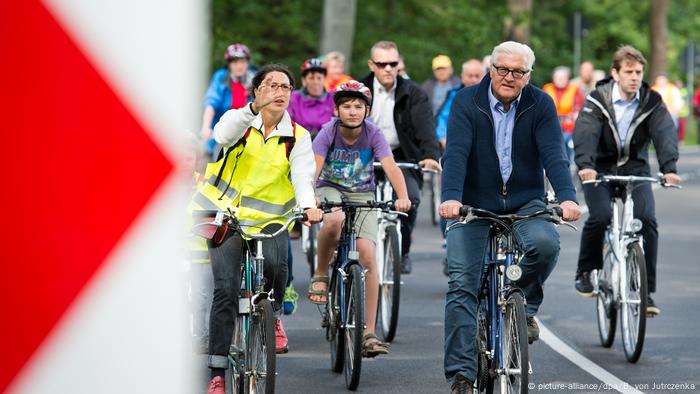 Steinmeier regularly heads popularity polls among German politicians
Merkel: 'The right candidate'
Christian Democrat (CDU) Chancellor Angela Merkel described Steinmeier as being "the right candidate for this time," saying that the foreign minister's political experience was an important prerequisite for the office of German president.
She said Steinmeier would have the support of many citizens, who knew that they could trust him, partly because of his down-to-earth character and his knowledge of the world.
Horst Seehofer, the leader of the CDU's Bavarian sister party, the CSU, said Steinmeier was a very good choice as successor to current President Joachim Gauck.
'Calm and prudent'
The foreign minister had great political experience both nationally and internationally, and stood for calm and prudence, Seehofer said, also praising Steinmeier's willingness to bridge divisions as something "we very much need in our times."
The leader of the Social Democrats, Sigmar Gabriel, thanked the CDU and CSU for supporting the choice of an SPD candidate for president.
Steinmeier was finally accepted as candidate by members of Merkel's conservative CDU/CSU bloc on Monday after long debate.
The president will be chosen on 12 February 2017 by the Federal Assembly, a representative body that convenes especially for the purpose.
tj/msh (dpa, Reuters, epd)