Order books are full, companies are investing and there is a buzz around the German skilled trades sector, the German Confederation of Skilled Crafts and Small Businesses (ZDH) says. The group is also optimistic for the coming months, expecting a 3-percent increase in sales in 2018, if the winter is not too harsh.
"Partly we have a problem executing orders and have to keep our customers waiting," according to Hans Peter Wollseifer, the ZDH's president, adding that labor shortages are holding the sector back. "It's the people who make these trades successful," said Wollseifer. "And the sector is a dynamic and stable economic force in Germany."
Read more: Finding skilled labor in Germany: 'It's never been so hard'
For this to remain the case, the industry is wooing young people in particular to opt for vocational training. Right now around 5.4 million people work in about one million skilled labor businesses in Germany.
Refugees to the rescue?
Skilled trades firms play a crucial role for young and motivated refugees in Germany. According to the ZDH, a half of all refugees who start training in Germany work in such companies.
One person who wants to be a skilled laborer is Sayed Haschemi. Three years ago, the young man came to Germany as a refugee from Afghanistan. "I always liked to work as a tradesman, so it was obvious to build on that here in Germany as well," he said. With the support of the ZDH, he initially completed three internships and in August finally found an apprenticeship to train to become an optician.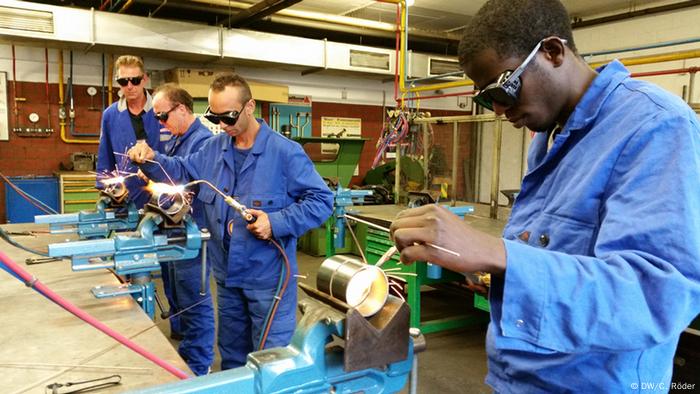 It is still controversial whether young refugees can remedy Germany's shortage of skilled workers
For apprenticeship-willing young people, it is a sellers' market. Because of the shortage of skilled workers, companies are competing furiously to get young people who want to do training or apprenticeships.
Read more: Germany exports a secret of its success: vocational education
"Between 2006 and 2016, the number of school leavers fell by 120,000," Wollseifer says. "The competition for the good brains, good apprentices has long been rising, which is why the trainees are in a situation they have not yet had before and they can choose the company where they train."
An overdue image makeover
The ZDH is also trying to change an image that still prevails in the minds of many people: The picture of physically heavy, dirty and exhausting work and poorly paid jobs. But that is by no means true. As in other sectors of the economy, digitization has also found its way into the skilled trades.
Read more: Why are Pakistanis so successful at finding jobs in Germany?
"Everything is controlled by computer," says master carpenter Gerhard Luther from Darmstadt. "Orders are created digitally, and the material comes automatically and some of the drawings go directly to the machines, which means that we now have a precision that is almost as high-quality as in the metal industry," he says.
The ZDH is also busy promoting the sector and recently set up a large blue bull statue in front of the stock exchange in Frankfurt in honor of National Skilled Laborer Day. The creature towers above the stock market bull and bear icons. The colossus is meant to symbolize the strength and importance of German tradesmanship.
Now it's the government's turn
But such promotion also has its limits, which is why Wollseifer is calling for support from the government in Berlin. "We expect the government to implement the vocational training pact enshrined in the Coalition Agreement and finally to allow the promise of equality in vocational and academic education to follow, so that vocational training can once again become more attractive," he said.
That it is necessary to promote craftsmanship is illustrated by a simple fact: In some of the ZDH's districts, over half of all businesses are actively seeking new workers.