Thousands of people from across Germany gathered in the eastern city of Dresden on Saturday, defending tolerance and diversity in an area where the far-right has seen support swell in recent years.
Organizers claimed that 40,000 people appeared at the demonstration, which marched under the slogan "Unteilbar" (Indivisible), the same rallying cry used at the protest in Berlin last year, which drew 250,000 people. Saturday's demo in Dresden is believed to be the largest the city has seen since Germany's reunification.
"We are overwhelmed," Unteilbar spokeswoman Ana-Cara Methmann said at the climax of the demo on Dresden's Cockerwiese. "Tens of thousands of people from Dresden and the whole Saxony as well as from many parts of Germany have sent an unmistakable signal for solidarity over marginalization."
"Racism and discrimination have no part in our society, just as little as social deterioration and the limitation of basic rights," said co-organizer Ario Mirzaie. "We won't let ourselves be divided. That should be clear to the right-wingers as of today."
Placards showed that contingents had come from several parts of Germany, including Hesse, Bavaria, and Brandenburg. Organizers also said the demo was intended to show that Saxony and Dresden were not the preserve of PEGIDA, the anti-Islamization group that began weekly rallies in the city in 2014.
Over 400 organizations and groups are taking part in the Unteilbar demo, including church representatives, labor unions, doctors and medical students, politicians, scientists, artists and climate activists.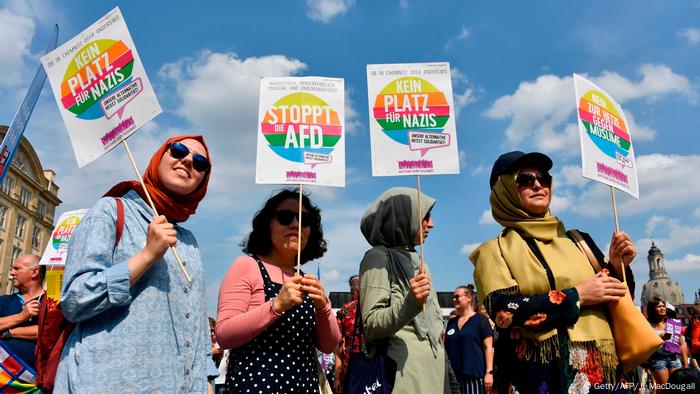 Protesters carried signs reading "No space for Nazis" and "Stop the AfD"
Among the attendees were Finance Minister Olaf Scholz of the center-left Social Democrats (SPD), Green party co-leader Annalena Baerbock, and the heads of the socialist Left party, Bernd Riexinger and Katja Kipping.
No prominent members of Chancellor Angela Merkel's center-right Christian Democrats (CDU) were expected to attend the march. Saxony State Premier Michael Kretschmer, also of the CDU, said he objected to groups like Antifa taking part, though he said it was good that people wanted to show support for democracy and the rule of law.
Saturday's protest comes ahead of state parliament elections in Saxony and Brandenburg on September 1, and in the state of Thuringia on October 27.
The far-right Alternative for Germany (AfD) has been polling on par with, and at times higher than, the parties in Merkel's ruling coalition, and is expected to make large gains. But since other parties have already ruled out forming a coalition with the AfD, it is unlikely that it will form part of the government.
Police deny AfD violence warning
Ahead of the demonstration, the AfD's branch in Saxony warned in a Facebook post that authorities were concerned about Saturday's protest turning violent.
Dresden police denied the AfD's report, describing it as a hoax. Authorities told local public broadcaster MDR they were expecting the protest to run peacefully.
Since entering the German parliament following the general election in 2017, the AfD has shaken up national politics with its anti-immigrant and Islamophobic rhetoric.
Members of the party have regularly sparked outrage by questioning Germany's culture of atonement for the Holocaust and other World War II atrocities.
The far-right party's populist and nationalist message has appealed to some in eastern Germany who feel economically left behind following German reunification and wary of the arrival of more than a million asylum-seekers since 2015.
rs, bk/msh (AFP, dpa)
Every evening at 1830 UTC, DW's editors send out a selection of the day's hard news and quality feature journalism. You can sign up to receive it directly here.