The article in the German business newspaper Handelsblatt cited government and industry sources as saying that Chancellor Angela Merkel had responded to criticism from Germany's partners, including the United States and Israel, about the continued strength of German exports to Iran despite a tightening of Western sanctions over its nuclear program.
German firms receive "Hermes cover" export credit guarantees when selling goods to markets considered risky. But according to the report, Merkel has instructed the economics ministry to put the brakes on this practice after statistics showed that exports had risen 10.5 percent on an annual basis to 3.58 billion euros ($4.63 billion) through November 2008. Some 75 percent of all medium and small businesses in Iran use German-made equipment.
Business and banking trade elements are not specifically forbidden under UN Security Council sanctions, which only limit the sale of technology that could be used in the weapons industry.
Merkel has repeatedly insisted that Germany is only obliged to obey the UN sanctions and said earlier this month that Germany was not planning to undertake any further unilateral action against Iran at this time. But pressure from within the Western powers working towards a nuclear-free Iran may have persuaded her otherwise.
Germany has also come under fire from sections of the US media for its policy towards trade with Iran. A recent commentary by editorial writer Dan Schwammenthal in the Wall Street Journal was titled: "Germany loves Iran." Schwammenthal wrote that Germany was less worried about an Iranian nuclear bomb than it was about tightening sanctions that could negatively affect trade between the two countries.
As the new US administration under President Barack Obama prepares to break with the previous administration and talk with Iran about its nuclear program, Germany now appears more comfortable with applying more pressure of its own.
Germany steps up restrictions on trade guarantees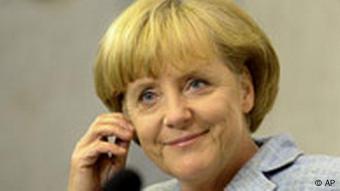 Merkel's move increases the pressure on German firms
The announcement to issue trade guarantees only in exceptional cases is actually the next logical step in a policy Germany has been executing in increments ever since the nuclear stand-off between the West and Iran began.
Germany, traditionally one of the top exporters to Iran, has been gradually reducing the numbers of export guarantees for the past three years.
German businesses have seen a significant fall in export guarantees for trade with the Islamic Republic since last year. The economics ministry said a year ago that new guarantees for Iran fell to 503.4 million euros in 2007 from 1.16 billion in 2006.
Half-year numbers for last year show a sharp decline in new guarantees to 73.4 million euros, compared to 387 million in the first half of 2007 with full figures for 2008 to be published in the coming weeks.
Western powers believe Iran is seeking to develop nuclear weapons under the cover of a civilian atomic program. Tehran says it wants to master nuclear technology for peaceful power generation purposes.
Reports in recent weeks have said European countries, including Britain, France and Germany, could seek to pass new sanctions against Iran, which has rejected repeated calls from the U.N. Security Council for it to suspend uranium enrichment.
Germany's decision to limit its trade guarantees could herald the start of a new set of restrictions on Iran by Western powers.
EU removes Iranian organization from terror list
In other developments, European Union foreign ministers removed the People's Mujahedin of Iran (PMOI) from their list of terrorist organizations on Monday, despite public protests in Tehran.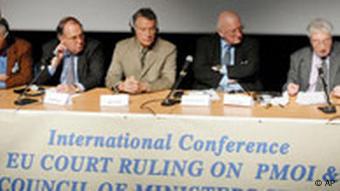 The PMOI's case has been heard before but ignored
The widely expected move follows a ruling by the European Court in Luxembourg, which in December said the EU was wrong to keep the PMOI's assets frozen after it was taken off a British list of terrorist organizations.
"What we are doing today is abiding by the resolution of the European Court. There's nothing we can do about that resolution," EU foreign-policy chief Javier Solana said.
Founded in 1965, the PMOI operated a military wing in its early years, but says it renounced violence in June 2001 and now advocates the political overthrow of Iran's current government.
Reports of the EU's planned decision prompted street protests outside EU embassies in Tehran over the weekend by hundreds of Iranian students and relatives of veterans of the Iran-Iraq war (1980-88).
Iran regards PMOI as a terrorist group owing to its involvement in the assassinations of several high-ranking Iranian officials, including the president and prime minister in 1980.
After the group was expelled from France in the 1980s, former Iraqi president Saddam Hussein allocated a military base to the PMOI near the border with Iran.
Before the ouster of Saddam, the PMOI frequently infiltrated Iranian territory, leading to clashes with Iranian forces and casualties on both sides.
Solana said the EU decision could only be reversed if new evidence against the PMOI was presented to the European courts.
"If there is something new that may be presented in front of the court, we'll see," Solana said.