Less than two weeks ago, business people, trade experts and bankers gathered in Hamburg for a seminar sponsored by the German-Iranian Chamber of Commerce entitled "Iran Sanctions -- Practical Consequences for German Companies." The seminar was aimed at helping companies maintain a profitable relationship with Iran in the face of United Nations sanctions against Tehran.
And therein, according to Hamburg-based political scientist Matthias Kuentzel, lie the seeds for conflict between Washington and Berlin once the new Obama administration begins its promised new approach to Iran.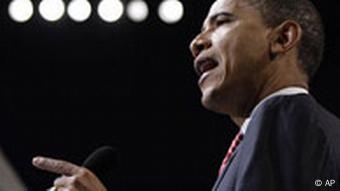 Obama says he will pursue dialog but also tougher sanctions
"While the United States reacts to reports that Iran has enriched enough uranium for a nuclear weapon with concern and calls for tighter sanctions, in Germany, it's business as usual," Kuentzel said.
Obama to seek stronger sanctions
In an interview broadcast Sunday on the NBC news program "Meet the Press," Obama reiterated that he would continue offering incentives to encourage Iran to cease enriching uranium, but would seek stronger economic sanctions if it did not.
"You know, in terms of carrots, I think that we can provide economic incentives that would be helpful to a country that, despite being a net oil producer, is under enormous strain, huge inflation, a lot of unemployment problems there," Obama said.
German support for Obama's strategy and tougher sanctions is "crucial," said Kuentzel.
"Because of the history of German relations with Iran, there is a special dependency there that isn't there in relationships with Russia or China, for example," he said. "Germany is able to put real pressure on Iran.
Germany is Europe's largest exporter to Iran, with exports up 14.1 percent in the first seven months of this year. But as the Wall Street Journal recently commented in an opinion piece entitled "Germany Loves Iran," Berlin refuses to use its leverage with Tehran.
The paper concluded that if Obama wants to contain Iran's nuclear ambitions, his first task will be "persuading his many admirers in Germany."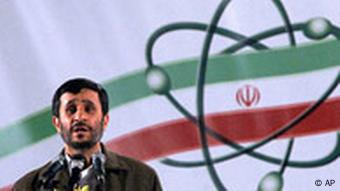 Ahmadinejad defends Iran's right to enrich uranium
The Wall Street Journal is not the only US media outlet now taking a closer look at Germany's ties with Iran. The Washington Times recently commented on a key hypocrisy in Chancellor Angela Merkel's government. On the one hand, the paper wrote, Merkel stresses Germany's historical responsibility to Iran's arch-foe, Israel. She openly criticizes the Iranian government, even drawing a parallel to Nazi Germany. But, as the Times pointed out, despite this "more frequently, her government capitulates to pressure from German exporters to continue business as usual with Tehran."
Financial crisis taking top priority
As Germany feels the effects of the worldwide recession, Merkel has shown that she is prepared to put economic matters above other issues which were key platform issues in the early days of her administration. On Monday, for example, the one-time "climate chancellor" said she would fight any EU climate deal that would jeopardize German jobs. Why should she react any differently if asked to stifle German business ties to Iran, many are wondering?
But as political scientist Kuentzel says, in the big picture, Germany wouldn't stand to lose all that much.
"Germany is a world champion when it comes to exports," he said. "Exports to Iran represent just 0.25 percent of the whole export industry, so it's a very tiny share. And while I don't deny that small companies could be damaged if they had to stop business with Iran, it's mainly big companies like Siemens that are doing the deals, and they have business dealings all over the world."
For Kuentzel, it's high time that German leaders put their money where their mouth is when it comes to condemnation of Iran -- and not just because of its nuclear program.
"It's embarrassing that the German government is behaving the way it is now," he said. "Germany has a special responsibility to stand up to Holocaust deniers. And Iran is the only major government in the world which denies the Holocaust and puts this at the center of its foreign policy."