Germany's military has renamed a barracks in northern Munich after a member of the anti-Nazi resistance group, the White Rose.
The Hochbrück army complex will now be known as the Christoph Probst barracks.
It's the first time a Bundeswehr barracks has been named after a member of the secret group of students in Munich that took on Hitler's regime.
Read more: German resistance hero inspires anti-Trump street art
A statement from the Bundeswehr said the gesture was a special tribute "to the active resistance to the violence and tyranny of the National Socialists," adding that the group's brave actions were "exemplary and meaningful in today's Bundeswehr."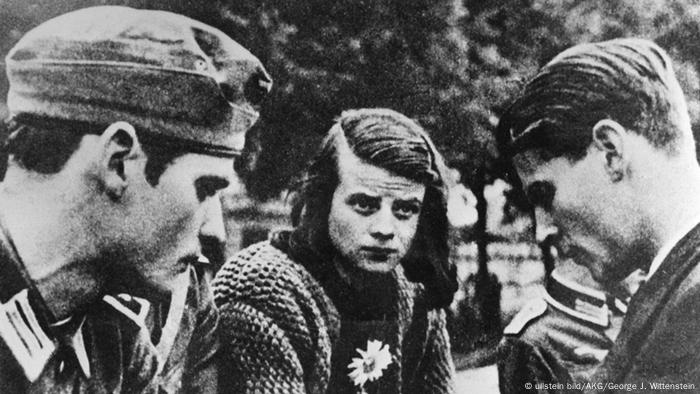 Christoph Probst, pictured here on the right, fought against the Nazis with siblings Sophie and Hans Scholl
Probst, 23, was a medical science student who served as a sergeant during World War II in a medical company of the Air Force. He was executed by the Nazis on February 22, 1943, after the Gestapo discovered he belonged to the White Rose.
The organization, founded by siblings Hans and Sophie Scholl, wrote and distributed anti-Nazi pamphlets that called on German citizens to resist Hitler. Seven of the group's members, including the Scholls, were murdered by the Nazis. The Scholls are remembered still today as a symbol of peaceful resistance to injustice.
Read more: Scholls were 'a sign that resistance was possible'
In 2012, the main lecture hall at the Bundeswehr's medical academy in Munich was named after Hans Scholl.
The barracks that now has Probst's name houses the Bundeswehr's Central Institute of Medical Service and a branch of the Bundeswehr Hospital Ulm. The Defense Ministry approved the name change in March, after receiving a proposal from soldiers stationed at the barracks. Probst's descendents are expected to attend a formal naming ceremony at the property on Wednesday.
Every evening, DW sends out a selection of the day's news and features. Sign up here.