French President Emmanuel Macron is set to welcome his Russian counterpart Vladimir Putin to the Palace of Versailles on Monday for a first meeting full of significance.
It is timed to coincide with the opening of an exhibition commemorating the 300th anniversary of Peter the Great's visit to France, which marked the start of Franco-Russian ties. For Putin, it will be the first one-on-one meeting with a French leader in five years.
Amid strained relations between the two countries, Macron has the opportunity to meet Putin without hosting him officially at the Elysee Palace, which would involve "all kinds of protocolar things," Manuel Lafont Rapnouil, head of the Paris office of the European council on foreign relations (ECFR), told DW.
- Exploring Macron's revolution
- Help Macron, don't lecture him
Moscow's support for Syrian President Bashar al-Assad and France's role in pushing for sanctions against Russia over the Ukraine conflict have resulted in a certain discord.
After the G7 meeting in Italy, Macron said "we must talk to Russia to change the framework for getting out of the military crisis in Syria and to build a much more collective and integrated inclusive political solution."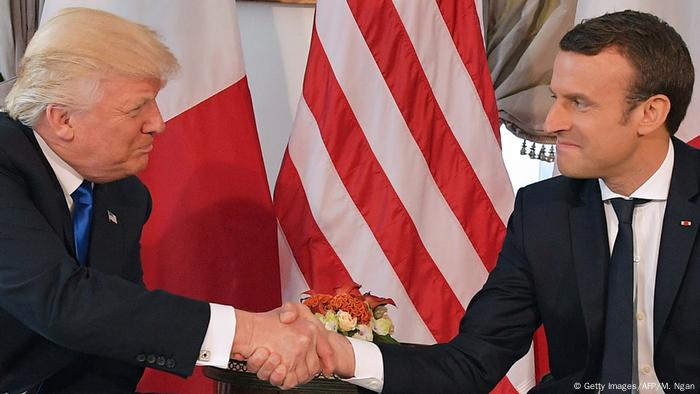 President Trump and President Macron shake hands in Brussels
Some attention will be reserved for the handshake between the two men. Macron said on Sunday that his much publicized, long and strong white-knuckle handshake with US President Donald Trump was entirely intentional. "My handshake with him - it wasn't innocent," Macron told the French Sunday newspaper Journal du Dimanche in an interview. "It's not the be-all and the end-all of a policy, but it was a moment of truth."
Putin's personal approach in politics
Aside from participating in the opening ceremony of the exhibition, the two presidents plan to discuss bilateral relations, as well as the fight against terrorism and settling the conflicts in Syria and Ukraine, the Kremlin said in a statement.
Analysts do not expect any breakthrough at the negotiations as the meeting will, first and foremost, be a chance for the two politicians to get acquainted. Lafont Rapnouil suggested that Putin and Macron would rather repeat their well-known positions on Syria and Ukraine.
However, he added, both the Russian and French presidents need this meeting. "Macron casts himself as the new president, someone who is already kind of a member of the club and someone who is able to represent the interests of France and Europe on the international stage," he told DW.
Earlier this month, Macron met with German Chancellor Angela Merkel in Berlin. He also attended the NATO summit in Brussels and the G7 meeting in Taormina this week.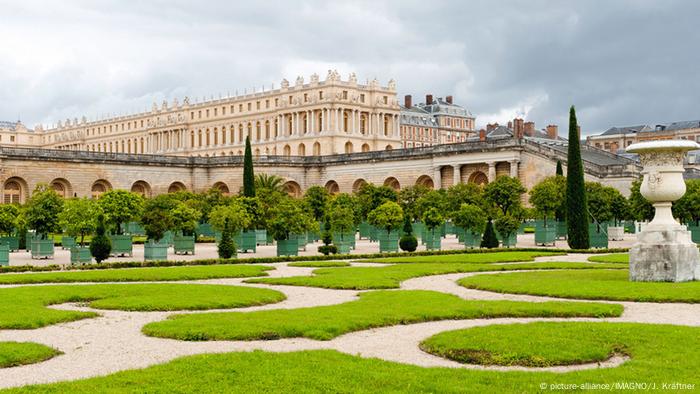 The two leaders will be meeting at the Versailles Palace
By hosting Putin, Macron is seeking to "underline his new status as one of the leaders of a united Europe," said Tatyana Stanovaya, a France-based analyst with Moscow think tank, the Center for Political Technologies. Meanwhile, for his Russian guest, it is important to "look Macron in the eyes," she told DW.
Stanovaya suggested that Putin will "try to work out his psychological profile, to understand, what kind of person he is and what language one can speak to him."
The ECFR's Lafont Rapnouil echoed this analysis, saying that Putin is interested in this meeting, because he has a "very personal approach to foreign policy."
Macron pushing for more dialogue with Russia
Putin has been a rare guest in EU countries after Russia's annexation of the Crimean peninsula in March 2014. In this context the Russian president's visit to France will be a chance for him to show that he is being involved in discussing important international issues, Stanovaya said. She also pointed out that the fact that Putin had found time for his meeting with Macron so fast means that he is very interested in it.
In recent years, the Russian president has visited France several times. In 2015, he attended the Normandy summit along with the leaders of Germany, France and Ukraine and participated in the UN Climate conference in Paris. A year earlier, he also took part in the ceremonies to commemorate the 70th anniversary of the D-Day landings by Allied troops.
However, Putin's last one-on-one talks with the country's president on French territory were way back in June 2012. He canceled a meeting with Macron's predecessor Francois Hollande scheduled for October last year after Hollande called Russia's airstrikes on Aleppo a war crime.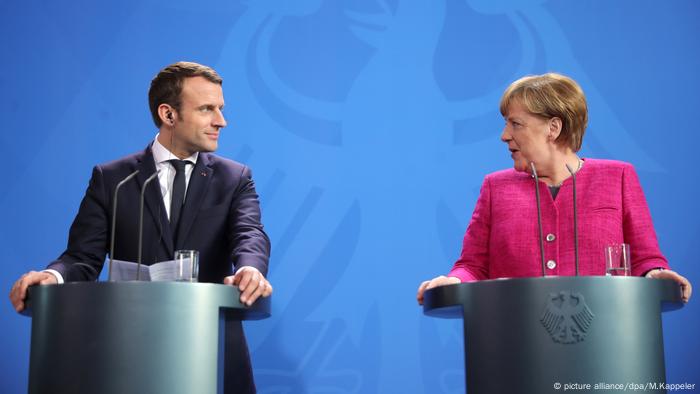 Macron met with German Chancellor Angela Merkel in Berlin earlier this month
Still, Macron has repeatedly criticized the previous administration for a lack of dialogue with Russia. "During his election campaign Macron repeatedly said that he didn't share Putin's values and that what Russia was doing in Syria and in Ukraine is not just a problem but a violation of international law," said Manuel Lafont Rapnouil. "But despite all that he said that we need a dialogue, a constructive relation so that we can find solutions."
Kremlin support for Le Pen not an issue
Macron's election campaign team accused Russian state-financed media – TV channel RT and news agency Sputnik - of distributing fake news aimed at discrediting the 39-year old presidential candidate and supporting his rivals, the conservative Francois Fillon and right-wing populist Marine Le Pen. RT and Sputnik both strongly deny the allegations.
Putin also hosted Le Pen at the Kremlin a month before the first round of the presidential elections. Macron also blamed Russia for carrying out cyber attacks on his campaign. Moscow denied the accusations.
Tatyana Stanovaya of the Center for Political Technologies believes that Moscow's behavior ahead of the French elections affected Macron's attitude to Russia. "In recent months, he has toughened his rhetoric towards Russia, although in 2016, during his time as economy minister, he supported the gradual lifting of sanctions against Russia and developing economic cooperation," she told DW.
Manuel Lafont Rapnouil suggested that Macron is unlikely to forget everything that happened ahead of the elections. "But I don't think that this will be an obstacle for a cold-blooded and hard-headed discussion," he added.
Macron, who prioritizes a strong France inside of strong Europe, understands "perfectly well that he will benefit much more if he finds the right approach to Putin," said Stanovaya.